Grand Teton National Park
Backcountry Camping Guide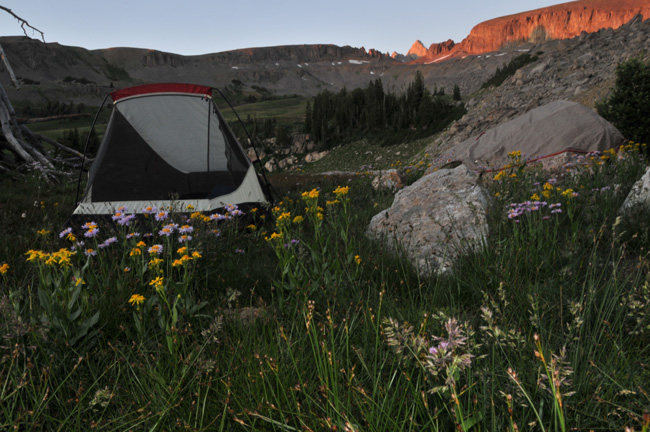 High Alpine Adventures
There is truly nothing like an overnight trip into the park. As the summer season fades, the beauty of Grand Teton National Park comes to life and offers the best camping of the year. Currently, climbing rangers are reporting patches of snow above 9,500′ in the mountains. Generally, they agree the snow has consolidated and is supportable for travel. Before venturing to upper elevations in the park, it would be wise to research recent trail, pass and climbing conditions on the Jenny Lake Climbing Rangers blog.
Google Earth guide to GTNP camping
There are a number of options for backcountry camping in the park. The interactive map below highlights areas that visitors are allowed camp in the park. Double click on any icon to fly there and learn more.
Official Grand Teton National Park Backcountry Camping Maps
The maps listed below are provided by the national park to campers when they receive their permit. Each backcountry camping zone has specific regulations and camping sites. The park places responsibility on each overnight camper to understand and adhere to rules for each zone.
Camping Tips and Information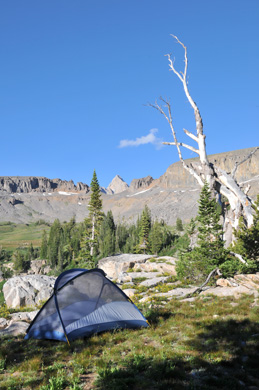 Permits are required for all overnight trips into the park. They can be obtained in person at the Moose and Colter Bay visitor Centers or the Jenny Lake Ranger Station. Backcountry camping permits are issued free of charge to walk-ins on a first-come, first-served basis.
Regardless of elevation backpackers are required to carry bear-resistant canisters except where food storage boxes are provided. Bear-resistant canisters are provided by the park or visitors may use any of the approved canisters during overnight stays in the park backcountry.
The Aerial Tram at Jackson Hole Mountain Resort is a gateway to some of the most accessible high alpine camping in the park. The tram allows hikers and campers to begin their journey near the Teton Crest Trail and knocks off over 4000 vertical feet of climbing. Once inside the park, it is important to preserve pristine areas. The park encourages campers to leave no trace. This means cleaning up, not leaving litter, scraps of food, buried trash, toilet paper, and whiskey bottles. A motto of the park is to preserve the scenery you came to experience for others and generations to come.
This Place is Wild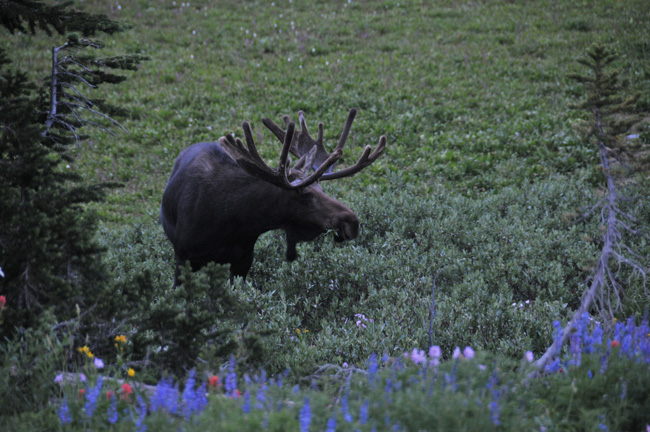 Travel in Grand Teton's backcountry areas has inherent risks. It is important to keep a safe distance from wildlife. This is bear country, but moose and other wildlife found in the park are just as dangerous. When venturing deep into the park, hikers assume complete responsibility for their own safety. Although park rangers have been incredible this year in their efforts to assist those in need, rescue is not a certainty. Your safety depends on your own good judgment, adequate preparation, and constant attention. It's always important to let someone know where your are going and when you expect to return.
Grand Teton National Park References
Grand Teton National Park provides a variety of references and maps to keep people informed before and during their adventures.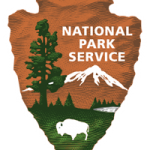 Backcounry Camping Regulations: A trip into the backcountry requires advance planning. Download the backcountry trip planner for more details. Park-approved bear canisters must be used in the backcountry. The park provides canisters free of charge for use in the park.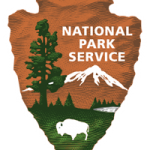 PDF Map and Safety Information: Grand Teton National Park service offers a map available for download that details the backcountry camping areas in the park. The guide also provides helpful information to guide visitors in their camping adventure.