Upcoming Event: Teton Gravity Research's Way of Life World Premiere
Teton Gravity Research's Way of Life World Premiere
Saturday 09/21 – 5:30pm / 8:00pm
Walk Festival Hall, Teton Village $15
After show at the Mangy Moose with the Aggrolites – $25
With Jackson Hole Mountain Resort being named the #1 Ski Resort in the US by Ski Magazine and the first snowfall blanketing the upper elevations of the Teton Range, its has been an exciting few days for winter enthusiasts in Jackson. But no preseason rankings, or photos of snow covered peaks can get skiers and snowboarders excited about the upcoming season like Teton Gravity Research screening their newest work. This weekend, TGR will unveil 'Way of Life' to two packed showings at the Walk Festival Hall in Teton Village, and as usual the anticipation is high.
While last years film, Dream Factory, focused on the heli-skiing scene in Alaska, Way of Life is a return to TGR's jet setting style, filming on location in Austria, British Columbia, Montana and of course, right here in Jackson Hole. Featuring the usual star-studded cast of athletes including Sage Cattabriga-Alosa, Dylan Hood, Ian McIntosh and Dana Flahr, this years film also includes local JH rippers Griffin Post, Max Hammer and the soon-to-be-legendary Daniel Tisi. At only 14 years old, Tisi has been popping up in TGR online episodes since winning their Grom Video contest a couple winters ago, and is sure to be showing off his progression in the new film. As has been the case over the last few years, Way of Life seems to be a little short on snowboarding talent, mainly due to the fact that Jeremy Jones has been off in the Himalayas filming Higher, the finale to his epic split-boarding trilogy.
The film has two showings, one at 5:30pm that is typically good for the whole family and one 8:00 that tends to be a bit more rowdy. Both shows will be packed, so get in early if you want good seats. Tickets are available online, as well at the Boardroom in town, and Jackson Hole Treehouse in the village. Expect plenty of great raffle prizes including new skis, and athletes will be tossing out shwag into the crowd. After the late show, the Aggrolites will be rocking the Mangy Moose until the wee hours for the after party, but don't expect to be able to get into the bar unless you get the $25 ticket prior to film showings. All proceeds from the night benefit local Jackson programs including the Jackson Hole Ski and Snowboard Club and the Bridger-Teton Avalanche Center. Get stoked Jackson Hole, winter is coming!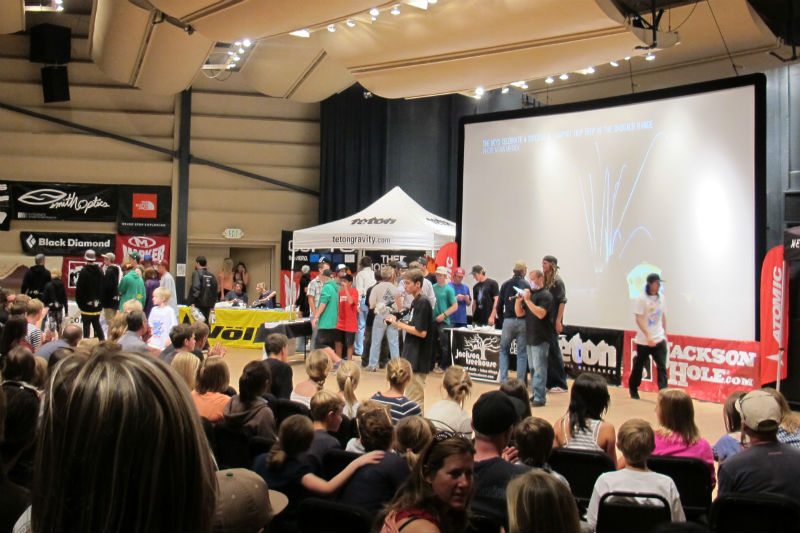 Last years Dream Factory Premiere. Photo: Kevin Wittig.