Hundred Days 053
The Half Pipe is Riding Perfect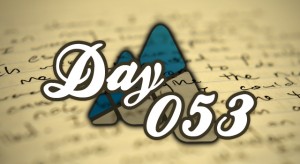 Day 053: 03/14/12
The Halfpipe is Riding Perfect
Written By: Kevin
Warming spring temperatures has changed conditions at Jackson Hole, leaving the upper mountain firm while the snow is softer at mid to lower elevations. While the powder boards await one more shot at glory, free riders are taking it to the park and throwing down in the slush. Recently, Park & Pipe crews have been shaping jumps, building rails and grooming features in the Stash Parks. The crew also cut the half pipe this week, and its in the best condition of the season.
Riding the pipe during an afternoon session yesterday, the transitions were soft and perfect. Now let me define perfect: Not your 22 foot, rock hard Olympic ice pipe. The Jackson Hole Half Pipe gradually builds in to its steepest lips, starting out at 8-10 ft and leading to 15 ft transitions that are well shaped and easy to ride. Honestly, the best snow on the mountain is in the half pipe. I know that sounds wild, but it is seriously riding so good!
Spring is the time to catch some air and let it ride. Even if you're not a dare devil on the slopes, take some turns through the Stash and check out the style riders in Jackson are putting down. Next, cruise through the half pipe off the Apres Vous lift. You'll be tempted to ride the banked walls or even charge the lip and get some air. Give it a shot, it'll be fun… or at least soft when you fall.
The Stash Park at Jackson Hole
Recently, Jackson Hole released an edit of the Stash Parks. Check it out and get involved next time you're on the hill.. if you dare..