Hundred Days 048:
The Jackson Hole Babe Force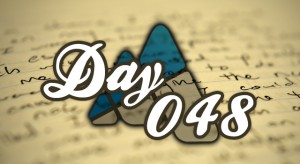 Day 048: 03/03/12
Jackson Hole Babe Force Inaugural Ski Date, 2/26/12
Written By: Madelaine German
Photos By: Stephen Williams
So the thing about being a writer is that sometimes people will actually read what you write. And when said people have responses to what you've said, you, as a writer, either get to practice your gracious "thank you" face or, in the case of criticism, exercise your "balls of steel" bravery status. I've experienced both, and mark them as par for the course.
Last week, however, I experience something rather unexpected. A little while ago, I wrote a short diddy for the Mountain Pulse that I titled "Boys and Girls Playing Ski." It was about how I love to ski with boys because they're fast, fun, and always challenging me to push my boundaries. Imagine my surprise when, a few days later, I found an email in my inbox from big mountain competitive skier Crystal Wright. The quick note ran something along the lines of: "I read your Mountain Pulse article … the Jackson Hole Babe Force needs to take action! Meet at the tram, Sunday, 1 p.m." — at which point, I pretty much sh** my pants. If you're not familiar with Crystal Wright, the best way to describe this chick would be: all-around badass. She's a phenomenal athlete and an awesome person, not to mention a pretty intimidating ski partner. I'd heard rumor of her Jackson Hole Babe Force, but didn't know much about it or what to expect from a ski date with her and the crew. And although I'm a strong enough skier, visions of Crystal Wright and followers skiing circles around me danced through my head as I imagined what kind of adventures I'd be in for on our upcoming play date.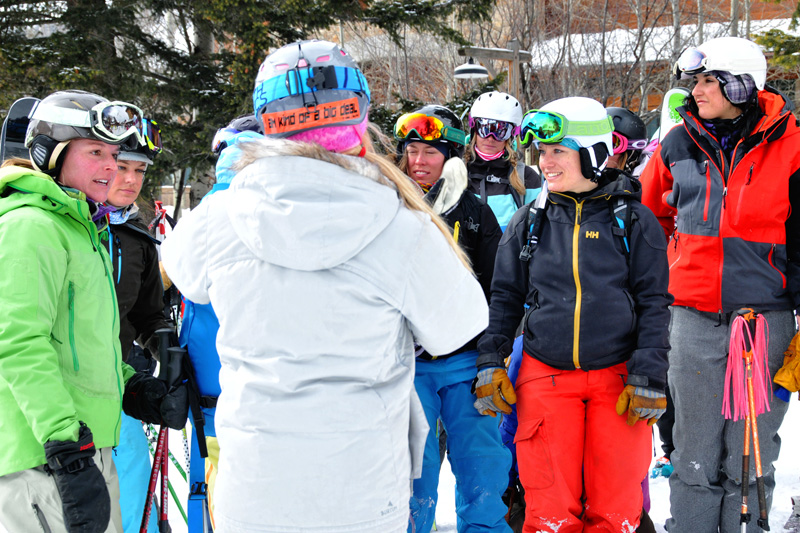 Sunday came around, and with more than a little trepidation, I made my way to the tram. There were a handful of Babe Force girls there already. I introduced myself, and we made small talk as we waited for the rest of the ladies to arrive. After a few minutes, another girl showed up. Then another. And another, followed by about 20 or 30 more, until there was a group of almost 40 of us assembled.
Crystal arrived, and after a few group photos, directed us all to the gondola. We took over the line, loaded up to the top of the hill, and somehow managed to stay and ski together as a group for the next 3 hours.
So. Much. Fun. In our Babe Force congregation were ladies from all walks of life; from age 20 to 50. There were skiers and boarders; ski bum waitresses, professional athletes, and business owners. It was a motley crew if I ever saw one, save one fact: every single lady that came out was 1) a cool and interesting person, and 2) a rippin' shredder. Which brings me to my next point: the one thing missing from the group dynamic of our Babe Force ski day was any kind of sharp, competitive edge. We all charged the hill, but it was at the push of our individual levels, and whether you were the first or last person down, you could rest assured that the group would be waiting for everyone before they moved onto next stash.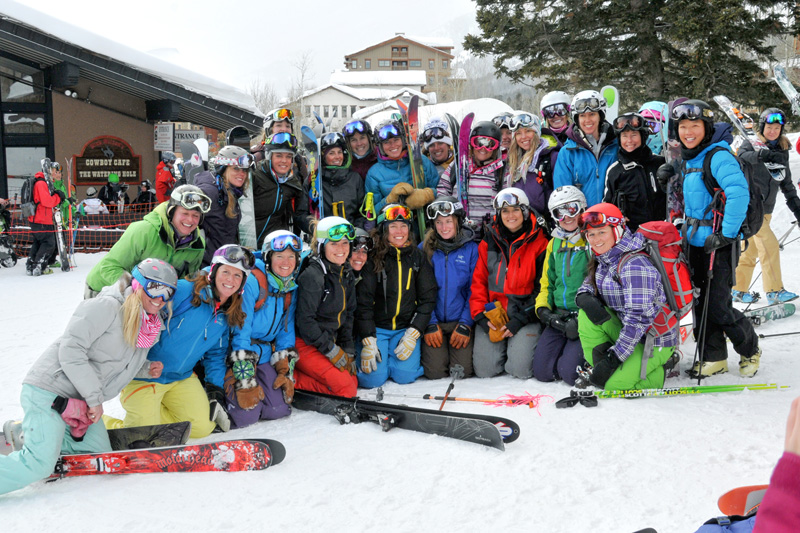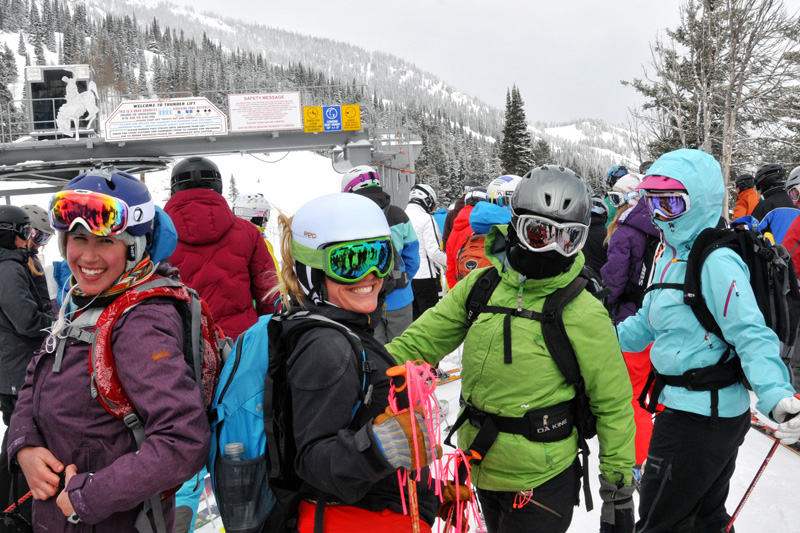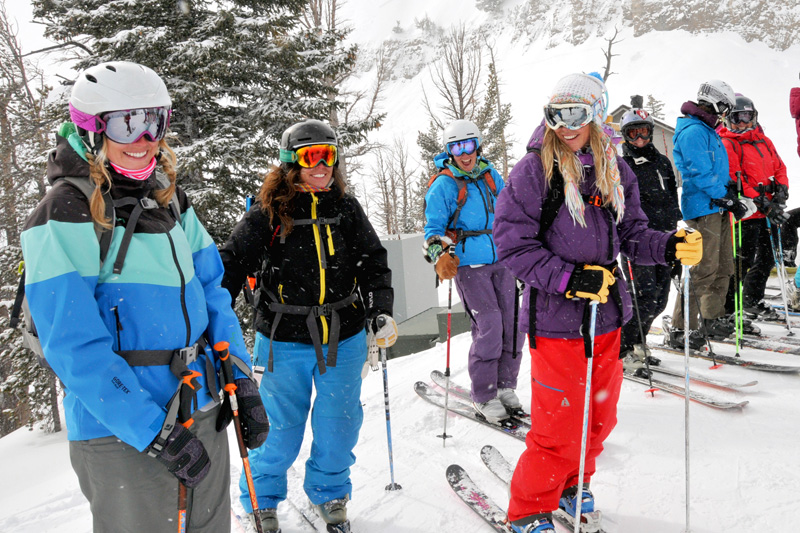 The babes gather for a day of shredding the slopes at Jackson Hole Mountain Resort
This is exactly what Crystal Wright envisioned when she and friends created the Jackson Hole Babe Force. "Being a part of the Babe Force doesn't necessarily mean that you are the most badass skier on the mountain," she explained. "It's more about your passion for skiing." Crystal and the other founding members of the JHBF found their inspiration in a reaction they had to the sometimes snarky, competitive nature this town can take on. They wanted to create an apparatus that would bring people together, not with air of exclusivity, but instead, open comradery.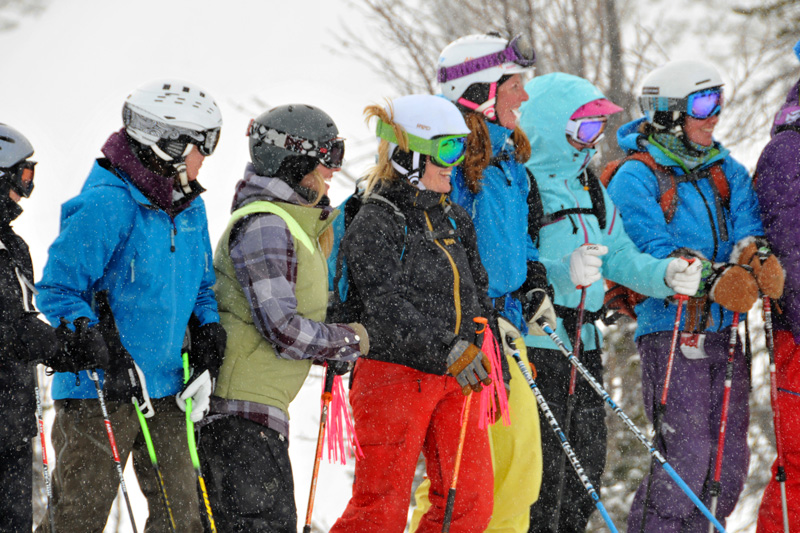 "You'll still have to earn your Jackson Hole Babe Force patch," says Crystal. "There are only a select few to give out every season. But you'll earn a patch through the act of challenging yourself as a person, whether you're pushing it at the top level or as a beginner."
Love it. And I must say, in our testosterone-filled Jackson, a good dose of lovely ladies has done me well. It was both refreshing and invigorating to be around the energy of Crystal and her crew, and it reminded me of my own and everyone else's badass status for simply being here, together in this place, to get some. "A dream you dream alone is only a dream," as Yoko Ono said. "A dream you dream together is reality." And with that, I must say a thank you to Crystal Wright and the gals behind the Jackson Hole Babe Force for adding a little more love and charger fun to mine. I'll see you at our next tram meeting!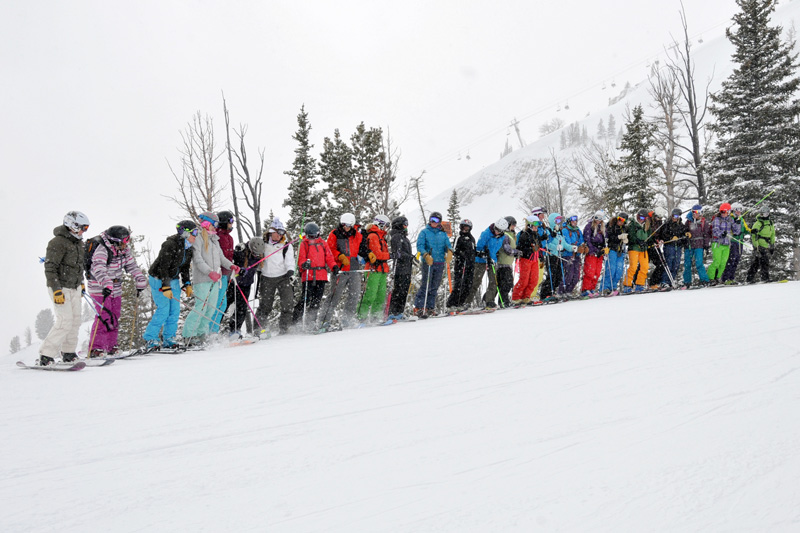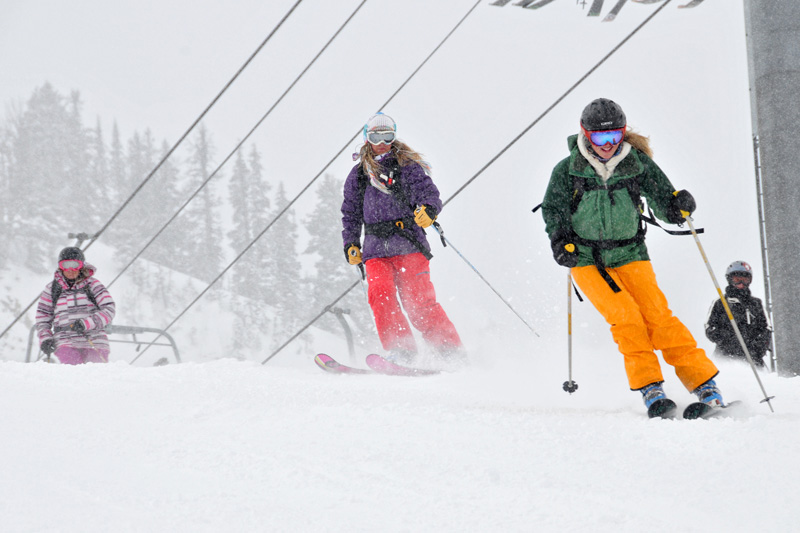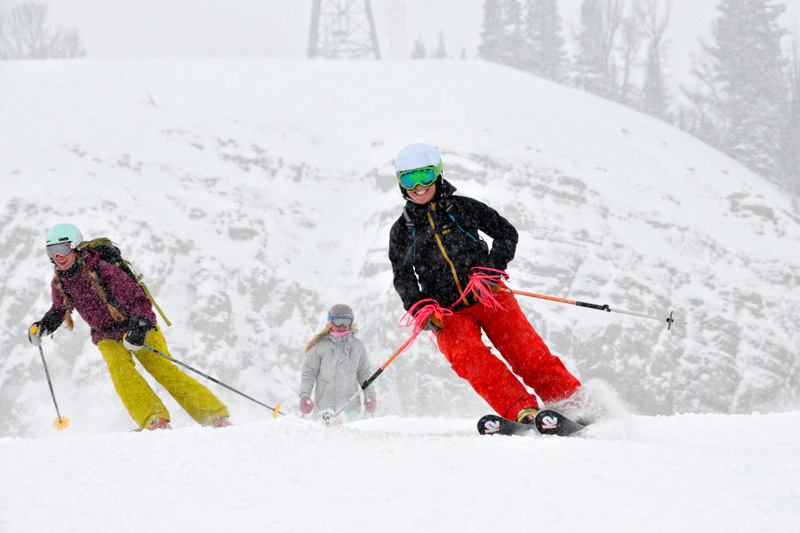 The ladies of the JHBF charge the hill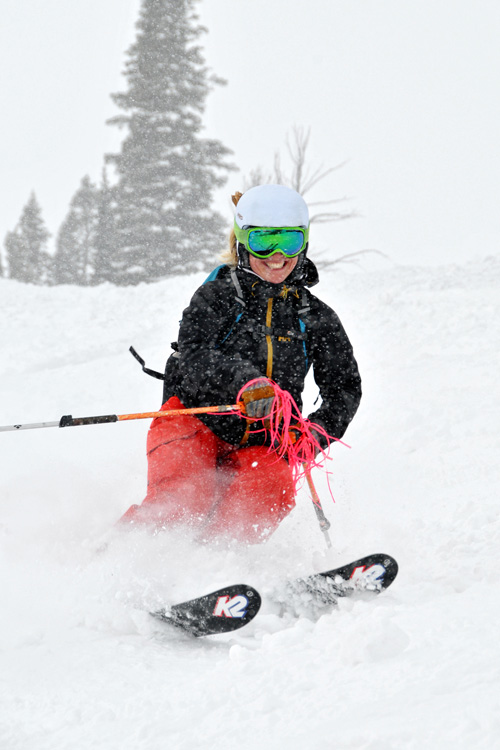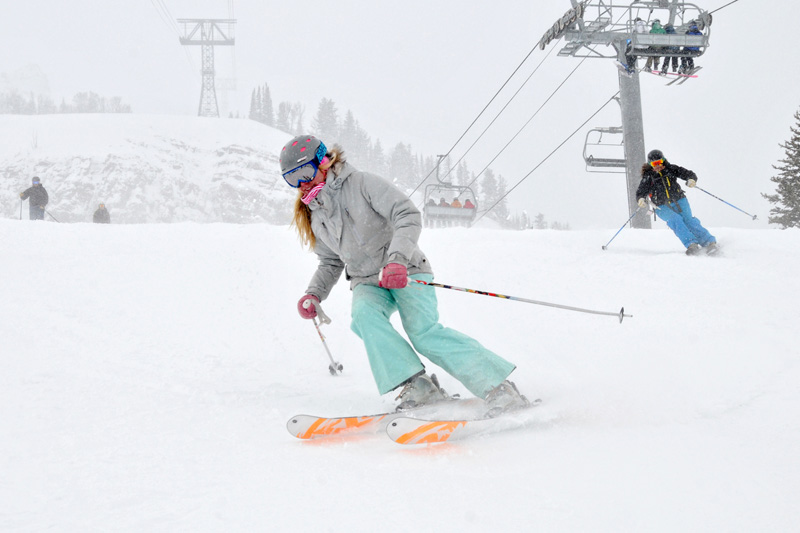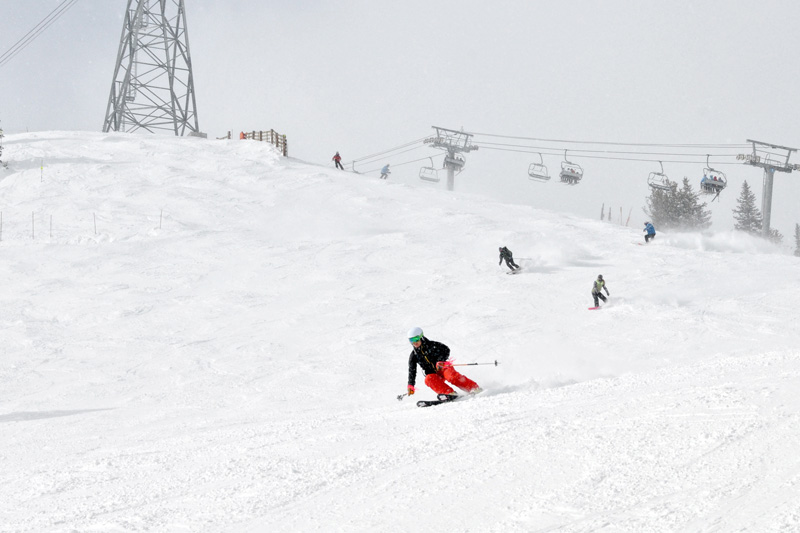 I know it's crazy, but I really do ski with a smile like this plastered on my face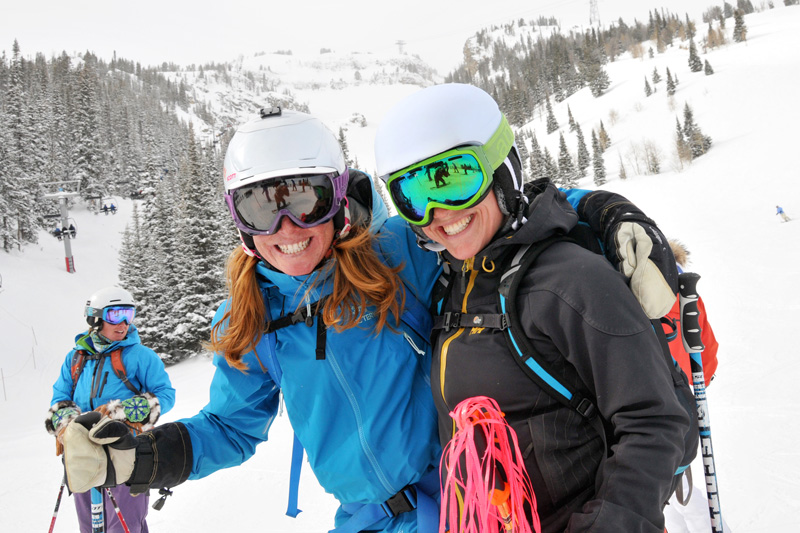 Thanks again to Crystal Wright and all the ladies of the JHBF for an awesome afternoon of skiing! See you on our next JHBF ski date!