Weekend Events Roundup
February 9th - 12th 2012
The Heart of Winter
It's another weekend to dive into all that Jackson Hole has to offer. From history, to film festivals and nightlife, theres something for everyone. We highlight some of the happenings in the region, both on and off the mountain, and look forward to seeing you out and about in the village and town.
Skiing the Teton: Bill Briggs & Christian Beckwith
Where: Pink Garter Theater
When: Thurday 2/9 7:00pm
Admission: $10 presale, $15 at door
Continuing the popular Voices of the Valley Speaking Series, Pink Garter Theater hosts the Jackson Hole Historical Society for an evening with Bill Briggs and Christian Beckwith. The event celebrates skiing the Grand Teton and the accomplishments of both mountaineers.
Additionally, if you're not able to make it to the event on Thursday night, you can watch it online. Check out the following Facebook pages for a livecast:
Black Pig Fest
Where: Town Square Tavern
When: Friday 2/10 9:00pm
Admission: $8
The 2012 Jackson Hole Winter Fest celebration continues Friday night at Town Square Tavern with some of the best bluegrass pickers in Jackson taking to the stage for a night of two step fever.
Local bluegrass rockers One Ton Pig and Jet Black Ninja Funkgrass Unit combine forces to make The Black Pig Fest. A blend of Rock, funk, bluegrass, all rolled into one. The experimental bluegrass combo has only one outcome: a Kick Ass Party.
For more details, check out the Facebook event listing
Banff Mountain Film Festival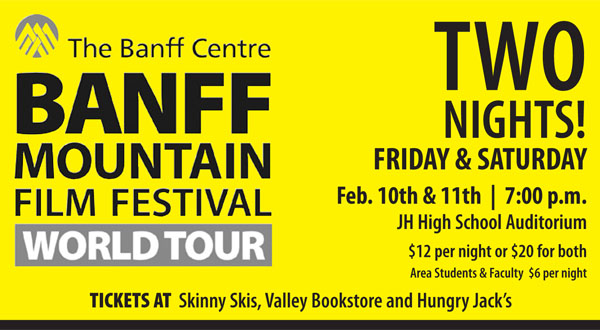 The Banff Mountain Film Festival World Tour brings Banff to audiences around the globe. A selection of the best films go on tour across Canada, the United States, and internationally from Scotland to South Africa to China, Japan, New Zealand, Antarctica, and points in between. Each year, the films travel to 32 countries reaching more than 245,000 people at over 635 screenings.
Skinny Skis is hosting the tour stop in Jackson Hole at the high school auditorium. Tickets are $12 ($20 for both nights). The festival features two different programs that include films on exploration and adventure, culture and environment, and mountain sports.
Friday 2/10 Program
Reel Rock – Ice Revolution – 13 min
On Assignment: Jimmy Chin – 6 min
On the Trail of Genghis Khan – 46 min
Sketchy Andy – 22 min
Hanuman Airlines – 26 min
The Freedom Chair – 15 min
CARCA – 8 min
Saturday 2/11 Program
Reel Rock: Origins – Obe and Ashima – 23 min
Seasons: Winter – 4 min
Kadoma – 41 min
All I Can – 11 min
Chasing Water – 18 min
Blue Obsession – 8 min
COLD – 19 min
Ski Bums Never Die – 4 min
SheJumps.org Get the Girls Out
get the girls out from Lynsey Ann Dyer
SheJumps.org Flying V's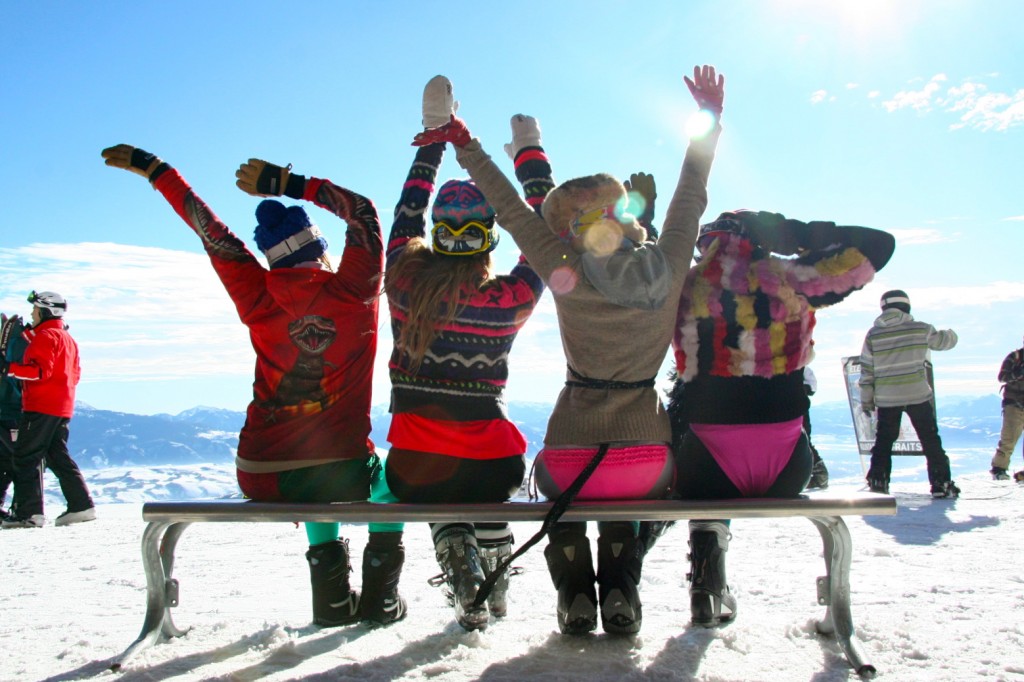 On Saturday in Teton Village, women are encouraged to join SheJumps.org, a community of female athletes, to celebrate their love for the mountain lifestyle. The Flying V's are taking the mountain by storm with new and old friends in a fun, safe and supportive atmosphere.
This celebration at Jackson Hole is apart of the several SheJumps Chapters across country hosting informal gatherings on the slopes, both with and without costumes, to GET THE GIRLS OUT and grow the community of women in the outdoors!.
Recently, we connected with Lynsey Dyer, a co-founder of the nonprofit SheJumps, who was really excited for the event. To learn more about her efforts, visit SheJumps.org
Dapper at The Kitchen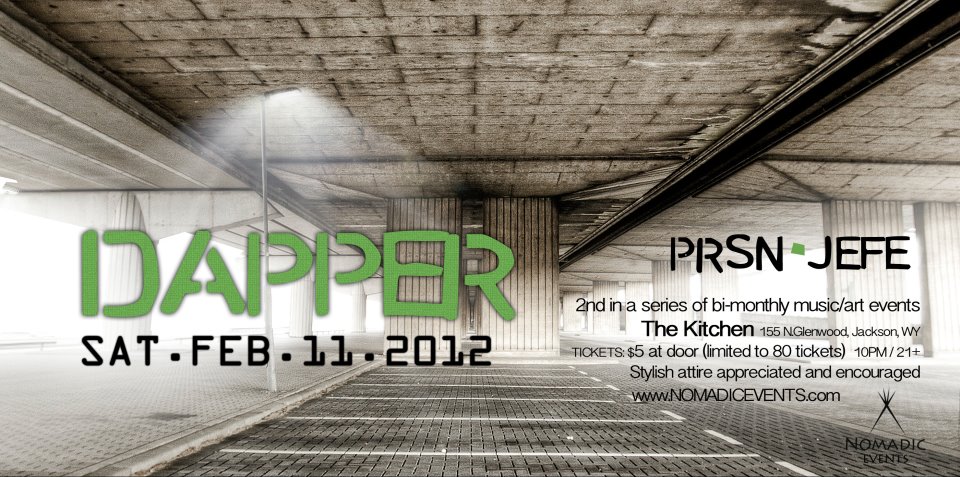 The 2nd in a series of special events that bring together music and art in a beautiful, intimate setting. Spinning beats will be DJ's PRSN and JEFE. Tickets are limited to 80.
On Mountain Demo Days Grand Targhee
>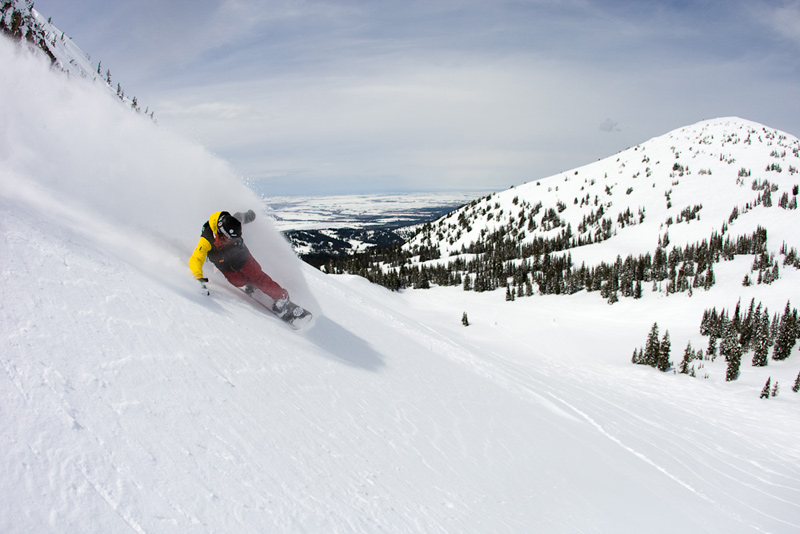 When: Saturday 2/11 and Sunday 2/12
Where: Grand Targhee Resort
Been dying to try that new ski or board before you buy it? This weekend you can at Grand Targhee Demo Days. On hand will be representatives from major brands as well as local shops.
Shops & Outfiiters
Teton Mountain Outfitters
Habitat: High Altitude Provisions
Fred's Board Shop
Peaked Sports
Ski Demos
Nordica – Armada – Icelantic – K2 – Atomic
Salomon – Line – DPS – Voikl – Rossignol -G3
Snowboard Demos
Jones, Lib Tech
Never Summer
Burton
Nitro
and others..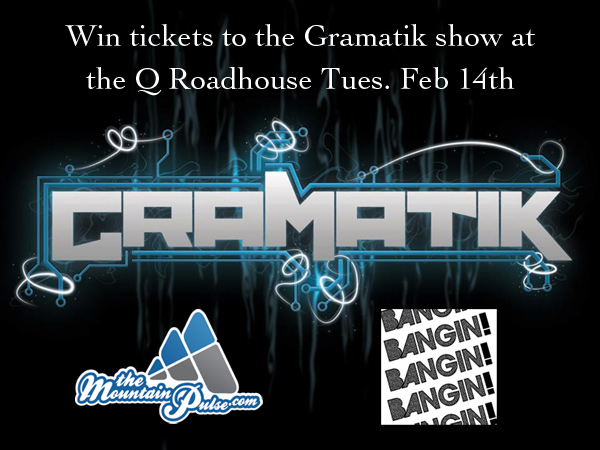 Head over to our Facebook page right now to win tickets to next Tuesdays Gramatik show at the Q Roadhouse
Written By: Kevin Wittig / @KevinSWittig