Video of the Day
On Snow and Ice and Rock Trailer
On Snow and Ice and Rock | Trailer from On Snow and Ice and Rock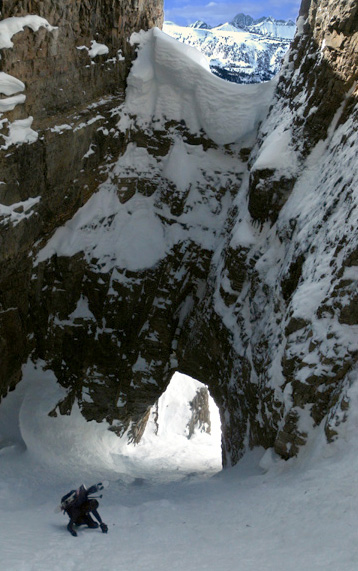 We are witnessing the dawn of a new age of adventure film cinematography. With the advancing technology and accessibility of video equipment including digital SLRs and POV cameras, the amount of footage surfacing has been growing exponentially. Huge flips off cliffs recorded from a helmet strapped GoPro, deep powder turns captured at 100 fps and breathtaking landscape shots have become the norm for our morning flip through the posts on Facebook. Keeping up with the latest videos can be time consuming and exhausting (the guys over at Earlyups do a great job on keeping us up to date on the best ski and snowboard footage).
That is why it is so great to see a couple of local Wyoming kids stepping up and putting out a series that not only covers some of the biggest ski lines and climbing routes around, but really stands out because of the quality of their shooting and editing. We are going to have the opportunity to sit down with Dorian Densmore and Brandon Gust coming up and hope to discus the story behind On Snow and Ice and Rock. I know this is only the trailer, but judging from the effort that these guys went through to capture this amazing footage, we can expect big things from this series.
From their site:
This season ON SNOW AND ICE AND ROCK will release new episodes full of the best images of the season. Watch exclusive behind the scenes footage following skier Dorian Densmore, with cinematographer Brandon Gust, as they adventure through the Teton mountains in Wyoming during a year of record breaking snowfall. Travel to the mecca of big-mountain skiing for the world freeride championship, and camp out on a glacier deep in the backcountry on a trip to Valdez, Alaska.
Winter is just about here.
Stay tuned snowicerock.com
Recent Videos
Other Posts from The Mountain Pulse