Warren Miller's Ticket to Ride Screening at the Pink Garter Theatre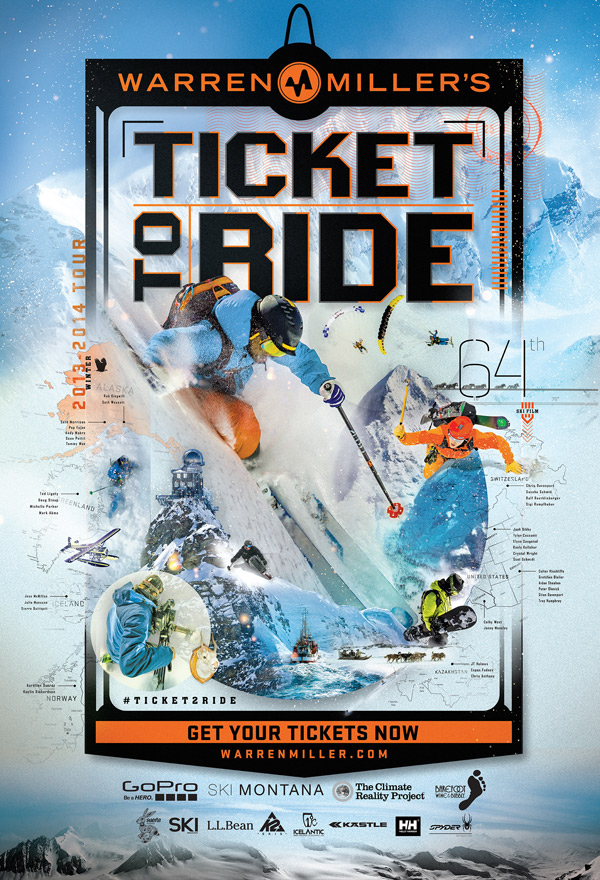 Warren Miller's Ticket to Ride
Previewed By: Stephen Williams
Friday December, 20th
Pink Garter Theatre
All Ages Showing – 6:00 pm
21+ Showing – 9:00pm
$16 / Buy Tickets Online
This Friday night at the Pink Garter Theatre, Warren Miller Entertainment will be screening their 64th annual feature Ticket to Ride. Yes, that is correct, Warren Miller and his crew have been putting out annual ski films for 64 years straight. Although Miller himself has not been in charge of the films since 2004, his legacy of high quality, entertaining film making has continued to embraced by the skiing culture worldwide. For this film, Warren Miller Entertainment has been jetsetting around the globe, filming in Alaska, Iceland, Switzerland, Kazakhstan and beyond.
Ticket to Ride stars a list of olympic medalists, freeskiers and snowboarders including Jackson Hole legends Jess McMillan, Crystal Wright and Rob Kingwill. Jess, Crystal and Rob will be at the screening on Friday night and are sure to be signing posters and giving us a first hand connection to the making of the film. As with all ski films premieres, there will be swag flying into the crowd and a raffle with tons of skiing and snowboarding gear.
Living in a town like Jackson, we are definitely over inundated with skiing footage. Between two major ski and snowboard film companies, a dozen quality smaller production crews and an endless amount of amateur footage, we sometimes lose a grip on why we started watching ski films in the first place; to get together with friends, be entertained, and get excited to go out and ski together the next day. Warren Miller's films are always inspiring and will surely leave you walking out the door with a quote that will come to mind when hitting the slopes on Saturday morning.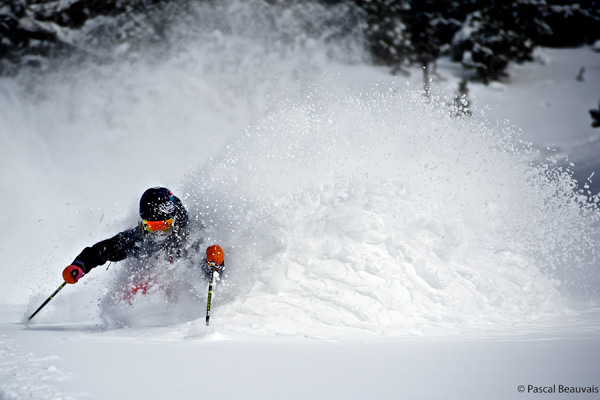 Elyse Saugstad in Montana. Photo: Pascal Beauvais
"Park & pipe veteran Gretchen Bleiler throws down in Aspen proving "girls can look like girls and still rip." An all-female cast of Jess McMillan, Julia Mancuso and Sierra Quitiquit explore the expansive terrain that is Iceland's Troll Peninsula, and a snowboard segment in Valdez brings two legends, Seth Wescott and Rob Kingwill, together for a rowdy, big mountain adventure."
– Warren Miller Entertainment
All Proceeds Benefit Far From Home
The proceeds from the screening of Ticket to Ride will benefit the production of the film Far From Home. The documentary chronicles the life of Brolin Mawejje through inspiring journey from his childhood in Uganda and struggles in America, to his road to the Olympics and medical school,
"What snowboarding does is it allows me to free my self, to be free from the rest of the world. It also allows me to gain experiences and share those experiences with the people I love and the friends that I gained and family I gained through those experiences" – Brolin Mawejje