Avalanche Awareness Night in Jackson Hole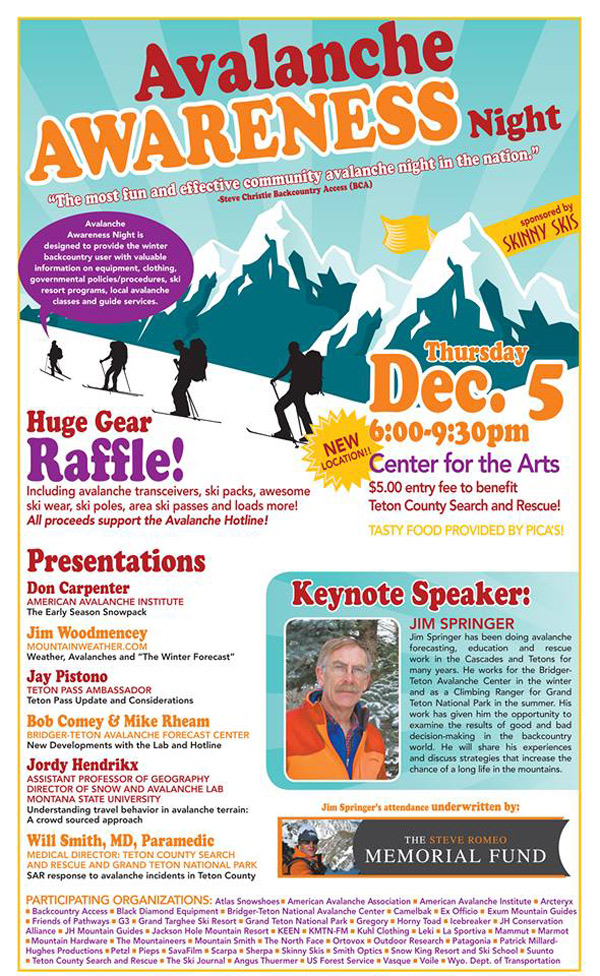 Avalanche Awareness Night
Thursday 12/05 – 6:30 to 9:30pm
Jackson Hole Center for the Arts $5 Donation benefits Teton County Search and Rescue Previewed by: Stephen Williams
From the time that Powder Magazine's annual Buyer's Guide arrives in the mail in the late summer, the countdown to the upcoming winter season begins. Living in Jackson over the last few years, I have started to notice a pretty consistent pattern of preseason events. Starting with Teton Gravity Research's pep-rally/ski-film premiere in Teton Village in September, to Skinny Skis annual Avalanche Awareness night in town the first Thursday of December, we have are own way of preparing for old man winter to reappear. By the time the the first snowflakes start to fall, the enthusiasm of skiers and snowboarders begins to boil over. Much more than just stoke for skiing, tonights Avy Awareness night is an essential town meeting for those who will choose to venture into the backcountry.
This year, the event, which benefits Teton County Search and Rescue, has moved from the Snow King hotel to the Center for the Arts. The theatre should be a great host to the presentations from snow experts from around the region. As in years past, Dan Carpenter from the American Avalanche institute will presents his findings on the early season snowpack. Teton Pass Ambassador Jay Pistono will update us on the issues facing Teton Pass with the ever growing number of skiers. Bob Comey and Mike Rheam from the Bridger-Teton Avalanche Center will present new features to their website and hotline. And of course, local meterologist/snow-seer Jim Woodmencey will give us his prediction for the winter weather patterns. Also hitting the stage this year will be Jordy Hendrikx from Montana State Unversity, Search and Rescue Medical Director Will Smith and keynote speaker Jim Springer. Jim will be discussing strategies for enjoying a long life in the mountains drawn from his experience working with the Bridger-Teton Avalanche Center and as a climbing ranger in Grand Teton National Park.
In addition to the wealth of knowledge about safe backcountry use that these speakers will present, the Avalanche Awareness Night's legendary raffle will offer the chance to win some essential safety gear. From beacons, backpacks and shovels, to outerwear and ski passes, thousands of dollars worth of gear will be raffled off. All raffle proceeds benefit the Bridger-Teton Avalanche Center and gear companies will be on hand to showcase the newest advancements with their products.
There are few other great events happening tonight in Jackson including Recollect Threads Grand Opening and the Town Square Tavern's annual Local's Appreciation Party, which should serve as great after parties for Avalanche Awareness night. So come out to the Center for the Arts, get informed about safe backcountry use, go out and have a good time and get ready for another epic winter in Jackson Hole.