Canyon Kids Release Double EP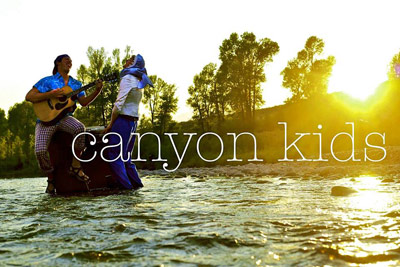 Canyon Kids Release Double EP
Written By: Adam Glos
Photos by: Christie Quinn
In case you missed it, the debut album from Canyon Kids hit the electronic shelves recently, proving once again that the small town of Jackson has some serious talent up its sleeves.
Canyon Kids is a musical byproduct and collaboration spearheaded by local musicians Dusty Nichols and Bo Elledge. You may know this duo from the Tavern's Tuesday night gig featuring Uncle Stack and the Attack and former alliance Elk Attack. Nichols and Elledge have been in the Jackson spotlight for years now performing at local events including Jackson Hole Mountain Resort's Mountain Festival, JH Live at Snow King and various other performances celebrating local musicianship.
The record, self-titled Canyon Kids, is a project that Nichols describes as "epic pants-on-fire good." Both Nichols and Elledge had been song writing for years, but up until now didn't have a vehicle to showcase their original talent. While working together shooting rafting photos in the Snake River Canyon, the two had plenty of time to kill and found themselves writing and rehearsing songs they felt were worthy of a record. After a successful Kickstarter campaign and raising the necessary funds to begin recording, Canyon Kids was born.
Though the duo collaborated together, the album will be released as a Double EP with four songs written exclusively by Nichols and another four by Elledge. Nichols explains his contribution revolves around a conceptual theme based on Steinbeck's novel East Of Eden. The opening song "Salinas Valley" sets the stage for three characters featured in the novel, each of who have their own track. Elledge on the other hand takes a slightly different approach. He refers to his songs as having a conversation with himself, while tracks such as "Supermoon" and "Low End" appear to draw upon the heroic beauty that surrounds the Jackson community. His hopes are that people enjoy the creative project they have worked so hard on, and perhaps can relate it to their own personal endeavors.
With a variety of influences including folk, rock, pop, soul and electronica, it's hard to pinpoint the precise nature of Canyon Kids. When asked to identify the sound featured on their upcoming album, Elledge had this to say:
"We spent roughly two months recording at the Pink Garter Theater. There was this kind of a haunted vibe tracking in the old empty dark theater, and I think you can feel that vibe in the music".
Nichols refers to the album as having a "cavernous" sound full of exotic twists and turns, creating a tumultuous rhythm that resonates throughout the entire record. He explains this sound was made possible through utilizing the natural space on stage in the Pink Garter Theatre. The result is a unique ambiance that is both enchanting and bone chilling and could not have been replicated elsewhere.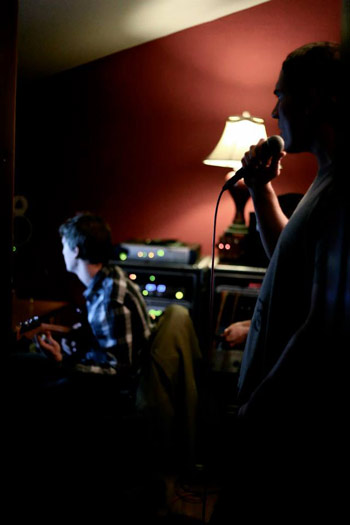 What makes Canyon Kids so distinctive is the collaborators that came together to make the project possible. Advertised as a "Jackson Collective" through their Kickstarter campaign, Nichols and Elledge brought in a number of guest artists to contribute to the album's creation. Through dedication and experimentation, the duo captured an incredibly diverse sound featuring instruments the pair were not originally accustomed to working with, but mastered with elegance.
Contributing Musicians:
Adam Wooley – Bass
John Wayne Harris – Drums
Jason Fritts – Woodwinds/Sax
Bobby Griffith – Trumpet
Grove Miller – Organ/Keys
Madelaine German – Organ/Glockenspiel
Leif Routman – Stand-Up Bass
Pat Chadwick – Back-Up Vocals
Will Smith – Cello
Production:
Mix and Production – Andrew Lappin
Mastering – Ryan Schwabe