Upcoming Event: The KHOL 89.1fm Winter Membership Drive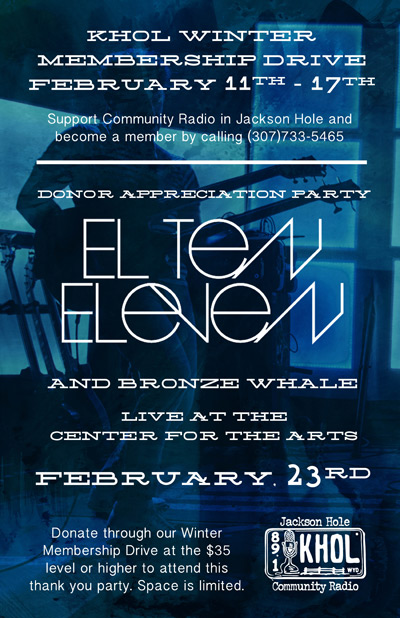 The 2014 KHOL 89.1fm Winter Membership Drive
Previewed By: John Leonard
February 11th – February 17th
Call 307.733.5465 to Donate
Visit www.891khol.org
Member Appreciation Party w/ El Ten Eleven

Live at the Center for the Arts
Sunday February, 23rd
The voice of Jackson Hole, 89.1 KHOL, is kicking off their 2014 Winter Membership Drive February 11th-17th. The listener supported station is coming off of it's most successful year due to tremendous support from the community. Solidifying the foundation is KHOL's new studio at the Center for the Arts. With this in place, it is time for the next step on the journey and they are inviting you along for the ride.
KHOL is constantly striving towards their mission to connect and engage with the community. The station was built and run by our friends and neighbor's and stands as the only non-profit community radio station in Wyoming. Cultivating passion and ideas within a grassroots organization, KHOL's platform brings independent media and cultural diversity together to define the personality & lifestyle of Jackson Hole.
A main goal of the 2014 Winter Membership Drive is to bring KHOL's signal to more and more ears by streaming via the internet. Expanding their reach by being available to a much larger audience, this will take the station to new heights. Other efforts include expansion of the station's public affairs program, which will develop engaging and dynamic talk programming.
To give thanks to their supporters, KHOL will host a Donor Appreciation Party. For the party, they are excited to announce the band EL Ten Eleven to the Center for the Arts on February 23rd. El Ten Eleven consists of the power-duo, Kristian Dunn and Tim Fogarty. Armed with merely a doubleneck bass/guitar, drums and a dizzying array of foot pedals, the band creates complex, deeply felt music from scratch that will certainly bring a different sound to the Center for the Arts stage.
Everyone who donates at the $35 level or higher through the Winter Membership Drive, is invited to the Donor Appreciation Party. Individuals are encouraged to get involved by volunteering or making a donation. To donate, you can stop by the station, call (307)733-5465 or visit www.891khol.org.
Why do you value KHOL? Listen to community member and volunteer DJ Bob Millsap explain what community radio means to him. Donate through the membership drive to attend a special thank you concert featuring L.A. based band EL Ten Eleven
El Ten Eleven – "My Only Swerving" 35 Denton from 35 Denton on Vimeo.