The 2nd Annual North American Skijoring Championships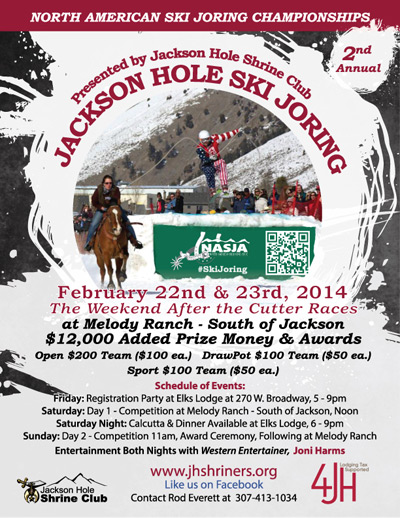 The 2nd Annual North American Skijoring Championships
Previewed By: Adam Glos
Saturday, February 22nd – 12:00pm
1 Sunday, February 23rd – 11:00am
Melody Ranch // Jackson, WY
General Admission: $10 // Kids 12 and Under: FREE
If you found yourself having oodles of fun at last week's Cutter Races, then you're sure to be entertained by the JH Shrine Club's follow-up event featuring the North American Skijoring Championships.
Skijoring was supposedly invented by the Norwegians (no surprise there) and apparently they thought it was a perfectly sane mode of recreation. Originally, they would tie a lasso around some dogs, strap on their skis, and go for a little joyride. Eventually they thought it would be a fantastic idea to compete against one another in a head-to-head race, and the wonderful sport of skijoring was born. Since then, competitors have up'ed the ante and replaced dogs with horses and even cars, which of course leads to higher speeds and more epic yardsales.
A relatively new event to Jackson's Annual Winterfest, this truly modern western spectacle consists of teams with 1 skier and 1 horse rider that race against the clock through a "go around" filled with 24 gates and 4 jumps. Impressive athleticism and carnage ensues along with a rowdy crowd of spectators that quite frankly you don't want to miss.
With $12,000 in prize money and awards on the line, it's any team's game for the taking. For more information, visit www.jhshriners.com.