Live Music: The Infamous Stringduster's Live at the Mangy Moose / Sweethogs and Swinehearts Ball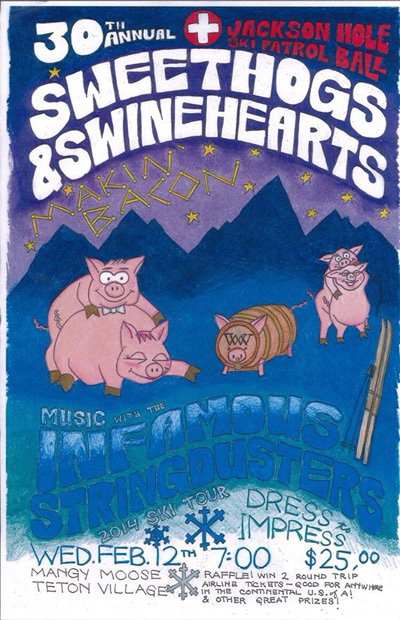 Infamous Stringdusters
Tuesday February, 11th
Mangy Moose // Teton Village, WY
9:00pm // Tickets: $20
Sweethogs and Swinehearts Ball with Infamous Stringdusters
Previewed By: Matt Herron
Wednesday February, 12th
Mangy Moose // Teton Village, WY
9:00pm // Tickets: $25
Before making reservations at McDonald's or buying Dollar Store chocolates for Valentine's Day, dirtbags of Jackson get to do something sweet for themselves at the 30th annual Jackson Hole Ski Patrol Swinehearts and Sweethogs Ball on February 12th at the Mangy Moose Saloon.
A celebration of 30 years is enough reason to make this party go off but with the addition of the Infamous String Dusters as the house band for the evening, the well-worn walls of the Moose may actually collapse. Known for their high energy music the Dusters have taken their bluegrass roots and have expanded them far beyond the conventional by combining unique originals, blistering instrumentation and refined harmonies. The band is no stranger to Jackson with multiple performances at Targhee Bluegrass and The Pink Garter Theater but with the band's passion for skiing it seems right that they would tear the roof off one of the most famous après bars in the world. Kudos to the Moose for hosting this caliber of band; it seems like it's been a while.
As for the JHSP, what can you say? They get the mountain open on powder days and sled you down the mountain when you've misplaced an ACL. What better way to thank them than to go party with them! Either you're a sweetheart or a swineheart so make sure to dress accordingly. In addition to the great music happening on stage the JHSP will be raffling off two plane tickets to anywhere in the lower 48.