Hundred Days: Competing in the Freeride World Qualifier Stop at Crystal Mountain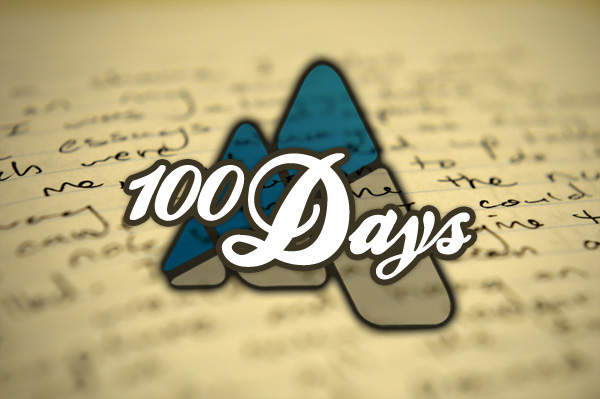 02/19/14 – Competing in the Freeride World Qualifier Stop at Crystal Mountain
Written By: Rachel Fortier
Photos By: Paul Moseley
On about the 13th hour of my 15 hour drive I started to ask myself, "What's the point of all this?" I am headed to Crystal Mountain, southeast of Seattle in the Cascades for my 1st Freeride World Qualifier event of the season.
This marks my third season competing on the qualifier tour and prior to this season I have been able to compete in two events per year. This winter I am competing in 5 out of the 6 Freeride events. All season I have been slightly hesitant to leave Jackson, knowing I will miss out on five weeks of shredding amazing snow conditions with my closest friends only to head off to numerous mountains with 20 or so inch bases. Not only that, but I am leaving my dog, missing yurt trips, taking tons of time off from work, and being in a car for countless hours and all for what? Do I really have what it takes to be a professional skier? I wondered this my whole drive here today and what I realized several times over is that you need goals in life. Competing in Freeride events is a challenge and an opportunity to push myself and improve my skiing in more ways than I ever thought possible.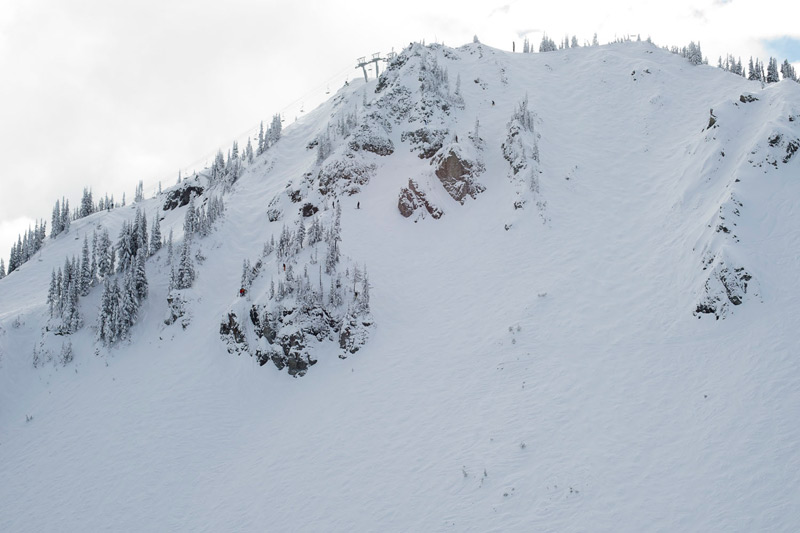 Inspection day:
Inspection day is always one of the biggest challenges for me. There is so much uncertainty, so many big choices to make. Millions of thoughts run through my head. "Do I ski this line or this line?" "I want to go big, but I could also play it safe and make the finals." "How bad is it going to hurt when I land on bulletproof hard pack?" These thoughts wear away at my confidence while I poke around in cliff areas all alone on a mountain I don't know. At the end of it all you're lucky if you have a line picked out that you're really stoked on.
Inspection day has come and gone. Right off the bat I meet up with about 10 Jackson/Driggs competitors, and we take off up the gondi. From then on there was a sense of team amongst us and we were discussing line choice and snow conditions. The venue has variable snow and lots of good features, but after the third inspection run I am finding that things are not what they seem. Take-offs are sugary and sharky, and landings are hard and fast. None of this is news to you unless you're a first-timer. My first comp I was shocked. Thinking, "you want me to drop onto hard pack and shred through ice chunder?!" But now I know that is what is expected.
And so the question remains, why do we do this? I think the answer is at 2:30 pm after inspection when you finally decide to stick with whatever line you chose and you don't care what anyone else is doing. You are at peace with your decision. You are stoked. You can enjoy the rest of the day, sitting around a table in a tiny bar surrounded by those same 10 friends who took off up the gondi together, happy to have come all this way and excited for what the next day will bring.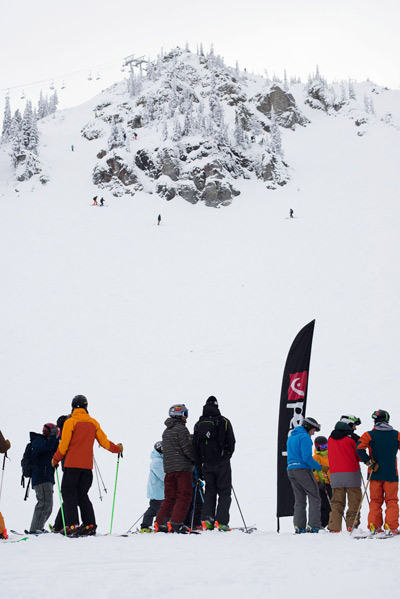 Competition day:
Competition day starts out with an 8:15 gondi load. I get to the top noting a damp, pacific northwest cold. It is the type of cold that cuts to your core, and since I am running 24th out of 30, I have a long morning to watch, keep warm, and wait. I have a plan A and a plan B. Even days ago I had decided that no matter what, I was going with plan A. I am tired of playing it safe and just barely making the finals. My plan A wasn't a huge air, but it was the biggest feature I have ever hit in completion. I am nervous and excited all at the same time.
Standing up at the top I count about 50% of the girls fall and a few more play it safe. For a moment I debate plan B, or, at the very least, taking out some of my smaller features at the top because any air on these icy conditions has the potential to trip you up. But then I remember my goal. I don't want to make the finals by playing it safe again! I know I can do that, that's not why I came here! So I stick to plan A.
I fall immediately upon landing my big air, hitting the icy ground, bouncing off, and starting a series of tumbles. As I'm sliding, attempting to self-arrest, I am thinking to myself, "this isn't so bad, I'm not hurt and I'm not embarrassed." In fact, I am proud of myself for sticking to my plan, going for my goal, and realizing that even if I failed this time, I have a new found confidence to try again at the next competition in Taos, NM. I regain my footing, ski to the bottom, and am greeted by my fellow competitors who cheered me on at my very first competition. All of them happy and proud of me for going big even though this meant I wouldn't be in the finals the next day.
The day finishes as cold as it started, celebrating at the top for our athlete party filled with plenty of food and drinks. I am excited for everyone who made the finals and stoked to watch them compete tomorrow in what looks like an awesome venue, but most of all I am excited and proud of myself. I did what I came here to do, I pushed my limits, went for my goal, and had so much fun doing it. I look forward to meeting up again with all my fellow athletes and friends at the next Freeride World Tour Qualifier!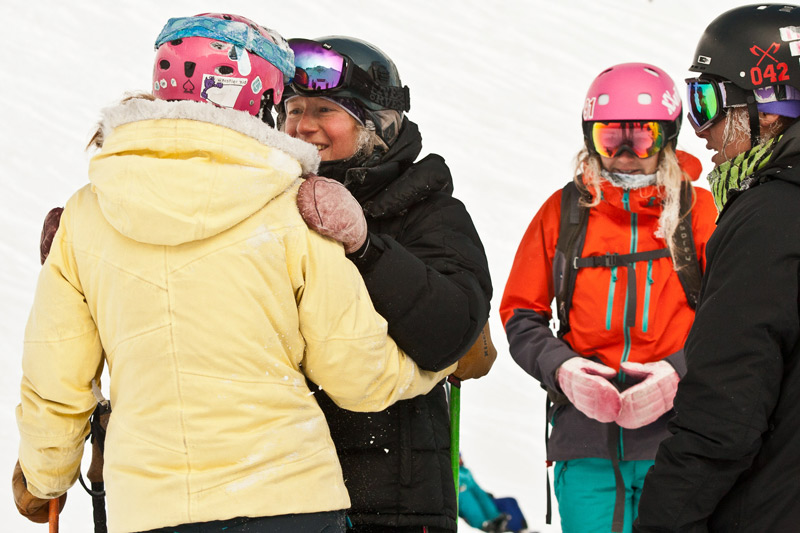 Results:
A bunch of Jackson athletes made the finals and a bunch of us fell. In the Girls Division Allie Rood hit the biggest of the airs that the ladies hit. She fell but stomped if first. The Jackson/Driggs Ladies who made the finals were: Tess Wood, Rebecca Gerber, Liza Sarychev, Morgan McGlashon and Rachel Croft. All of them skied a clean run and killed it! Tess Wood had her best results yet with a 6th place finish! For the Jackson men Jacob Stearns and Zach Simon made the finals. Jackson and Driggs were represented well!
More Photos from the Freeride World Qualifier stop at Crystal Mountain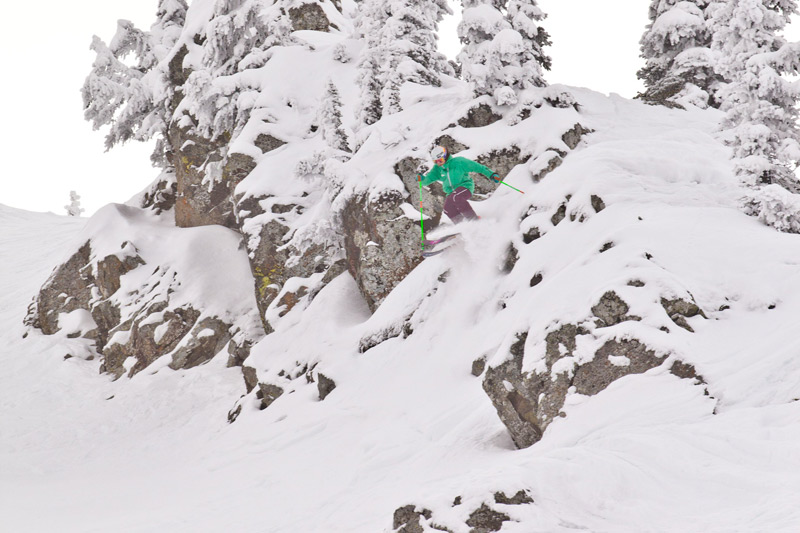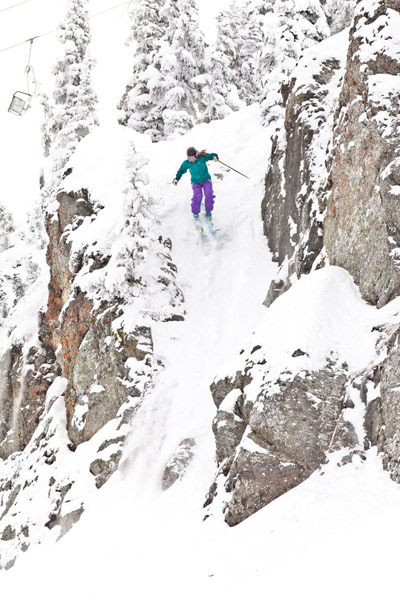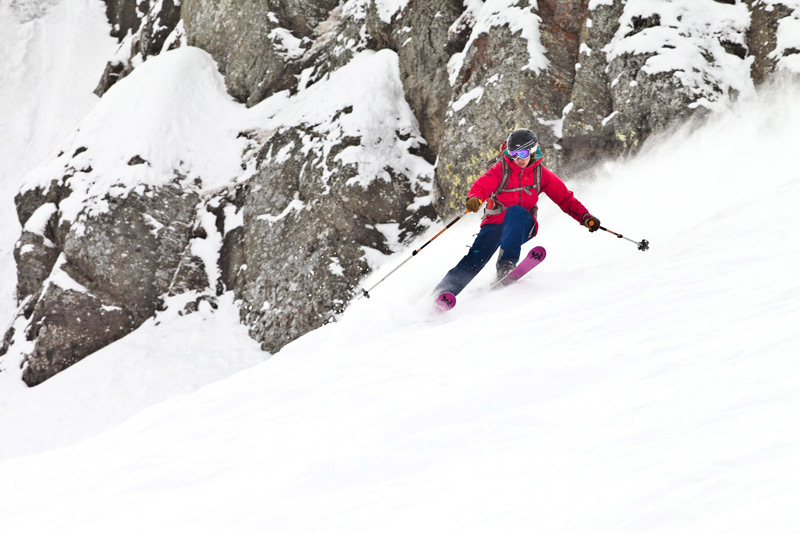 Other Posts from The Mountain Pulse