Live Music: Tribal Seeds at the Pink Garter Theater January 22nd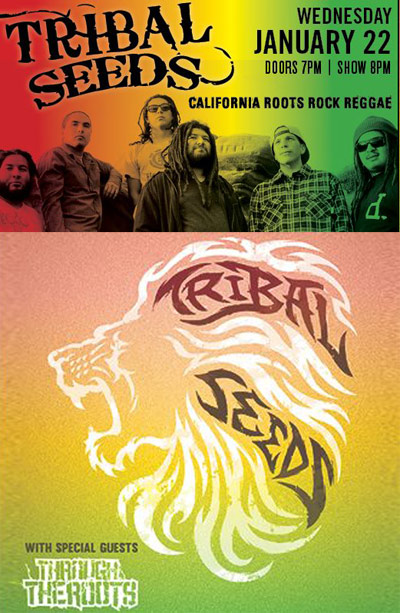 Tribal Seeds
With Special Guests Through the Roots
Previewed By: Kori Price
Wednesday January, 22nd
Pink Garter Theatre // Jackson, WY
Doors – 7:00pm // Show – 8:00pm
Tickets: $17 in advance // Buy Tickets Online
For Jackson, a classic reggae dance party with a native, rock rhythm doesn't happen often enough. Well, it's time to break out your inner Rastafarian because the six-man San Diego based band, Tribal Seeds, is returning to Pink Garter Theater, this Wednesday, January 22.
Tribal Seeds, originally started by two brothers, Steven Rene Jacabo and Tony-Ray Jacabo, has been producing pure, but rare reggae since 2007 when they released their first album, Youth Rebel Lion. Since then, they've released three more award-winning albums: Tribal Seeds (2008), The Harvest (2009) and Soundwaves (2011).
The seeds they've planted in these albums spawned a plethora of diversified, progressive roots for the reggae genre. Their musical harvest takes you on a journey from the tropical shorelines of California, to the African desert all the way to festive cobblestones in Spain on to flashy nightclubs, totemic tribes, and your own backyard bonfire.
If you are looking for a worldly, yet vintage reggae experience, catch Tribal Seeds this Wednesday night with special guest, Through the Roots. Doors open at 7:00 pm, show starts at 8:00 pm. With any luck, we'll get to jam to some unreleased beats off their upcoming album, Representing.
But until then, take a listen to a track from their self-titled album, which showcases their exempt lyrical skills. And boys, pay special attention because this is how you woo a lady in Rasta.