Coldsmoke Film Tour Visits Jackson Hole
Coldsmoke Winter Film Tour
Written By: John Leonard
Friday December 6th
Doors Open at 6:30pm
Pink Garter Theatre
$15
Winter is back! The snow is flying, lift lines are filling up and bootpacks are set. Now that we can sharpen the edges of ski's and snowboards and explore the powdery slopes of Jackson's jaw dropping terrain, it's time to celebrate!
Enter the 2013 Coldsmoke Winter Film Tour. On Friday night, the Pink Garter Theatre welcomes the Coldsmoke Awards, an adventure platform that helps winter film makers realize their dreams of sharing mountain experiences with the generations of explorers.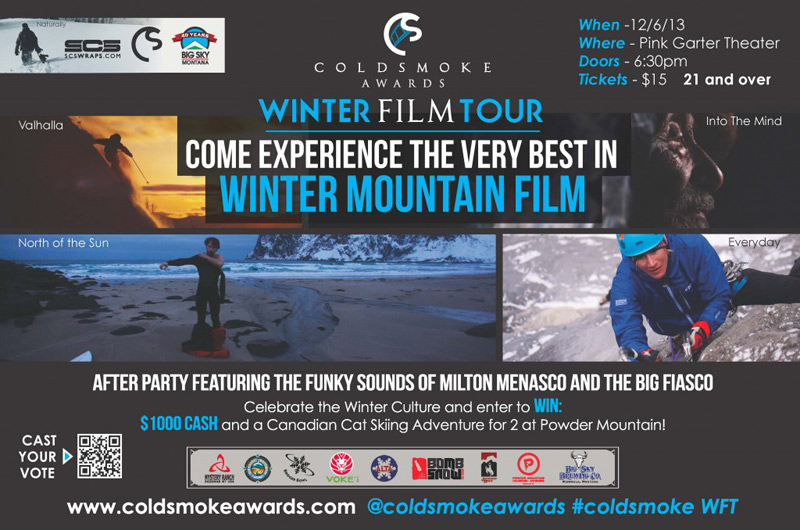 Entering their 9th season, The Coldsmoke Awards strive to cultivate the winter culture. Showcasing both professional and amateur produced films, the winter sports range from skiing and snowboarding to ice climbing, speed flying and anything related to powder.
All of the films submitted will be up for the People's Choice Award that is determined by the fan's voting.
Over 30 films are open to voting on the official website. Every vote is rewarded with an entry to win an exclusive Cold Smoke Winter Adventure with $1,000 cash and a Powder Mountain Cat Skiing Trip. Voting ends on January 1st and the winners will be announced January 18th at the Coldsmoke Awards in Bozeman, Montana.
Jackson WY Feature Films:
Eye of the Beholder, The UpThink Lab
Morning Rituals, Purple Orange
Super Pillows, Switchback
Progression in Regression
Seek Passion Be Compassionate
The party will continue following the Cold Smoke Winter Tour with a night of dancing to Milton Menasco & the Big Fiasco and their funky reggae sounds