2013 New Years Eve in Jackson Hole
Written By: Lindley Rust
The time has come to shred pow, jam good tunes, drink beer, ring in the new year, and make some resolutions that are sure to last two weeks. Whether you're spending the evening in Jackson, Teton Village, or Wydaho, you shouldn't have any trouble in finding a good time! There are plenty of happenings to keep you dancing as the clock counts down to midnight and the champagne is being poured. Happy New Years, and here's to our next revolution around the Sun being our best yet. Cheers!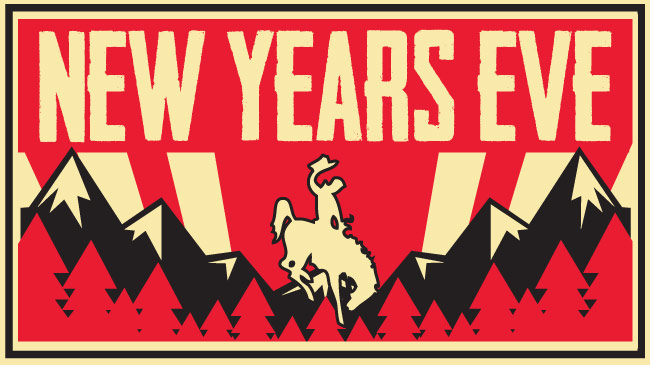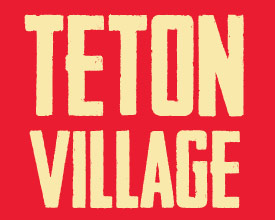 Kids Gloworm Parade – 5:30pm
Torchlight Parade – 6:00pm
Fireworks – 6:30pm
Screen Door Porch
Handle Bar / 3:00pm – 6:00pm / FREE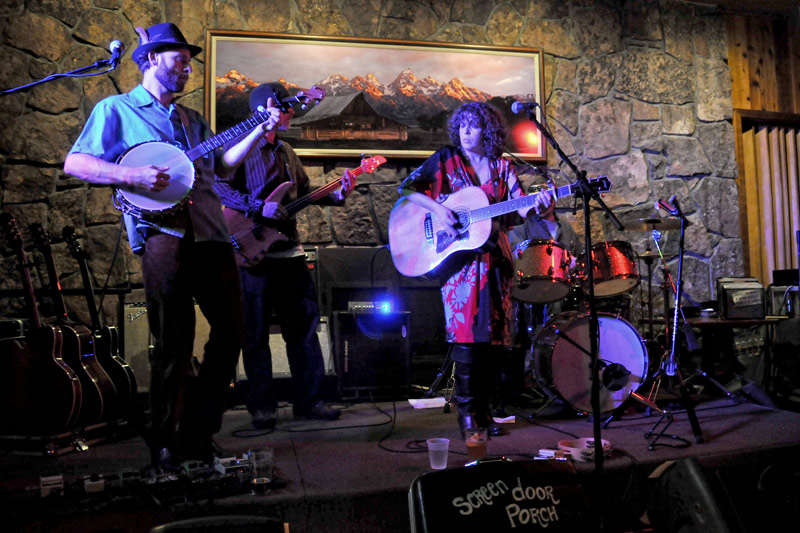 This heartfelt quartet has an energetic presence that undoubtedly draws the audience into their roots-rock and country sound. They were recently featured in The New York Times & Voted #2 album of 2012 by the Wyoming Public Radio listening audience. So if you're looking for some local sounds and a fun venue to start off your New Years Eve afternoon, then the Handle Bar is the place to be!

Gondi Gala with Mandatory Air
Couloir Restaurant / 9:00pm / $75 / Buy Tickets
The talented Miller Sisters lead this eclectic 8-piece band with their remarkable vocals. Their influences are wide ranged from rock, funk, soul and R&B. Not only do they play all their funky originals, but they also have a wide array of cover songs. Party hearty with Mandatory Air at the top of the Gondola if you're looking for a slamming good time!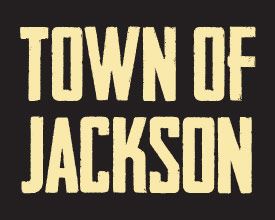 Snow King Ski Area
Torchlight Parade – 6:15pm
Fireworks – 7:00pm
One Ton Pig
Silver Dollar Bar / 9:00pm / FREE
Put on your dancing boots and prepare to be knocked off your feet by the Americana, bluegrass sound that is One Ton Pig. Come enjoy their original set mixed with all the rage covers. If you're looking for an overall good Wyoming time, then this is the place to be! Every Tuesday night they deliver an entertaining and upbeat atmosphere at the Silver Dollar Bar, and New Years Eve will be no exception!

Zoso: The Ultimate Led Zeppelin Experience
Town Square Tavern / 9:30pm / $20 / Buy Tickets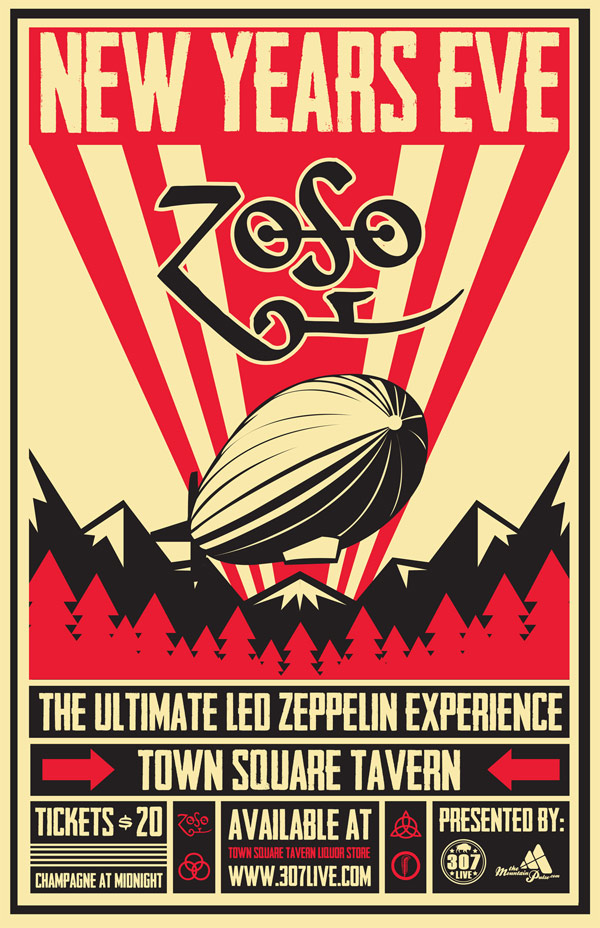 Capturing the essence of rock n roll's greatest band takes more than hitting the right notes. Zoso creates the ultimate Led Zeppelin Experience. Each band member's persona hits the mark of the Zeppelin sound and recreates the magic of the band in the 1970's. Hailed "Head and Shoulder's above all other Zeppelin tributes" by The Los Angeles Times and, "Closest to the original of any other tribute" said the Chicago Sun-Times. Your New Year begins with a mind blowing rock n roll experience of Zoso at the Town Square Tavern.
March 4th Marching Band
Pink Garter Theatre / 9:30pm / $40 / Buy Tickets
One of the most intriguing events of New Year's Eve will take place at the Pink Garter Theater with the March 4th Marching Band. Know as M4 by their growing legions of fans, A musical experience is what they deliver. The 5-piece percussion corps and 7-part brass section provides the soundtrack as high-stepping stilt-acrobatics and dazzling dancers create the visual aesthetic. M4's musical influences ranges through many genre's from the Louisiana swamp's to the gypsy vibes of Eastern Europe and the deepest grooves of American funk. Bring in the New Year with festival experience of the March 4th Marching Band.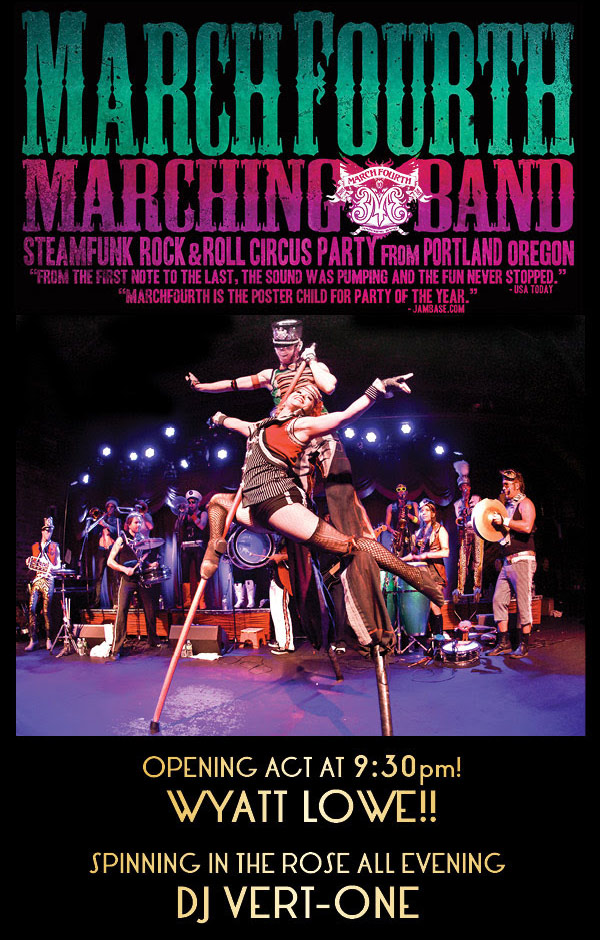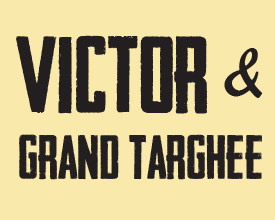 Grand Targhee Resort
Kids Torchlight Parade – 4:30pm
Adult Torchlight Parade – 5:30pm
Fireworks – 6:30pm
Musketeer Gripweed
Trap Bar / 9:00pm / $20
Self described as an "American Revival Stomp Shake Ass Holla" band, Musketeer Gripweed knows how to deliver a riveting show. Led by frontman Jason Downing's alter ego, Reverend Monkey-Paw Patterson, they creatively combine authentic rootsy rock, Delta blues, and a performance to be remembered.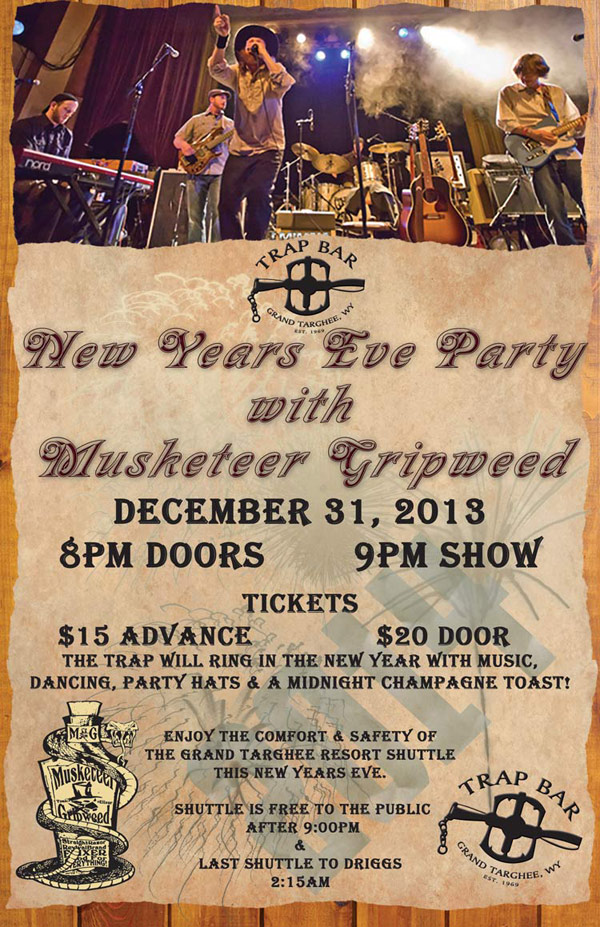 Sneaky Pete and the Secret Weapons
The Knotty Pine / 9:00pm / $10
Sneaky Pete and The Secret Weapons are sure to put on a party and good times will had by all! Their set is filled by original tunes mixed with funky covers that will undoubtedly make you dance. The energy they exude creates an atmosphere that will ring in the New Year with some serious grooviness.

sup>