Upcoming Event: 26th Annual Targhee Bluegrass Festival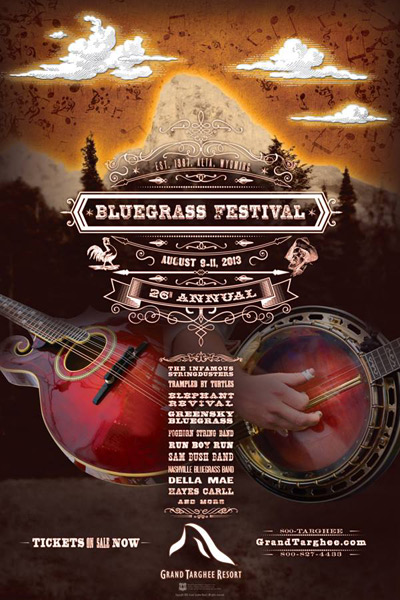 26th Annual Targhee Bluegrass Festival
Friday 8/9 – Sunday 8/11
Previewed by: John Leonard & Kori Price
The countdown to winter does not begin until the last string is plucked at the 26th annual Targhee Bluegrass Festival, this weekend. What better location for the Appalachia-inspired bluegrass genre than in the heart of the Grand Tetons? The weekend is filled with families getting down to folk music, hippies (or hillbillies) honing their hoop skills and locals unleashing their inner brass roots from dusk to dawn. Not to mention the infamous, turtle-tramped lineup of bands that will either leave you revived…or running with buffalo. Either way, there is no better place to be this weekend than dancing in the grass with a whole lot of brass.
Check out an enticing preview of the Festival's lineup below that will leave you thinking, Bluegrass…don't you mean reggae, rock and jazz grass? …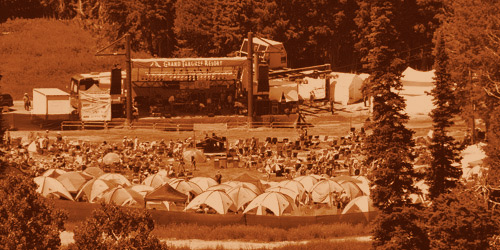 Friday August 9th
Schedule
4:00 pm – Hayes Carll
5:30 pm – Della Mae
7:00 pm – Nashville Bluegrass Band
9:00 pm – Sam Bush Band
Late Night Show at the Trap Bar
11:00 pm – Jonathan Warren & The Billy Goats
Hayes Carll
His 2002 debut album brought Hayes Carll plenty of notoriety. The Houston Press voted him as one of the top newcomers of 2002. In 2011, his song "Another Like You" was named #1 in the American songwriter's top 50 songs of the year. Hayes Carll will be kicking off this year's 26th annual Targhee Bluegrass Fest.
Sam Bush Band
Friday night Headliner The Sam Bush Band will kick Targhee into high gear and have everyone on their feet. Known as "Mr. Entertainer", Sam Bush has been rocking the bluegrass scene since 1963. An accomplished vocalist, Sam Bush is also a renowned fiddle and guitar player. Do not miss one of the most entertaining show of this year bluegrass festival.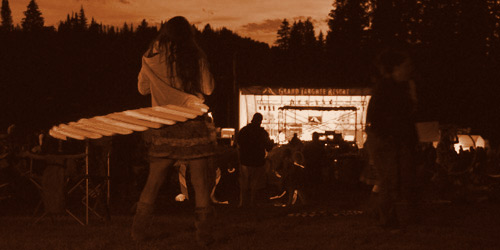 Saturday August 10th
Schedule
12:00 pm – Run Boy Run
1:30 pm – The Brothers Comatose
3:00 pm – Foghorn Stringband
5:00 pm – Elephant Revival
7:00 pm – Donna The Buffalo
9:30 pm – Trampled By Turtles
Late Night Show at the Trap Bar
11:00 pm – The Brothers Comatose
Elephant Revival
Elephant Revival transcends the genre of bluegrass. Their sound is known as transcendental folk, which incorporates Scottish/Celtic fiddle pieces, bluegrass, indie rock, reggae and the occasional hip hop beat. Bonnie Paine, Sage Cook, Dango Rose, Daniel Rodriguez and Bridgit Law all play multiple instruments and contribute with vocals to create a dynamic ambiance of music.
Trample By Turtles
Trampled By Turtles brings a wide array of diversity into their music. Their 2010 album "Palomino" maintained a top 10 position on the bluegrass charts for 52 straight weeks. Inspired by Townes Van Zandt, Neil Young, Bob Dylan, Nirvana and The Rolling Stones. Trampled by Turtles carves out its own sound by using instruments that many have used throughout the ages to define their sound. Always willing to explore and expand musically, Trampled by Turtles will blow away the stage on Saturday night.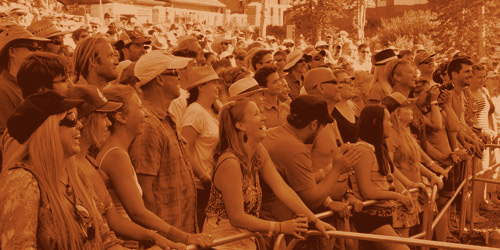 Sunday August 11th
Schedule
12:00 pm – Growling Old Men
1:30 pm – Spirit Family Reunion
3:00 pm – Claire Lynch Band
4:30 pm – Greensky Bluegrass
6:15 pm – The Infamous Stringdusters
Late Night Show at the Trap Bar
8:30 pm – Donna The Buffalo
Claire Lynch Band
Grammy nominated and International Bluegrass Music Association female vocalist of the year Claire Lynch has been pushing the genre of bluegrass to it's boundaries. The Claire Lynch Band will deliver a high energy show with a personal touch. With a mixture of hard driving bluegrass, country ballads and swing dancing, Claire Lynch is a creative powerhouse on top of her game. One of the many gems at this year's 26th Annual Targhee Bluegrass and her ensemble will definitely shine.
The Infamous Stringduster's
Emerging in 2007 with the acclaimed album "Fork in the Road", The Infamous Stringduster's resonates through bluegrass with it's distinct, groove friendly sound. In 2011 the band was nominated as the Entertainer of the Year by the International Bluegrass Music Association along with the Grammy nomination of Best Country Instrumental with the song "The Magic Number 9". The Stringduster's live performance is the main focus of the band and their recordings are based off the reception of their live audience. They walk the fine line of folk bluegrass and resilient jamming, The Infamous Stringduster's are one of the most popular bands out now in any genre. They will close down the 26th Annual Targhee Bluegrass festival in GRAND fashion.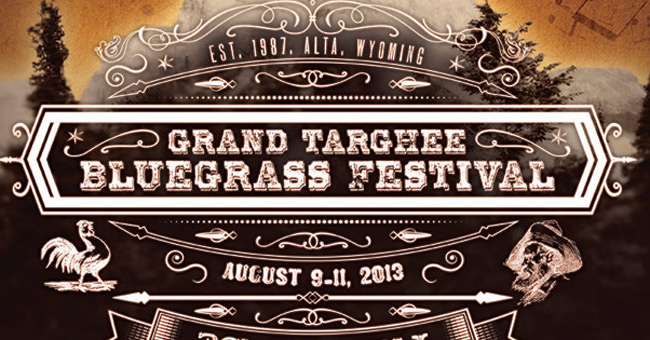 Tickets are still available to purchase online