Last Call At The Village Cafe
This weekend is last call at The VC. In a meeting held August 20th, the Teton Village Architectural Committee granted final approval (with conditions) for re-development of the Village Center at the base of Jackson Hole Mountain Resort. (Details to follow once minutes from the meeting are released in September)
The VC was one of the last "OG" establishments in Teton Village. As millionaires (billionaires?) crowd out die hard skiers from the village, its demise was inevitable. In celebration of its notorious history, The Village Cafe going out in style and doing what they do best – party. We caught up with DJ Vert-One and Dom Gagliardi to get the lowdown on the festivities.
East Jackson vs. West Bank
When: Friday 8/30, 9:00 p.m.
Where: The Village Cafe
Admission: Free, Drinks: $

" It's gonna be a late night party for sure. Back in the day, the East vs West parties were super fun, so we're kinda hoping to relive that again. It's appropriate to have one last gangsta bash with hip hop at the VC

. –DJ Vert-One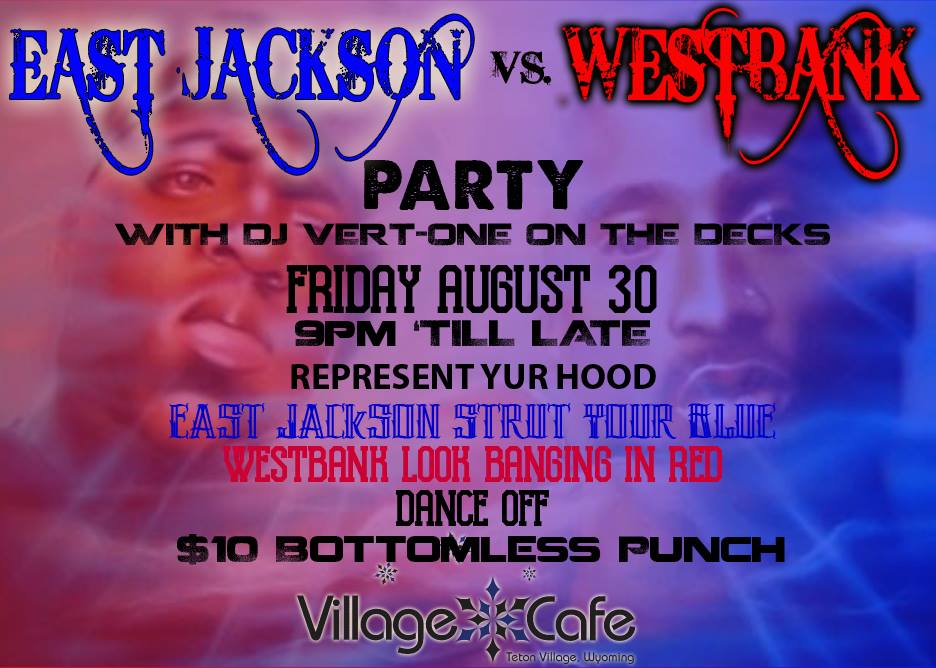 Last Chance at The VC
When: Monday 9/2 4:20 p.m.
Where: The Village Cafe
Slices, Beers, Cheers

" Monday is a more soulful finish to the Village Center Building. We'll start at 4:20 p.m. with a combination of open mic, DJ Vert-One & Chanman Roots Band. Slices, beers, and cheers. It was inevitable that something was going to happen with that old building, but I've been happy that we've been able to stretch it out as long as we have. It's sad we won't walk down that set of stairs again, but I'm looking forward to the opportunity to try and build a new version of The VC in the future.

–Dom Gagliardi