4th Annual Wydaho Rendezvous
Grand Targhee Resort
4th Annual Wydaho Rendezvous in Teton Valley
On Labor Weekend, mountain bike enthusiasts in the Teton Region, along with the top bike manufacturers in the industry, will flock to Teton Valley for the 4th Annual Wydaho Mountain Bike Festival. Grand Targhee Resort provides the venue for exploring some of the best trails in the Northern Rockies, featuring races, skills clinics, group rides, bike demos, live music and more.
Recently, we caught up with Jake Hawkes at Grand Targhee Resort who offered some insight to the festivities.
TMP: The Wydaho Downhill is the largest DH race in the Teton Region. What can riders expect? How are current conditions on the race course?
Jake Hawkes: The WYDAHO Downhill is a NEW take on our classic downhill course. We'll be starting riders at the Rock Chuck intersection (Top of the NEW Bullwinkle Trail). This is the most strenuous section of the Sticks N Stones Trail which begins on a sheet of limestone, flowing through technical corners and on to the rock laden loamy soil in the wooded Lower Sticks N Stones section. There are rocks, airs and plenty of technical riding featured.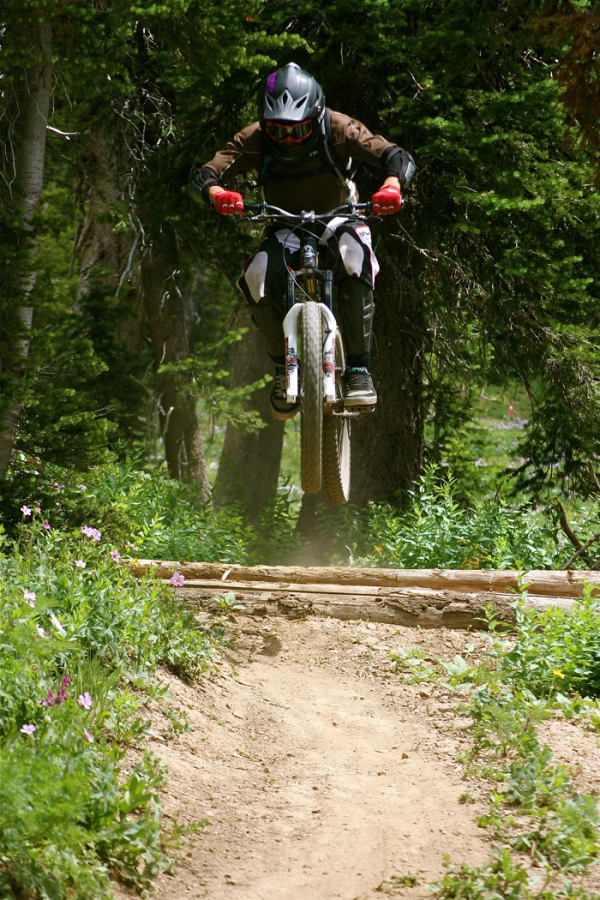 TMP: The new Otter Slide Flow Trail will be a great race for spectators – How did the new addition to your trail network turn out?
Jake Hawkes: Otter Slide is an outstanding trail for those looking to flow sans braking, with big sweeping high berm corners that lead you down to a 10' x 20' wall ride finish. Otter Slide has been engineered to perfection by Harlan Hartenstein of the Teton Freedom Riders. The 2013 WYDAHO Downhill and Chainless DH held August 31st are going to be 2 great gravity fed events featuring the best riders in two drastically different trails.
TMP: Aside from competitions, there's a ton to do this weekend at the Ghee – what are you most excited for?
Jake Hawkes: WYDAHO Rendezvous and Grand Targhee Events Coordinator Andy Williams have put together outstanding schedule of events, clinics and demos. One race not to be missed is the Strider Races, where adults hop on a child's strider bike without pedals and race down a portion of Otter Slide. Everyone involved is really excited to relax and enjoy the mountain music.
Schedule of Events
Friday August 30st
Evening Events kick off at 5pm with the opening ceremony and welcome party at Grand Targhee Resort. Live music will feature local favorite The Alta Boys at the base of Freds Mountain. Join Snake River Brewing and marvel in the madness of RipStoke Trials Performance.
Sunday September 1st
9:00 – 11:00 am Mountain Bike 102
8:30 am -1:00 pm morning group rides
1:00 – 3:30 pm Down Hill Intro
1:00 -4:30 pm Afternoon Group Rides with volunteers
5:00pm Snake River Brewing beet tent opens
5:00 – 7:00pm Happy Hunting Grounds BBQ
5:15 – 6:45pm Holy Water Buffalo takes the stage
6:00 pm RipStoke Trials performance
6:30 pm Sponsor Thank You and Awards
The Festival winds down with a BBQ at the base of Targhee with live music from Holy Water Buffalo. Event sponsors and bike manufacturers will have equipment on display and awards will be given out to the weekends top performers.
WYDAHO Festival Highlight Reel
Featured Image: Riding into the Tetons