Jackson Hole Avalanche Awareness Night
Presented by Skinny Skis
Jackson Hole Avalanche Awareness Night
When: Thursday, 12/6/12
Where: Snow King Resort
Admission: $5 Donation
More Details
Avalanche Awareness Night sponsored by Skinny Skis is a multifaceted event designed to be many things to many people. The gathering is a gateway for backcountry skiers, snowboarders, snowmobilers and hikers in the community to reconnect with one another and learn about current snow conditions in the Greater Teton Region.
From newcomers to seasoned veterans, the educational event reaches people on all ends of the experience spectrum. Backcountry users are able to meet avalanche instructors and sign up for classes. They can also speak with representatives from many of the top safety equipment and apparel providers while being exposed to the Jackson Hole mountain culture that prides itself on being based in education and experience.

This event bridges the products provided by avalanche safety manufactures with the importance of education under one roo

f in one night.
-Phil Leeds of Skinny Skis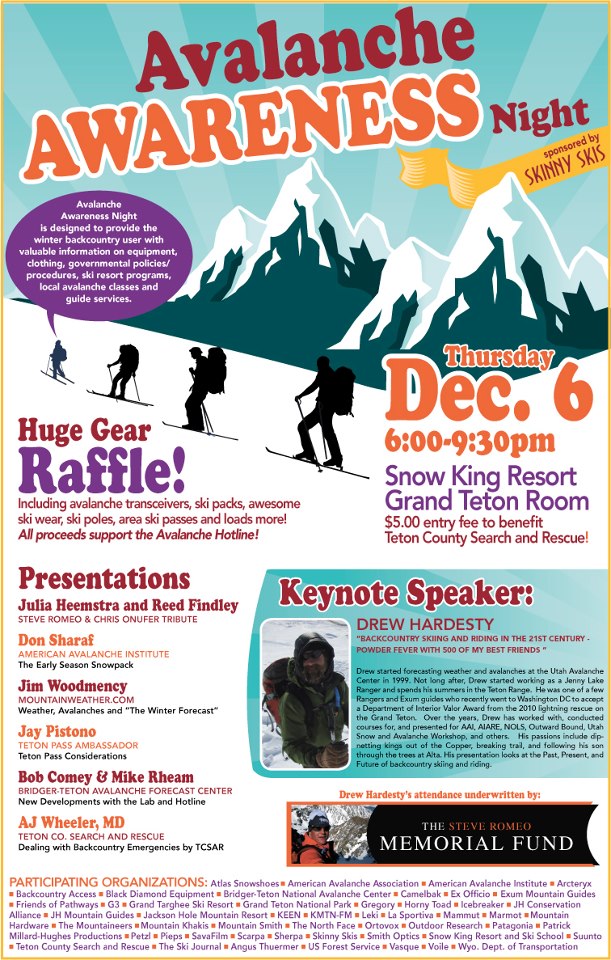 Recently, we spoke with Sava Malachowski, an organizer of Avalanche Awareness Night, and asked what people can expect from the event. He replied, "When people come to Avalanche Awareness Night, they're exposed to the basics of what skiing the backcountry is really about. Most importantly, they're given a warning that in order to enjoy this incredible part of the country, they need to acquire education and experience."
Special Tribute to Steve Romeo and Chris Onufer
Jackson Hole lost two very special people this year in an avalanche accident on Ranger Peak in Grand Teton National Park. Julia Hemstrum and Reed Finlay will offer words in tribute to Chris Onufer and Steve Romeo. For the past decade, Romeo greatly contributed his time and passion to avalanche awareness night.
Their enthusiasm for skiing will be greatly missed in the Jackson Hole as we remember these men and all they meant to us. Steve Romeo deserves recognition as well as gratitude for his hard work and dedication on behalf of Avalanche Awareness Night.
How Much Is It Going To Snow? Jim Woodmency's Winter Weather Outlook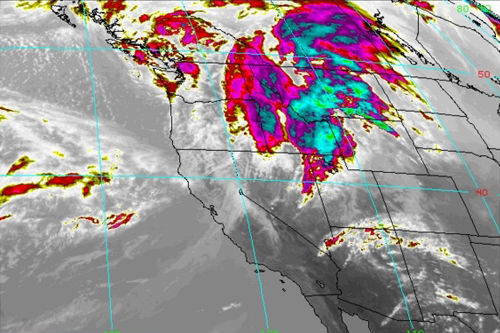 This time of year, we all have tendancy to become amateur meteorologist. But the well known source for information about weather patterns in the Greater Teton Region is Jim Woodmency. Trained in meteorology with a specialty in mountain environments, Woodmency educates the audience each year on global, national and regional trends effecting potential snowfall in Jackson.
Whether its Artic Oscillation, Pineapple Express, monsoonal flow, El Niño, or Madden-Julian Oscillation, the crowd is bound to learn new terminolgy from his entertaining presentation. Be confident that you'll walk away with a greater understanding of the question "How much will it snow this year?".
Bob Comey & Mike Rheam of Bridger-Teton Avalanche Center
It has been a busy shoulder season for the Bridger-Teton Avalanche Center. Their team of forecasters recently introduced an updated online hazard rating system that more clearly presents avalanche information and will debut a national avalanche hazard map that can be used to compare conditions around the country.
Bob Comey will speak to developments at the Friends of Bridger-Teton Avalanche Center as well as offering informative tips for traveling in avalanche terrain. Their presentation is refresher for people who go out in the backcountry and acknowledges that conditions change from year to year in the mountains.
Jay Pistono: Teton Pass Ambassador
Jay Pistono will address current issues on Teton Pass and how to best utilize the area while maintaining low environmental impact.
Teton County Search & Rescue
Dr. AJ Wheeler will speak about dealing with backcountry emergencies and the role of Teton Country Search & Rescue.
Featured Speaker: Drew Hardesty of the Utah Avalanche Center
Drew Hardesty is an avalanche forecaster for the Utah Avalanche Center. In recent years, he's been active not only as a forecaster but also a spokesman advising on avalanche conditions in the Wasatch Range. Locally in the Jackson, Hardesty is known for being a Jenny Lake Climbing Ranger ranger. Having roots in the Tetons, he knows the mountains well.
His presentation is expected to address the issue of growing populations skiing the backcountry. In a small area, you can have many people and how this must be taken into consideration when exploring winter terrain. He will touch on topics such as changing demographics and how things are not the same as they used to be ten or twenty years ago.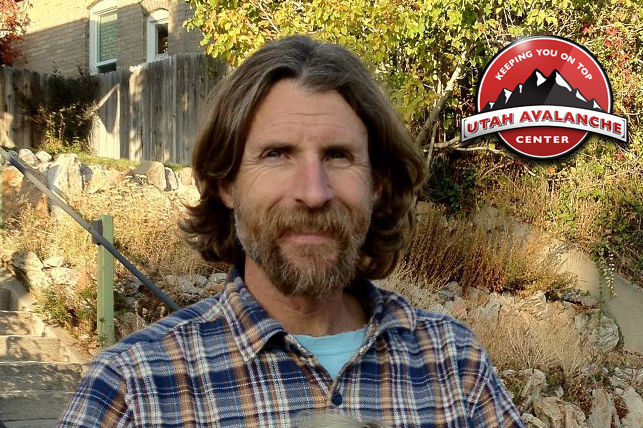 Manufacturers and Avalanche Education Classes
While there isn't an opportunity to purchase equipment at the event, Skinny Skis, located on Deloney Street in Jackson, provides a coupon that is a win-win scenario. Skinny Skis offers a 10% discount on avalanche safety equipment through December, and with that coupon, they'll donate 10% of the purchase to Teton County Search and Rescue. Vendors for virtually every significant avalanche safety product will be present at the event, so people can receive hands on education from company representatives about their products.
Companies Represented
… and many more companies such as Keen, La Portiva, Mountain Smith, Mountain Khakis, Horny Toad, Camelback, and Smith Optics as well as representatives from local organizations in Jackson Wy.

Also present will be representatives from avalanche education classes offered in the Greater Teton Region.
Written by Kevin Wittig. Follow Kevin on Twitter at @KevinSWittig