Another Winter Blast for Jackson Hole
Another Winter Blast for Jackson Hole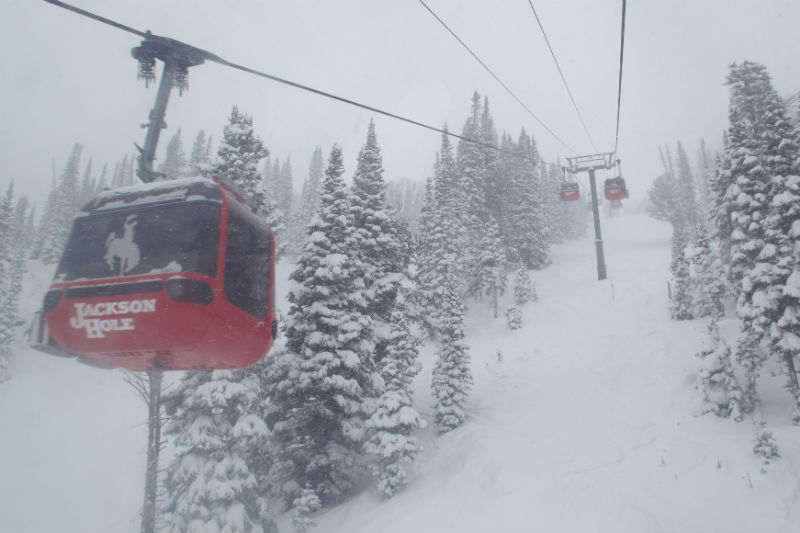 Jackson Hole is waking up to a powder enthusiasts dream. It's been snowing sideways with intensity throughout the night, stacking up several inches in town. As any locals can attest, if it's snowing hard in town, chances are it's absolutely puking in the mountains!
A strong winter storm system has zeroed in on the Greater Teton Region and shows no signs of slowing down. Winds are howling in town, creating difficult driving conditions. The Bridger-Teton Avalanche Center has raised its hazard warning to HIGH today, the first time they have done so this season. As we all flock to the mountain to experience the biggest powder day of the season, be smart and stay safe! Check back with you later today…
December 17th Winter Storm Warning via National Weather Service in Riverton WY – …A major winter storm is taking shape acrosse the west through Monday night. A major winter storm will impact the west through Monday Night. Snowfall amounts of 10 to 20 inches can be expected in the far west mountain swith 6 to 12 inches further east along the west side of the Wind River Mountains. The Snow will be accompanied by increasing west to southwest winds overnight and Monday.
Rendezvous Bowl at Jackson Hole Has Recorded Snowfall Every Day During The Month Of December
Raymer Plot Daily Snowfall Totals
December 1st – 10 inches
December 2nd – 3 inches
December 3rd – 9 inches
December 4th – 1 inch
December 5th – 5 inches
December 6th – 5 inches
December 7th – 5 inches
December 8th – 13 inches
December 8th – 3 inch
December 9th – 3 inches
December 10th – 2 inches
December 11th – 5 inches
December 12th – 1 inch
December 13th – 3 inches
December 14th – 1 inch
December 15th – 2 inches
December 16th – 2 inches
December 17th – 13 inches
Graph of daily snow accumulation correlated to the total season snowfall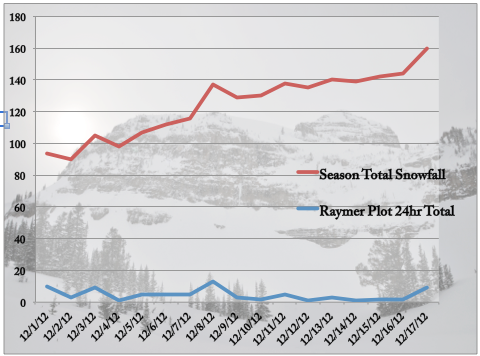 Current Radar Loop for the Western United States
Weather Experts in the Greater Teton Region
If visiting the Jackson Hole for the first time or new to the region, take advantage of the following weather experts for information about winter forecasts and current avalanche conditions in the Greater Teton Region.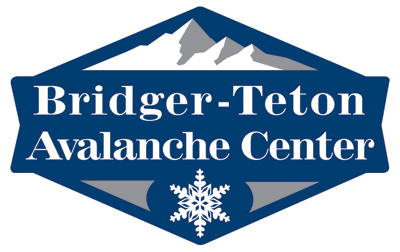 The avalanche center provides a daily report summarizing weather conditions and their impact on avalanche activity in the region. They also maintain a variety of tools the public can use to stay up to date on current weather conditions. Commonly used data on their site includes:
The avalanche center plans to use new social media platforms to help raise awareness of hazardous snow pack conditions in the mountains.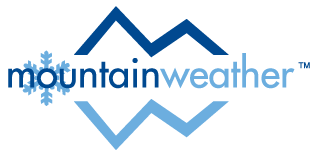 MountainWeather is a meteorological consulting company located in Jackson, Wyoming and is owned and operated by meteorologist Jim Woodmencey. The MountainWeather Forecast for Jackson Hole and the Teton Mountains is produced each weekday morning.
Additional services offered by Mountain Weather include: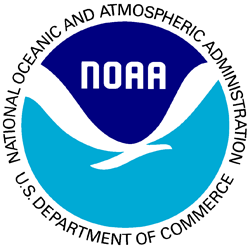 NOAA Riverton provides winter weather advisories for our region of the state. Their website offers links to reports, maps, current conditions, radar observations and more.
The Riverton station recently joined Facebook, offering new ways to stay connected to their forecast. Other services they feature include:
Written by Kevin Wittig. Follow Kevin on Twitter at @KevinSWittig