Hundred Days
Jackson Hole Ski Club Annual Ski Swap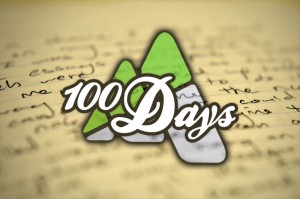 10/26/12 – Jackson Hole Ski Club Annual Ski Swap Strategery
Written By: Kevin Wittig @kevinswittig on Twitter
Dive into the garage and take inventory. Options over the next month to prepare for the winter season will probably include one of the following: buying gear at retail price, finding a steal online, or uncovering hidden gems at a discount. If you're like me and happen to be relying on the latter, then I'll see you in line on Saturday morning at the Annual Ski Swap sponsored by the Jackson Hole Ski & Snowboard Club.
Each year around Halloween, Jackson's oldest non-profit takes over Heritage Arena at the Teton County fairgrounds to welcome skiers and riders for the largest ski swap in the Greater Teton Region. From last seasons' fat skis to home made split boards, you'll come across a bit of everything at the ski swap. Gloves, hats, under layers, jackets… you name it, you'll find it – and most likely at a price even ski bums can afford.
Strategery
Prepare a Plan of Attack
– As you run towards the ski rack, someone else is looking for that Patagonia jacket you need. It's easy to be overwhelmed by the amount of gear at your finger tips. Think about what you really need. If you could walk away with one thing, what would it be?

Get Your Butt Out of Bed
– Trying to pick up a pair of last years Coombacks, or a 162 splitboard? Don't get wasted tonight and sleep in. You'll lose.

Offset Your Expenditure
– Come on, are you ever gonna use those tele's you bought two years ago, or slay pow in the same jacket you've worn for the last three seasons. Now's the time to sell!
Jh Ski Club Ski Swap from Ebb & Flow Media on Vimeo.
Event Details
When: Saturday 10/27; 7:30am
Where: Heritage Arena, Teton County Fairgrounds
Drop Off Gear on Friday
Vendor drop off is from 12pm to 2pm. The public is invited to drop off gear they'd like to sell from 12pm – 7pm at Heritage Arena. The JH Ski & Snowboard Club retains 25% of the sale price. There is a one dollar handling fee per item with a cap of seven dollars.
Saturday 10/27: Ski Swap Madness
6:30am – Coffee from Elevated Grounds and burritos from Pica's on site! All profits to benefit the JHSC Scholarship Fund
7:30am -The Early Bird gets the Worm! Early Bird admission is ten dollars or five dollars with your Ski Club Membership Card.
8:15am- Doors open for the public. General admission is one dollar or free with your Ski Club Membership Card.
Items not sold during the Ski Swap can be picked-up between 2pm and 4pm. Items not picked-up by 4pm will be considered a donation and taken to the Sublette Ski Swap. If your gear sells, all checks will be mailed by 11/14/12
Good Luck!