1st Annual King Cross Race Series
Presented by Hoback Sports

Hoback Sports Presents the King Cross Race Series
Race Series Details
When: Saturday 10/6
When: Saturday 10/27
Where: Snow King Resort
The King Cross is a two race Cyclocross series held this coming October 6th and 27th at Snow King Mountain Resort. The first year of the King Cross Cyclocross race bringing the fun and excitement of Cyclocross racing to the town of Jackson Wyoming!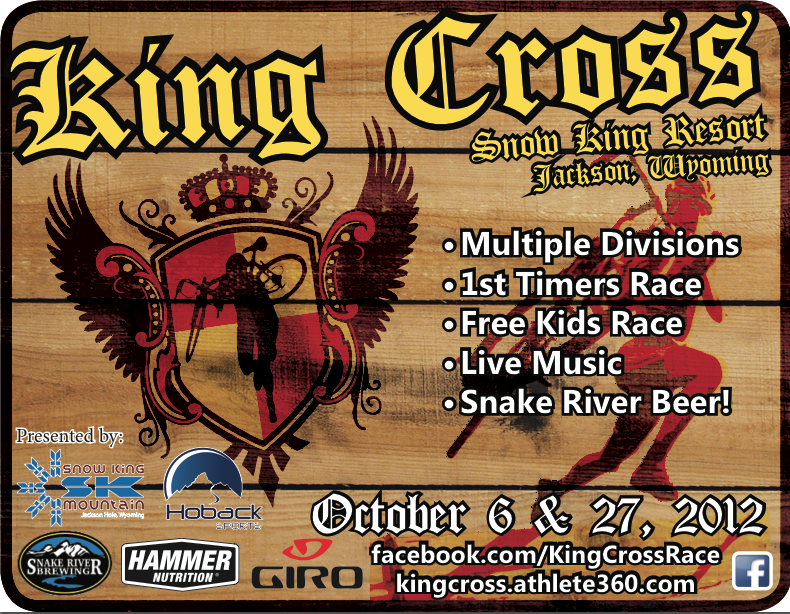 Cyclocross Explained
This video from Kona Bike breaks down the basics of cyclocross and presents the sport as a fun combination of cycling, mountain biking and adventure racing.
King Cross Cyclocross Details
Registration
Register online at Athlete360.com Entry fees: $25 for each race. $15 for the Oct 27th race if purchased together, $5 extra for day-of-race registration. Kids under 12 race for FREE! Call-Ups will be based on order of registration. Sign up now and guarantee a good starting position!
Race Times
Cyclocross races begin at 11:30 a.m. and go throughout the day with the last race at 3:30 p.m.
Lodging Specials
Snow King Resort is offering a lodging special for anybody who's coming to the race from out of town. Mention that you're visiting Jackson for the King Cross Race for $75 per night lodging and be right at the epicenter of King Cross.
Live Music
Live outdoor music will feature The Flannel Attractions playing bluegrass and rock throughout the afternoon. Music starts after the 1st Race, October 6th. This will be a great afternoon for spectators and racers to rock out with one of the best new Indie/Folk band in Jackson.