TravelStorysGPS App
Connecting People with Conservation

TravelStorysGPS App – Connecting People to Conservation
There's a new app for Grand Teton National Park and Teton County that shares engaging stories about the history, geology, animals, and activities of the region. TravelStorysGPS guides visitors through the region by activating recorded audio stories along designated routes, including Highway 22 and the inner park loop of the National Park. The unique application is free to download and offers visitors a virtual tour guide to accompany their sight seeing. The app is compatible with iPhone, iPod touch, and iPad.
TravelStorysGPS features four channels that provide multidimensional, entertaining, and enjoyable experience. They include:
Geography & Landscape – Learn about wildlife, geology, and other natural features
History & Community – Meet the people who lived and traveled through this land decades and even centuries ago
Fun for Kids – Entertain the younger crowd with stories and games about the park's wildlife, history, and geography
Public Access – Hear personal stories from experts, locals, and TravelStorysGPS users like yourself, and if you feel inspired, share one of your own stories to be featured on this channel
Rooted in Conservation
Intertwined with themes of conservation, TravelStorysGPS shares detailed information about the efforts of Jackson Hole Land Trust to protect open spaces in Teton County. App users are invited to become apart of the land trust legacy by donating through the TravelStorysGPS to help support conservation efforts in the future. The app is a collaboration between the Grand Teton National Park Foundation, Jackson Hole Land Trust, as wells as other non-profits to build a template that can be used by conservation organizations nationwide.
Features of the Application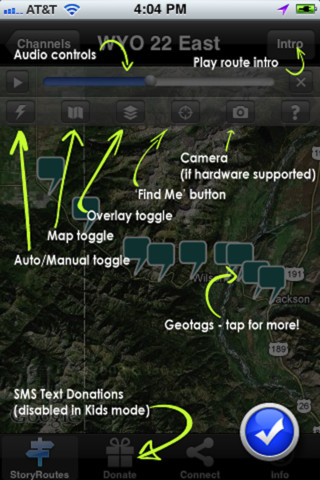 As TravelStorysGPS users drive along recorded routes, Jackson Hole Land Trust success stories are highlighted on an interactive Google Earth map.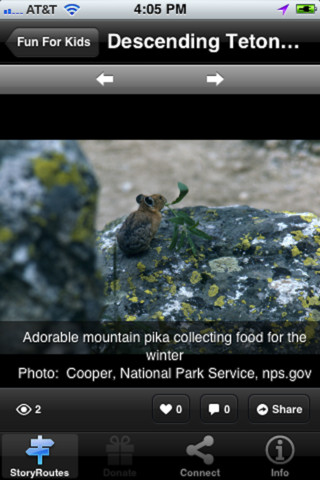 Cultural and Geological Resources
Options to learn about wildlife, geology, and other natural features as well as history and community.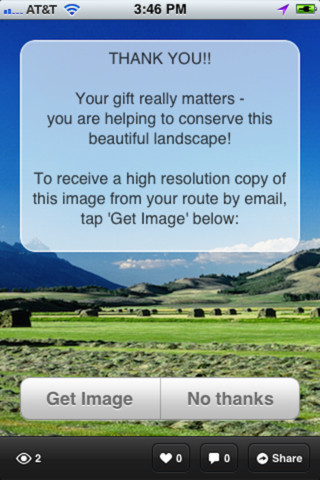 Option to Support Conservation
Travelers are invited to make a modest charitable gift to support the conservation organization that conserves properties viewed along the road.
"App for an App" Promotion
The launch of TravelsStorysGPS is being celebrated with a promotional offer of an "App for an App" – a free appetizer with the purchase of a meal at participating restaurants. Simply show your server the application on your iphone and receive a free appetizer! At the north end of the route, in Moran, Jackson Lake Lodge's Mural Room restaurant defines Rocky Mountain cuisine, with panoramic views of the Teton Range. South of the route in Jackson, Cafe Genevieve offers home-cooked classics in an historic log-cabin setting.
Download the app and mention it to your server!
Participating Restaurants