Teton pASS Kicker
Race Preview
Teton pASS Kicker Mountain Bike and Trail Race
Where: Teton Pass WY
When: Sat 8/25/12
When: Sun 8/26/12
Get ready for the most intense race on Teton Pass in recent history! The Teton pASS Kicker takes place this weekend and is an endurance racing event that will raise money for Friends of Pathways to continue funding quality trail maintenance. The event includes a 25 and 50 mile mountain bike race and a trail running marathon and half marathon in Wilson WY on August 25-26.
Teton pASS Kicker Video Preview
Race Details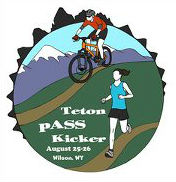 The pASS Kicker consists of two events: a cross country bike race and a trail running race. The mountain biking events take place on a 25 mile loop on the north side of Teton Pass with options for a single lap, or two lap 50 mile race. The trail running aspect of the race consists of a half marathon and full marathon also on the north side of the pass. Following the races, there will be food, music, beverages and prize raffles at Owen Bircher Park in Wilson WY.
The races start and end at Owen Bircher Park and use Fish Creek Road to access trails that ascend Phillips Ridge. Parking for the event has been arranged at Wilson businesses and the Stilson lot. The Forest Service has set the competitor limit for the races at 75 per day. Best views of the race can be had near the Phillips Ridge trailhead on Teton Pass, or the Phillips Ridge/Phillips Canyon trail junction near Fish Creek Road. Event organizer Chris Owen projects there may be 150-200 people on the trails when for competitors, volunteers, spectators, and public attending the after party.
Teton pASS Kicker Course Preview
pASS Kicker in Google Earth
Unfamiliar with Phillips Ridge on Teton Pass? No problem, just check out this Google Earth tour of the course route and learn about the incredible trail network on Teton Pass in the Bridger-Teton National Forest.

Registration, Spectator Information, and Economic Impact
How Trails Impact the Jackson Hole Economy
As stated by the JH Trails Project Economic Impact Study, the Teton County trail system is estimated to have generated a total of $18,070,123 million in economic activity in 2010, and an estimated $1,109,588 million by local trail users and $16,960,535 million by non-locals. Employment and wages relating to the trail system in Teton County totaled $3.6 million with approximately 213 workers employed in the summer and fall of 2010.