Jackson Hole Fly Fishing Conditions

Fish The Fly Photo of the Week
Fish The Fly Guide Report
Information provided by Jason "JB" Balogh, lead guide at Fish The Fly in Jackson Wyoming. Fish The Fly offers drift float and backcountry fly fishing trips in the Greater Teton Region as well as scenic wooden boat floats on the Snake River.
Summary:
Well, they've closed the Firehole, Madison, and Gibbon Rivers in Yellowsotne Park due to warm water temperatures reaching 80F, ouch! But fear not, there are plenty of places to fish in Yellowstone country…
One of these is the Snake River, where water temps are only getting into the upper 50's, which is perfect for trout. The fishing is best (read dry fly)above the Hoback River confluence, which is typical for this time of year. Grasshoppers seem to be the bug of choice currently. Try them in tan, black, red, or lime green. I like to tie on a Schroeder's Parahopper and color it to my liking with a Sharpie pen. Ants, Beetles, PMD's, and Caddis are all also on the menu and work well for dropper options.
Our backcountry creeks are an excellent choice to get away from it all and catch native Cutthroats. Water temperatures on the lower reaches of some creeks are getting warm, especially smaller ones that don't have much water in them. Try creeks like Cascade or Granite for cooler waters and good action. Bring a 3wt rod and your favorite hopper pattern.
All of the Spring creeks in the valley opened today, so stay tuned for a report coming soon!
Flies In JB's Box
Mid summer in Jackson Hole brings out terrestrial bugs in droves. Grasshoppers in particular are an important fly to have this time of year. Foam imitations of varying color will work during the warm afternoons as well.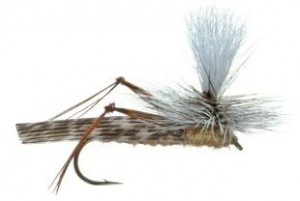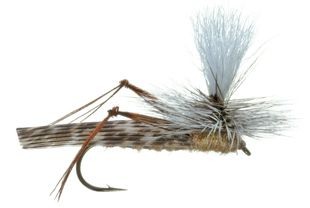 #8 Para Hopper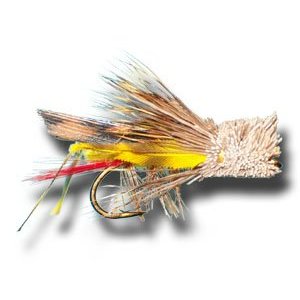 #10 Dave's Hopper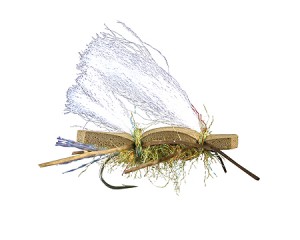 #8 Golden Chubby Chernobyl
Photo's From Fish The Fly Guided Trips
Yellowstone Fishing Closures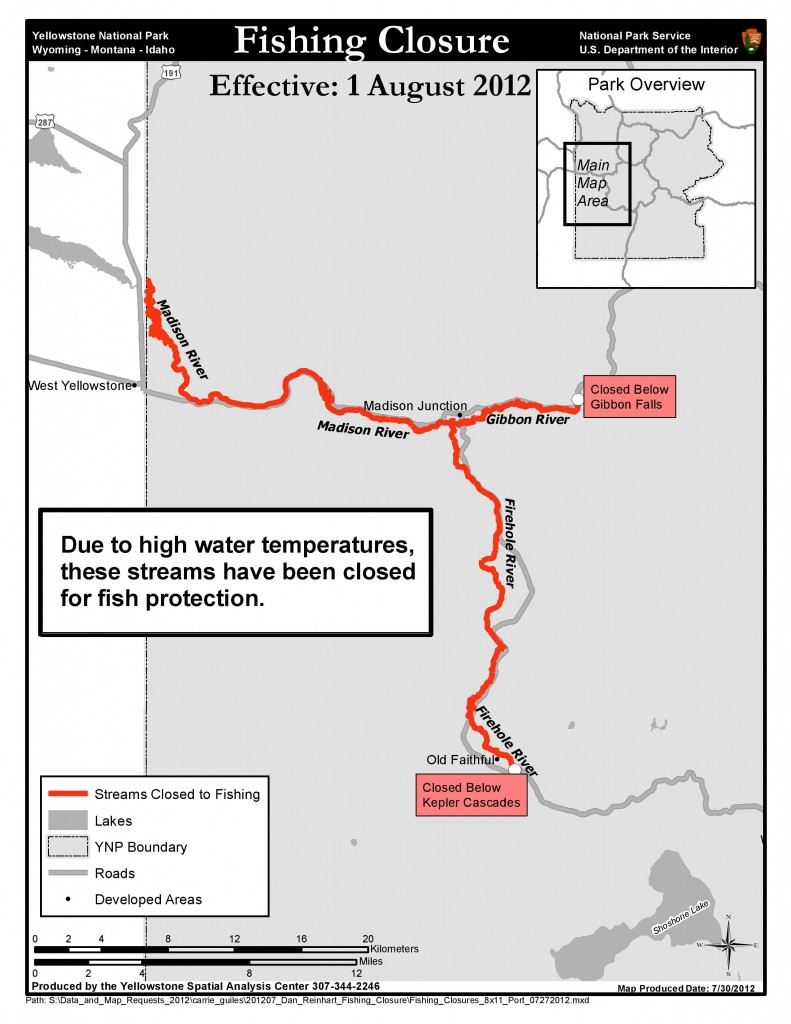 Yellowstone To Implement Fishing Closures
Yellowstone National Park is planning to implement some temporary fishing closures.
The following waterways will be closed to all fishing, effective Wednesday, August 1:
• Gibbon River below Gibbon Falls
• Firehole River below Keppler Cascades
• Madison River
Hot air temperatures, limited rainfall, runoff from thermal features, and below average stream flows have all resulted in high water temperatures in these rivers.
Water temperatures in the Gibbon River have been above 73 degrees most of the past two weeks, with water temperatures in the Firehole River above 78 degrees temperature.
Water temperatures this warm can be stressful and even fatal for trout.
Yellowstone National Park staff will continue to monitor water temperatures and stream flows in these and other rivers and streams throughout the park.