Teton Water Sports Update
Sponsored by Rendezvous River Sports

Conditions Summary
Area waters are warmer than normal offering comfortable access to paddle sport enthusiasts. String Lake and Leigh Lake in Grand Teton National Park are in great options for SUP and paddling adventures this time of year. The Snake River Canyon, currently flowing at 5,500 cfs, is at a fun level for rafting, kayaking and stand up paddle boarding. Kahuna Wave is currently the largest rapid on the river and in prime surfing condition.
With river flow in this range, Aaron Pruzan highly recommends whitewater enthusiasts enjoy an inflatable kayak tour, offered exclusively by the team at Rendezvous River Sports. The Inflatable Kayak, or Rubber Duckie, is a unique and exciting way of going down the river for the whole family, with no previous experience necessary. Inflatable kayaking can be exciting because boaters are in complete control of their own raft at all times.
Rendezvous River Sports Photo of the Week
Rendezvous River Sports Expands Paddle Board Fleet
Information summarized by Rendezvous River Sports, the leading water sports outfitter in Jackson Wyoming. Rendezvous River Sports offers a full section paddling gear as well as lessons and guided float trips in the Greater Teton and Yellowstone Region.
Stand up paddle boards are flying off the shelves Rendezvous River Sports. The shop recently expanded its fleet of SUP's and is now offering the largest selection of boards in the Greater Yellowstone Region. For exploring the river, shop pros recommend intermediate paddlers check out inflatable SUP's. Advantages of an inflatable paddle board includes their ability to transport well, be softer, and still be able to take a beating, particularly in stretches where rocks may be exposed.
As you plan your paddle boarding trip, the team at Rendezvous River Sports recommends enthusiast take a helmet, board leash, life vest, water shoes, and a bit of insulation like water shirt of wet suit. They currently are offering a full selection of gear, from boats to board shorts that will get you ready for your next outing on the water.
SUP Spotlight: The Teton River
The upper section of the Teton River in Teton Valley Idaho offers excellent stand up paddle boarding water that gradually flows from Victor ID to Driggs ID with a series of stretches that vary in length. The winding river keeps paddlers actively navigating its gently flowing waters. The Teton River is an excellent destination to try new water and enjoy mellow floats with scenic views. Past Harrops Bridge in Driggs, the Teton River turns into very difficult Class V whitewater water and should be avoided.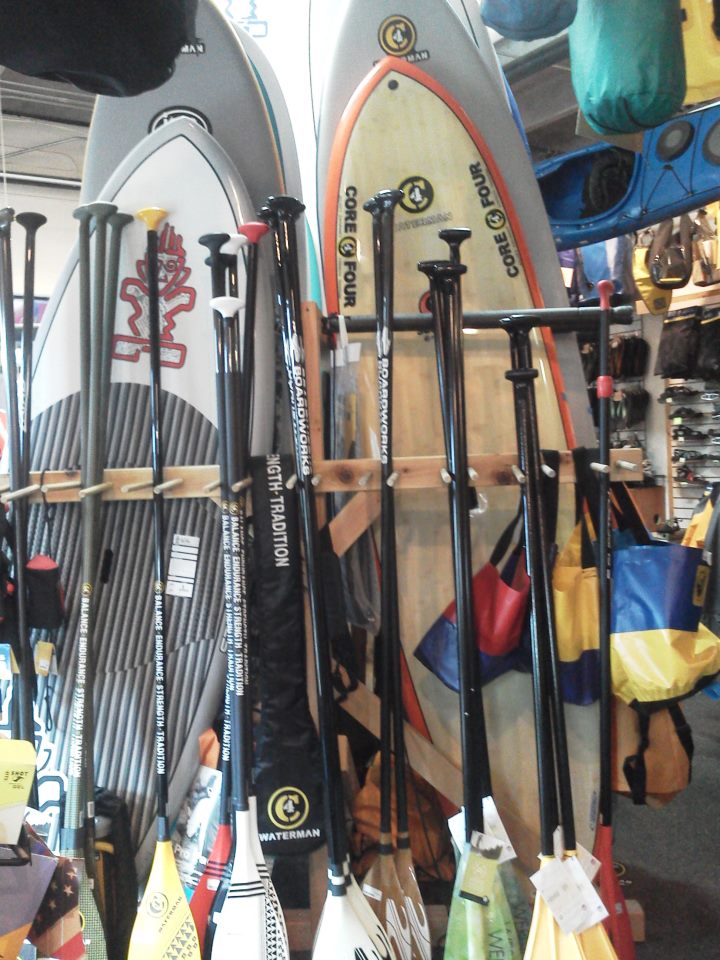 Map of the Teton River
Shop Talk at Rendezvous River Sports
Join Eric Ducomb, Sam Lowenthal, Risto Beatty, Eric Parker, and Mike Perry for the quintessential Wyoming waterfall run!
Ride along on the North Fork of the Wind River in this rowdy kayaking video shot recently in Wyoming. This stretch of water is very dangerous and should only be attempted by expert kayakers. For more details about this stretch of water, talk to the team at Rendezvous River Sports.