Mountain Bike Trails at Resorts in the Tetons
Presented by Hoback Sports

Mountain Bike Conditions Summary
Intermittent rain showers over the past week have kept dust from over-accumulating on the trails. Mid-day storms have set up for perfect evening riding conditions and the trails are in excellent shape. Wildlife sightings near the Cache Creek Trailhead in Jackson reminds riders to be prepared with bear spray incase of possible encounters. Recently, the Old Pass Road paving project was completed providing increased access to trails on Teton Pass and trail crews continue their work to improve backcountry trails throughout the Bridger-Teton National Forest.
Clear

Mostly clear. Lows overnight in the upper single digits.

Snow Showers

Snow showers. High near 25F. Winds SW at 5 to 10 mph. Chance of snow 70%. 1 to 3 inches of snow expected.

Partly Cloudy

Partly to mostly cloudy. High 26F. Winds SW at 5 to 10 mph.

Biking Photo of the Week:
Mountain Biking at Resorts in the Teton Region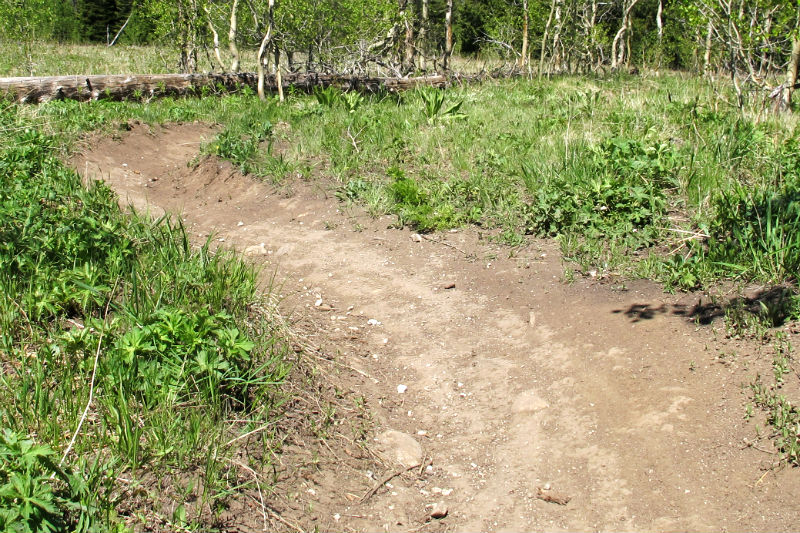 The Greater Teton Region is quickly growing into one of the best mountain bike destinations in the country. Community organizations such as Friends of the Pathways and Teton Valley Trails and Pathways are working closely with national forest crews to improve biking access in the region. Mountain resorts in the Teton Region are also making strides to build world class trails offering bikers endless options to explore both cross country and downhill terrain.
In this mountain bike update, we spotlight trails at the mountain resorts in the region, including Jackson Hole Mountain Resort, Grand Targhee Resort, and Snow King Resort. Trails at all three resorts are in prime riding condition. Each destination is building out their trail networks to meet the growing popularity of mountain biking in the Tetons.
Grand Targhee Resort
Mountain biking is exploding at Grand Targhee. New for the 2012 season are two new cross country trails that extends riding to new areas of the mountain. The new trails feature enjoyable climbs and provide unparalleled views of the Teton Range. Dreamcatcher chairlift offers access to the summit of Freds Mountain where intermediate and advanced riders can test their skills on miles of technical downhill rides.
With spectacular single track trails winding through wildflower meadows at the base area, and the longest lift serviced downhill trails in the region, Grand Targhee Resort has established itself as a national mountain bike destination. Trails at the resort will be showcased in a series of races over the next 4 weeks including the Wydaho Rendezvous, Pierre's Hole 50/100, and the Targhee Enduro Mountain Bike Race.
Operating Details
Mon-Thurs 10am – 4pm; Fri – Sun 10am – 5pm
Adult One-day ticket: $20; One-ride: $10
Explore nearly 3,000 feet of lift-serviced downhill and over 19 miles of cross country mountain bike trails. The Targhee Bike Park offers every style of riding for every level of mountain bike rider. Gentle, banked cruisers, tight and twisty single track cross country, gnarly, rock strewn downhill, drop offs and much more.
Jackson Hole Mountain Resort
Located in Teton Village, Jackson Hole Mountain Resort has been working with Gravity Logic to build well designed freeride and cross country trails. The trails are situated near the base of the mountain and are chairlift accessible, providing riding options for all types of bikers.
The main attraction at the resort is the new jumps track "True Grit", offering over a mile of tabletop jumps, large berms and creative rhythm sections. The trail leads riders directly back to the Teewinot chairlift and a 5-minute ride back to the top. Other highlights in Teton Village include Bronco, a flow track featuring banked turns that riders of all types can enjoy. Lucky Charm, the longest cross country trail, traverses the lower section of the mountain using wooden bridges to cross over rocky terrain before connecting riders back to enjoyable stretches of single track.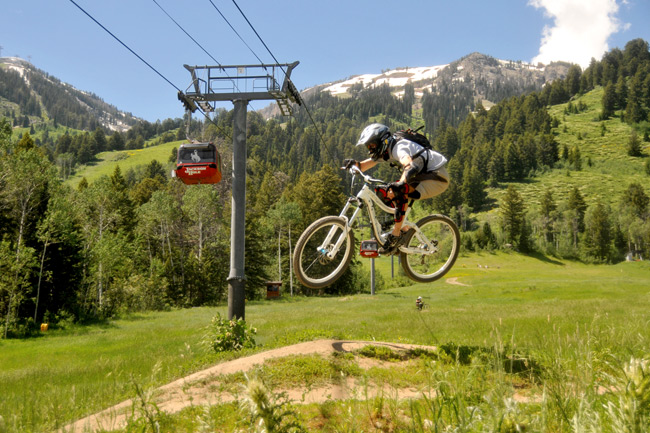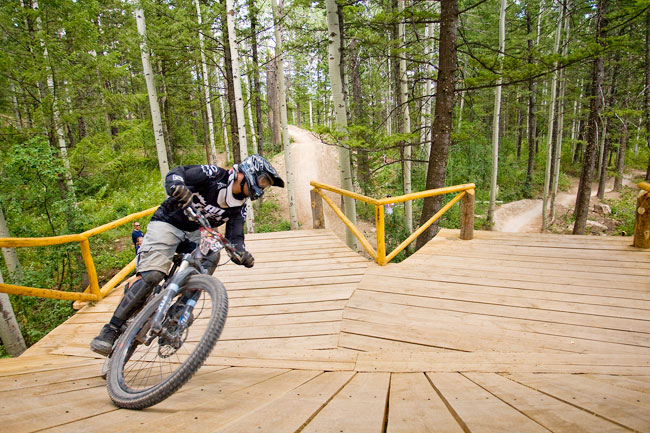 Operating Details: Teewinot chair is open from 9:00am to 5:00pm. Friday Night Lights, a new late night riding promotion, takes place through August 24. On these Fridays, the bike park will stay open until 7pm. Single day passes cost $35, and bike rentals are available at Jackson Hole Sports in Teton Village. Visit Jackson Hole online to learn more about their mountain bike offerings.
Mountain Biking Trails at Jackson Hole Mountain Resort
Check out the latest video promoting mountain bike trails at Jackson Hole Mountain Resort
Snow King Resort
Incredibly accessible from the Town of Jackson, Snow King Resort offers access to one of the most extensive trail networks in Bridger Teton National Forest. Ranging from intermediate to novice, Snow King's primarily cross country trails varying in distance. There is currently no mountain bike lift access at the resort, but access to the trails are free of charge, and well worth it.
Located just east of Snow King is the Cache Creek Trailhead, a popular mountain biking destination that is very close to town, with a wide selection of trails. A popular loop is to start at Snow King Resort, ride east along the Hagen Highway to Cache Creek Trailhead, and connect back to town using the Bridger Teton National Forest service road. Other popular rides at the resort include Ferrins Trail, Josies Ridge, and Sink or Swim. For a complete guide of trails at Snow King Resort, visit Trail Maps+, our interactive mountain biking guide.
Hoback Sports is located within riding distance of trails at Snow King and offers a great selection of mountain bikes for both rental and purchase. For questions about any of the trails, stop into Hoback Sports and speak with their professionals who are out riding trails in the region nearly every day.