Teton Water Sports Update
Sponsored by Rendezvous River Sports

Weather Summary
Don't forget sunscreen! Weather in the Tetons is absolutely perfect for boating and water sports, with temperatures consistently reaching the 80's and no end in sight. Our average snowfall year is turning into an above average rafting season with consistently strong flows on the Snake River extending the whitewater season beyond previous expectations.
Recently, the Bureau of Land and Reclamation increased flows from Jackson Lake Dam, which is currently at 100% capacity, sending more water downstream and elevating cfs (cubic feet per second) measurements in the Snake River Canyon from 9,000 cfs on June 13th to nearly 12,000 cfs on June 19th.
Water Temps: 51 degrees at Alpine WY
Flows are optimal for surfing waves
Rendezvous River Sports Photo of the Week
Rendezvous River Sports Adventure Report
Information summarized by Rendezvous River Sports, the leading water sports outfitter in Jackson Wyoming. Rendezvous River Sports offers a full section paddling gear as well as lessons and guided float trips in the Greater Teton and Yellowstone Region.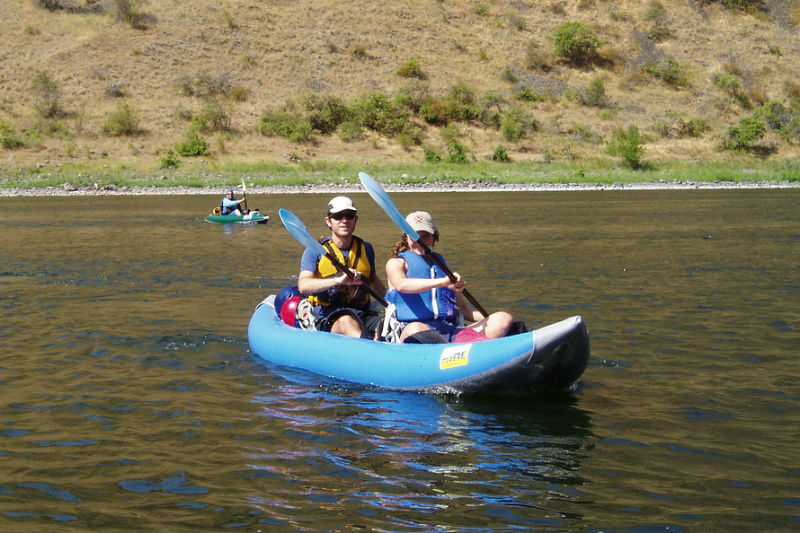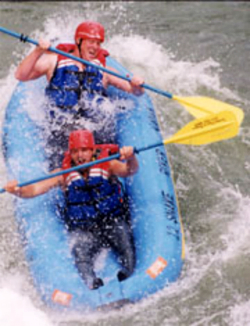 Whitewater Summary
The crew at Rendezvous River Sports is stoked. "We thought we were going to have this miserable water year and that's not the case" commented Aaron Pruzan, owner of Rendezvous River Sports. With a bump in the water flows this week, stretches of the Snake River Canyon are prime for both surfing and whitewater.
Perfect Time For An Inflatable Kayak Tour
Inflatable Kayak tours offered by Rendezvous River Sports are an exciting option to run the Snake River. "Duckies" ride low in the water making small waves, like in Champagne rapids, seem larger, and bigger waves like Big Kahuna and Lunch Counter seem mammoth.
Inflatable Kayaking can be much more exciting than white-water rafting because you are in complete control of your own boat at all times. Boaters navigate obstacles, guided by a team a kayakers from the shop, and have autonomy to explore the water independently.
Inflatable Kayak Tour Information
Safe, fun, and suitable for anyone in search of adventure, this is your opportunity to get more challenge and freedom when you ride the waves. It's a fact that these maneuverable, resilient inflatable kayaks offer one of the most exciting ways to ride the river.
No previous experience necessary
Trips leave everyday at 8:30am and 2pm
Adults: $90, Kids (under 12) $80
What To Bring
All equipment, including wetsuit, raft, paddle and rides are provided by the team at Rendezvous River Sports. Make sure to pack some sunscreen, a bathing suit and change of clothes for the ride back to town.
Scenic Floats and Tours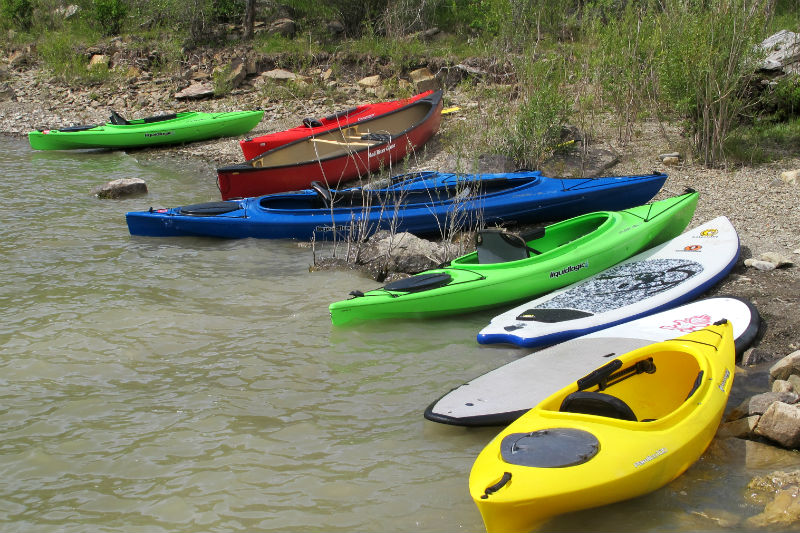 Rendezvous River Sports broke out all the toys at the 12th Annual Intermountain Paddle Festival on Slide Lake. Paddle enthusiast were able to test out the latest kayak, canoes, rafts and stand up paddle boards, with instruction and guidance from their knowledgeable staff. We cruised out to Slide Lake and had a blast, trying SUP for the first time. It's a very cool way to explore flat water in the region and is a pretty good workout at the same time. Highly recommended if you've never been on one.
With an incredible selection of equipment, Rendezvous River Sports has a way to get even the most timid boater on the water to enjoy safe touring in the Tetons. Check out the touring kayaks for big lake trips, or the selection of SUP's for an outing on Slide Lake.
Shop Talk at Rendezvous River Sports

It's that time of year we start to get really busy. We're loving it. Groups are having a blast on the Snake River. –

Aaron Pruzan
Private and group trips are available throughout the summer, contact Rendezvous River Sports for more details.
Heard Around The Shop…
"It's the time of year to go exploring. On my days off, I'm going to Wind River Range. "
"Pretty much everybody I know pulled a Middle Fork of the Salmon River Permit this year. Lot's of people are coming in to be outfitted."
"You need to try a peddle kayak. They're pretty rad, especially the ones with an option for sailing. "