Teton Region Mountain Bike Update

Conditions Summary
Dry, warm weather continues to make for excellent cycling and mountain biking conditions in the Greater Teton Region. Both Jackson Hole Mountain Resort and Grand Targhee Resort are open for the season with chairlift access to downhill and cross country trail networks. Grand Targhee debuts four new trails this weekend, including a new cross country trail from Lightening Peak to Mill Creek that greatly increases riding options at the resort.
The long days of summer have riders pedaling into the waning hours, soaking up every second of sunshine and exploring new pathways and trails in the region. Don't forget to use sunscreen, pack plenty of water for your ride, and carry a first aid kit to keep you safe and prepared on the trails.
Mountain Biking Photo of the Week: Opening Weekend at Grand Targhee
Hoback Sports Scenic Rides Report
Information provided by Hoback Sports, the leading mountain bike and cycling outfitter in Jackson Wyoming. Hoback Sports offers a full section bikes as well as rentals and guided tours Greater TetonRegion.
Explore Munger Mountain Before The Trails Open To Motorcycles on July 1st
Walk in the shop this week and you'll hear the riders at Hoback Sports raving about quality conditions in the region. The entire Cache and Snow King trail network is in beautiful shape and local racers are preparing for the Cache to Game Creek Race on Wednesday June 27th.
Before July 1st, be sure to check out the Munger Mountain trail network which features scenic single track through rolling topography with incredible views of the valley. The trail system is currently open to hiking, biking and horseback, but opens to motorcycle use on 7/1/12.
Located 25 minutes from the Town of Jackson, Munger Mountain provides excellent loop options that gain moderate elevation (max 1500 vertical ft.) and offers multiple loops with varying distance. Notable trails include Poison Creek (the trailhead), Tusky Ridge, Squaw Creek and Wally's World. Currently, wildflowers are coming into blossom and its the perfect time to explore the area before motorized traffic begins.
Hoback Sports Reminds Riders About The Importance Of Trail Etiquette
Ever wonder what a horse thinks when they see a mountain biker in full body armor charging at them? They get scared and freak out. That's not good for anyone. Speaking with the team at Hoback Sports, they emphasized the importance of trail etiquette and offered some tips for riders on the trail.
If you come upon horse traffic, dismount your bike and let the horse pass. Speak to horses in a friendly voice so they do not feel threatened.
Yield Appropriately: Do your utmost to let your fellow trail users know you're coming — a friendly greeting or bell ring are good methods.
Bicyclists should yield to other non-motorized trail users, unless the trail is clearly signed for bike-only travel.
Try to anticipate other trail users around the corner.
In general, strive to make each pass a safe and courteous one.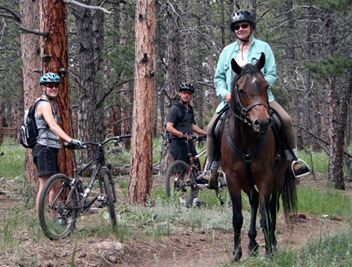 Shop Talk With Hoback Sports

If I'm going in the wilderness for a longer ride far from civilization, I'm carrying two cans of bear spray – one on my hip and one in my backpack. It's impor

tant for safety.
Downhill and free riding in the Teton Region continues to expand with new trail construction at Grand Targhee, Jackson Hole and on Teton Pass.
Heard Around The Shop
"The Santa Cruz Tallboy and Tallboy LT have been red hot and are really great bikes. "
"We're really excited for the Cache – Game race. Hoback Sports makes it a point to get behind the event each year. "
"The pathways are a huge deal and we're really seeing lots of families coming in and purchasing pathway bikes."