Introducing The 2012 Summer Bike Reports
In Partnership With Hoback Sports

Introducing The 2012 Summer Bike Reports
In Partnership With Hoback Sports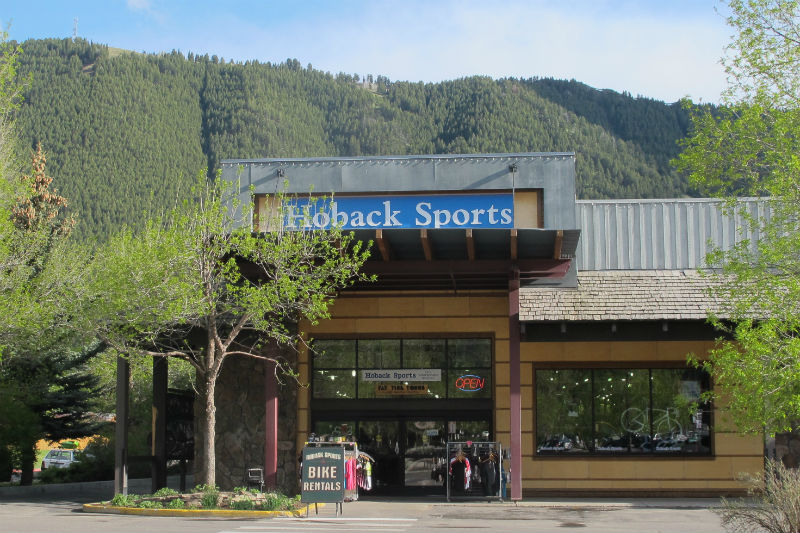 Our team is excited to announce a partnership with Hoback Sports to provide weekly mountain bike and cycling updates for the Greater Teton Region. Hoback Sports is Jackson Hole's leading source for mountain bike and cycling products and services. We will be working with their specialists to provide adventure and scenic biking information, as well as the latest news from the shop. We look forward to engaging visitors and residents with information to enjoy the incredible trail network in the Teton Region.
Conditions Sumamry
Strong storms and high winds during the week toppled many trees and scattered brush in the region. Less than .25 inches of rain has fallen this month, so trails are relatively dry, especially in the valley at lower elevations. Over 100 people turned out for the National Trails Day and Friends of the Pathways event on Teton Pass where volunteers cleared debris and helped prepare the mountain bike trails for the summer season. Construction is underway to finish free ride features on Teton Pass and the new "Candy Land" trail on Teton Pass is now open.
Lift access is still a week away at Jackson Hole Mountain Resort. Teewinot chair opens Saturday June 16th accessing the popular jump track "True Grit" and cross country trail "Lucky Charm". Grand Targhee is still thawing out, and plans to open for the summer season on June 22nd.
Links
Issued:

3:47 AM MST on January 22, 2017

Expires:

5:00 PM MST on January 23, 2017
Snow

Cloudy with snow showers becoming a steady accumulating snow later on. High 26F. Winds S at 10 to 15 mph. Chance of snow 90%. Snow accumulating 1 to 3 inches.

Snow

Snow showers early will become steadier snow in the afternoon. High 24F. Winds SSW at 5 to 10 mph. Chance of snow 70%. Snow accumulating 1 to 3 inches.

Snow Showers

Occasional snow showers. High 18F. Winds light and variable. Chance of snow 50%. About one inch of snow expected.

Adventure Report
Shadow Mountain
This week, the team at Hoback Sports has been guiding trips with Fat Tire Mountain Bike Tours on Shadow Mountain. Located in Bridger Teton National Forest north of Jackson, this trail network overlooks the Teton Range, providing scenic views of the mountains and technical riding challenges. The crew at Hoback Sports recently spent time clearing downed trees and brush, so the trails are in excellent riding condition.
The main attraction on Shadow Mountain is the popular downhill trail. Accessed by climbing a well maintained forest road, riders can shuttle, or ride the 4 mile route to reach the summit. The unmarked trail leading back to the parking area does not have a sign but typically is marked by a cairn (stack of rocks). From there, riders encounter intermediate and advanced terrain that winds through the forest, often running parallell with the Teton Range.
Early spring snow melt helped dry out these trails and the storms last week did not negatively impact the riding. Currently, Shadow Mountain is in perfect riding condition. The trail is dry and firm, but not dusty. Although not recommended for beginners, Shadow Mountain is an excellent ride for intermediate and advanced riders. From the summit, thrill seekers can tackle the trail at speed to reach the base in under 10 minutes.
Getting There
Travel north from Jackson past the Moose entrance to GTNP
Turn right on Antelope Flats Road
At the stop sign, go left towards Shadow Mountain
Climb the forest service road in BTNF 4 miles to the summit
Scenic Rides Report
Pathway to Grand Teton National Park
The complete stretch of a brand new pathway connecting the Town of Jackson to Grand Teton National Park is open. The picturesque ride travels a 20-mile, auto-free path that parallels the North 89 Highway and allows riders to travel safely to the park. The smooth asphalt is perfect for cycling, and connects with a 6 mile pathway at the Moose entrance of the national park.
Wednesday Night Rides
Each Wednesday, join Joel Ahlum, cycling specialist at Hoback Sports, for a fun ride along pathways in the region. The group travels at a casual pace (not race training) and is a great gathering for area cycling enthusiast. The ride is free to join, and open to the public
Meeting Place: Hoback Sports
Time: 6:00 p.m.
Shop Talk With Hoback Sports
As the cycling and mountain biking seasons kick into full swing, a number of events and competitions loom on the horizon. Check out the list of happenings in the bike community this summer and start your training now. Hoback Sports can help you with any equipment you may need to prepare for the busy season, so be sure to stop in and talk to the experts.
Summer 2012 Mountain Bike Events in the Greater Teton Region
June 2012