Hundred Days
Annual Cache to Game Creek Race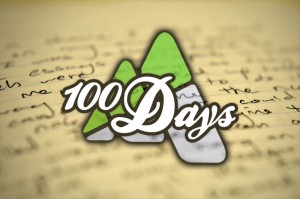 06/27/12 – Cache to Game Creek Race
Written By: Kevin Wittig @kevinswittig on Twitter
Seventy five mountain bike racers descend upon the Cache Creek trail network today for the annual Cache to Game Creek mountain bike race in Jackson Wyoming. Organized by the Teton County/Jackson Recreation Department and sponsored by Hoback Sports, the race consist of a 12 mile loop that begins in town at Mike Yokel Park at 5:15 p.m. A controlled start through town will lead to the Cache Creek trailhead where racers will travel up Cache Creek, over Game Creek Divide to the finish in lower Game Creek.
Cache to Game Creek is one of the classic rides in the area, utilizing shared trails that are very accessible from the Town of Jackson. The course is a combination of pavement, gravel road and single track trail. Spectators and trail users are advised that the race will occur from approximately 5:15 p.m. to 8:00 p.m. on the Cache Creek and Game Creek Trails. Traffic will not be stopped along the race course, and bikers are required to follow all traffic laws.
Hoback Sports makes an effort to support the annual Cache to Game Creek Race each year and is excited to be apart of the event again this year. Get up to Cache Creek this evening to cheer on local mountain bike riders as they compete against the clock for personal best times, and of course, a year's worth of bragging rights. See you there!
Event Details
Where: 5:15 p.m. start at Mike Yokel Park in Jackson WY with a controlled ride through town to Cache Creek Trailhead
Spectating Info: For the most action, find a place to stand on the Cache Creek Road (3 miles long). The wide road provides space for passing as riders approach Game Creek single track
Race Length: The course is approximately 12 miles in length.