Fish The Fly Guide Report

Weather Summary
Water levels in the Snake River are moving towards projected summer flows of 2,000 cubic feet per second. With little snow left in the high elevations, and Jackson Lake Reservoir approaching full, Bureau of Reclamation has reduced dam output which will increase water clarity and visibility.
Fishing enthusiasts in the region have been looking forward to reduced flows on the Snake and optimal conditions should be in place for fishing the Snake River by early July. Backcountry creeks are clearing quickly and offering excellent opportunities to explore the tributaries of the Snake River.
Snake River Summary
Water temperatures are at 50 degrees near Moran Junction and are reaching 52 degrees in the Snake River Canyon.
Fish The Fly Photo of the Week
Fish The Fly Guide Report
Information provided by Jason "JB" Balogh, lead guide at Fish The Fly in Jackson Wyoming. Fish The Fly offers drift float and backcountry fly fishing trips in the Greater Teton Region as well as scenic wooden boat floats on the Snake River.
Summary:
In the backcountry, small streams are fishing really well. Typically, smaller creeks tend to warm up first, allowing those fish to become more active earlier in the season. Smaller Mayfly nymphs, such as Copper Johns or Pheasant Tails are attracting attention, but fish as still hesitant to take flies off the surface. In the next week, keep an eye out for more consistent dry fly action as hatches of Golden Stone Flies and Yellow Sallies emerge in greater numbers. Larger creeks, such as Spread Creek, are still cold, flowing strong, and not quite optimal for fishing yet.
Backcountry lakes are a great option to explore this time of year. Fish The Fly Guide Service is the only outfitter licensed for trips on Soda Lake, considered a trophy trout destination stocked with a variety of the species. Access to Soda Lake is difficult and requires 4×4 transportation. Fish the Fly is limited in the number of permits to access this location, so inquire with JB about a guided trip to this remote lake.
The Green River is best known for fishing below the Flaming Gorge but people are moving upstream in search of less crowded areas near Pinedale WY. The Green River has trout count is roughly 500 trout per mile, but the average size of bigger and early season hatches are prominent. It's not unusual for anglers to catch 26 in. Brown Trout this time of year. Not an everyday occurrence, but this time of year, it's happening. Salmon flies, Golden Stone's, and especially Grey Drakes are hatching with a good population. The key to Green River is to get there early. In the middle of summer, you can't be too early as hot and sunny weather tends to shut down the hatches in the afternoon. Golden Stones are the exception to that rule.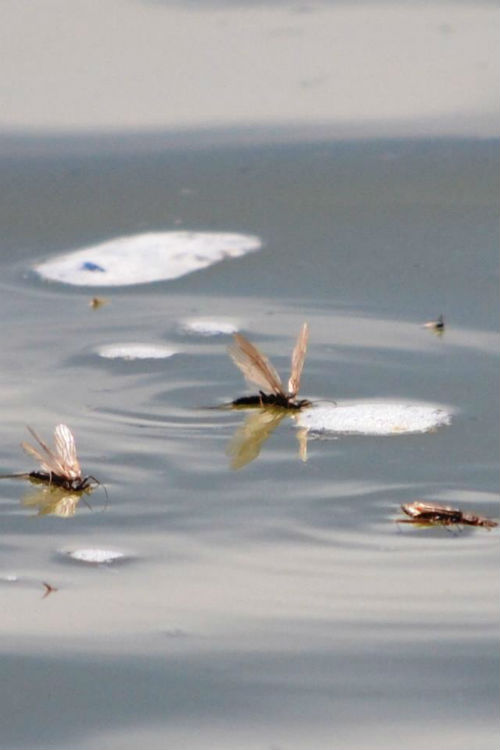 Flies In JB's Box
Chubby Chernobyl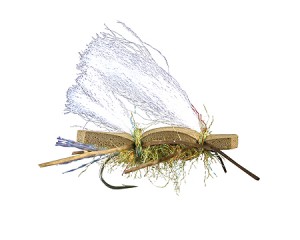 This giant dry fly might imitate an ant or a stonefly. It also works well as the dry in a dry-dropper rig.
Pheasant Tail Nymph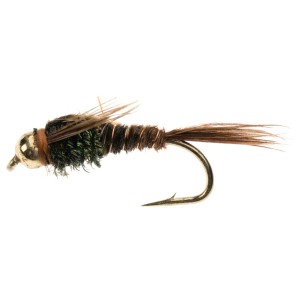 A general mayfly nymph attractor that sees action during mayfly hatches. Great choice to drop from a hoppper.
Yellow Sallie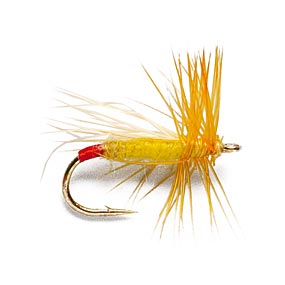 Yellow Sallies are smaller stoneflies that are common in many streams in the region.
Guide Talk with JB at Fish The Fly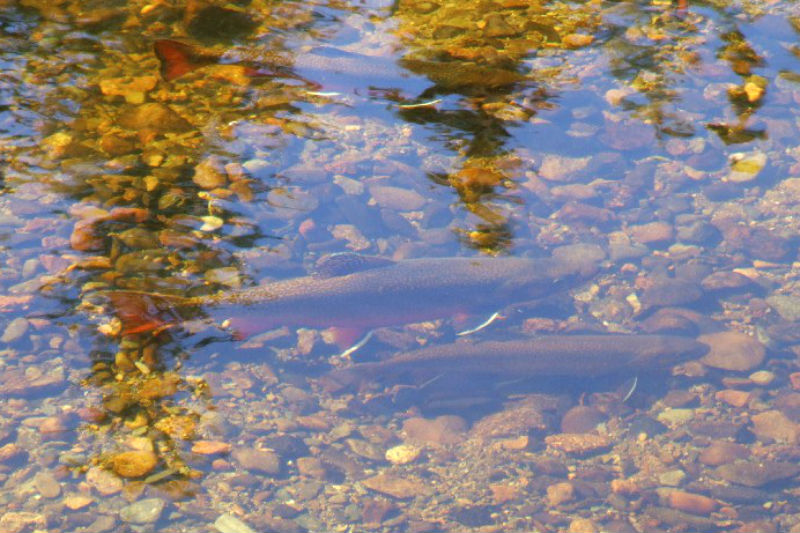 We are still in Snake River Fine Spotted Cutthroat spawning season, and will continue to be for a couple more weeks. In tributaries, side channels, and small streams, keep an eye out for piles of red eggs in the water. It's important to do your best not to step on these egg. These areas are where trout are laying eggs and creating our future fish population. Help the cutthroat out and be aware of your surrounding in the water. It is also important to practice catch and release fishing, particularly during this time of year.