7th Annual Jackson Hole Crawfish Boil
Presented by 307 Live
7th Annual Jackson Hole Crawfish Boil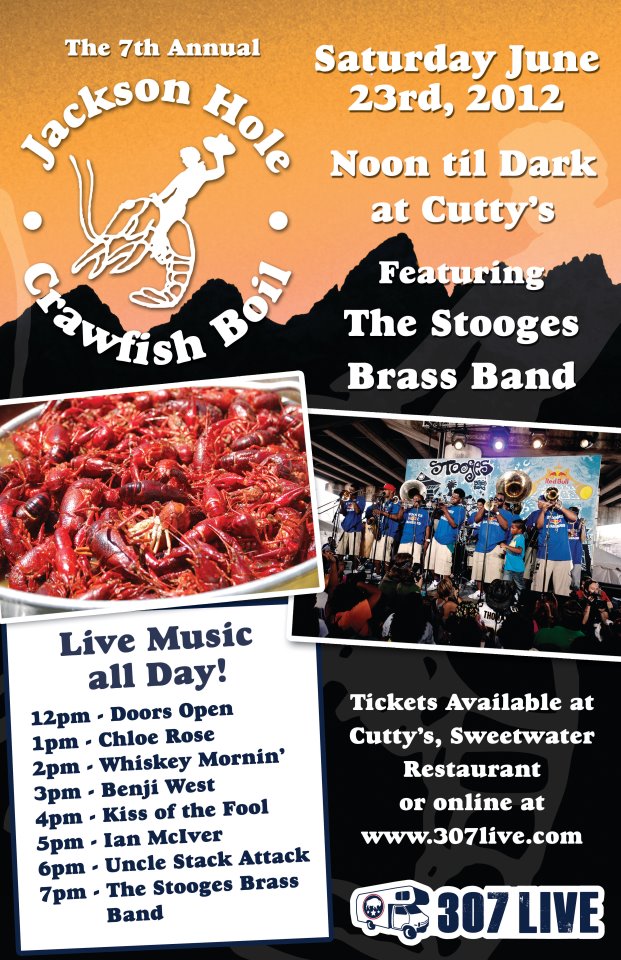 Written by Madalaine German @madelainegerman
The Crawfish Boil will happen this Saturday at Cutty's Restaurant and Bar. 307 Live is overnighting 1,000 pounds of live Louisiana crawfish up to Jackson for the party, and Sweetwater chef and fellow Louisiana native Trey Davis will be cooking around 30 pounds of Southern red beans, andouille sausage and rice (you'd better put your eating pants on). Tickets come in the form of $15 coozies that will buy you live music from for the afternoon and all-you-can eat crawdaddies and rice. The event begins at 12 p.m. with a live music kickoff and the first crawfish pot on. The party will run all day, culminating in a 7 p.m. performance of New Orleans Stooges Brass Band ensemble.
When I sat down with 307 Live's Harper Hollis and Crawfish Chef Especial Billy Cormier to ask them a few questions about Saturday's 7th Anuual Crawfish Boil, my first question was: "what the hell is a crawfish boil, anyway?" The boys' answer was simple: in the South, a crawfish boil is a universally accepted excuse for a good time. Now for those of you who (like me at that time) still have no idea what any of this crawfish business is about, I shall explain.
A crawfish boil usually starts with 1) living in the South, where, you guessed it, these little crustaceans also like to live. Hosting an actual "boil" encompasses procuring a bunch of said freshwater creatures (and I mean a bunch, because the little bastards are small), and then calling all of your friends to spread the word that you've got however-many pounds of these little tasties in your possession.
Naturally, the word of your crawfish stash spreads like wildfire, and as Harper explained to me: on a Friday night in Louisiana, when everyone else might be trying to throw parties concurrent to your own, "having crawfish at your party is how you know everyone will be there."
The Stooges Brass Band Headlines Crawfish Boil
Images From The Previous Crawfish Boil's In Jackson Hole
How It Works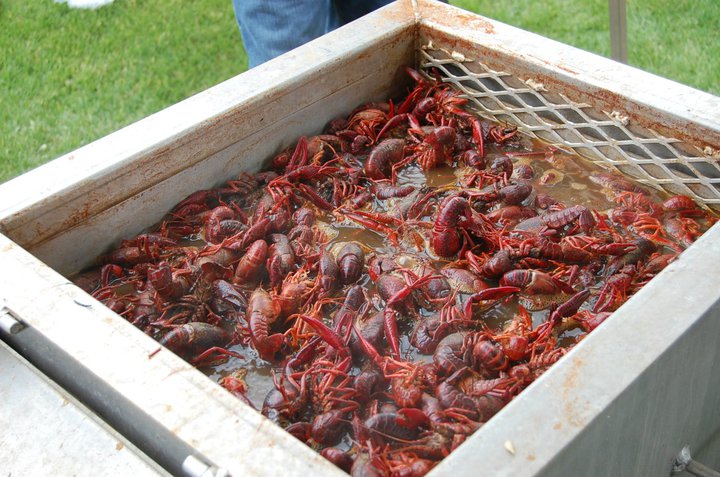 As guests begin to arrive, crawfish dropped into a pot of Special Crawfish Spiced water, in which they are cooked (this makes them flavorful and spicy, as any true Southerner will have it). Outdoor tables are covered in tablecloths and made ready for the spread, and the true crawfish boil host extraordinaire will have event-specific picnic tables complete with hole-cut-out design that allow the crustacean consumer a convenient shell toss location in the trash cans underneath. Apparently, one eats a crawfish by grabbing it on both ends, pulling it apart, and then eating the head and tail innards (in whichever order one pleases). As with any party, guests are usually hungry, and it would be inhospitable to deny them a complete meal, so some kind of red bean, sausage and rice concoction is usually offered alongside the boiled crawfish. Oh— and beer. Lots and lots of spice-smoothing, ice-cold, summertime beer.
History Of The Event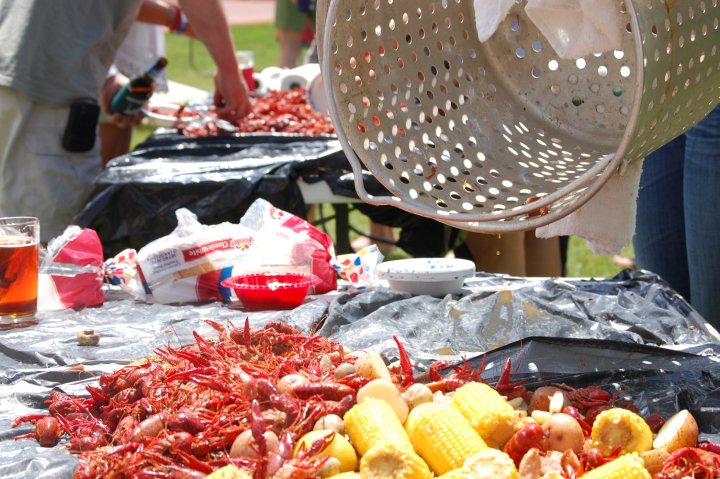 Jackson's Annual Crawfish Boil began with an impromptu request from Harper's friends. As he was readying for his first summer drive up to Jackson from his Native Louisiana, some Jacksonsite friends called him up and asked him to bring up a bunch of crawfish with him as a little splash of Southern Love to their Northern Mountain habitat. Harper obliged, and that was that. The Crawfish Boil has happened every summer since.
At the core of the event is the same energy that brought Harper's first batch of crawfish across the Wyoming state line. Of organizing and promoting the event he said: "we do this because we love it. It's not about anything other than bringing people together to celebrate Southern culture out here in Wyoming." Billy Cormier, longtime friend of Harper and Official Crawfish Boiler of this year's event, chimed in: "Wyoming is our home now. We love sharing this event with friends and family here, and it keeps our roots alive."
Faces of the Jackson Hole Crawfish Boil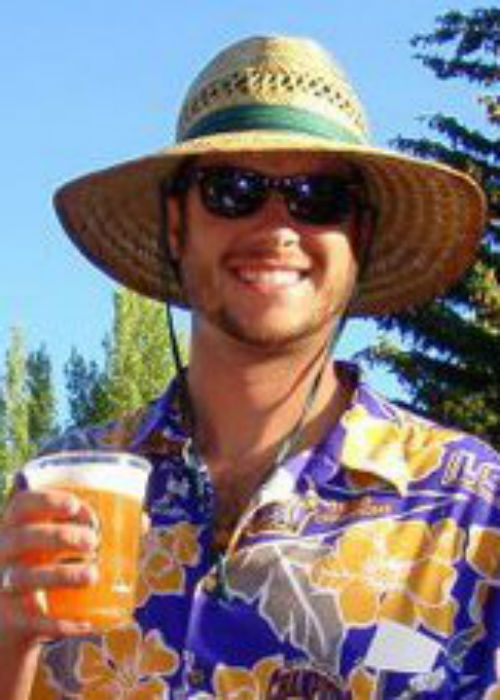 Harper Hollis – Louisiana native and co-founder of the event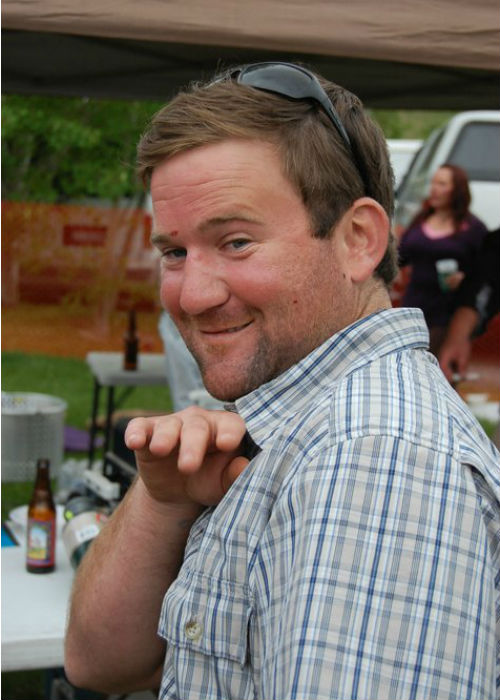 Billy Cormier – Louisiana native and crawfish aficionado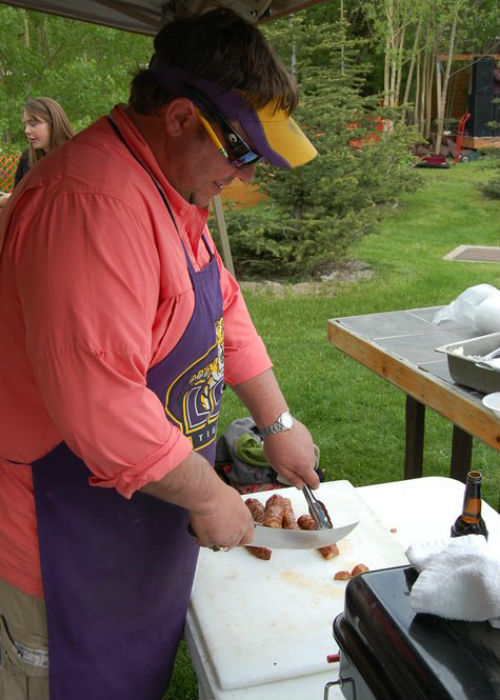 Trey Davis – Louisiana native and owner of Sweetwater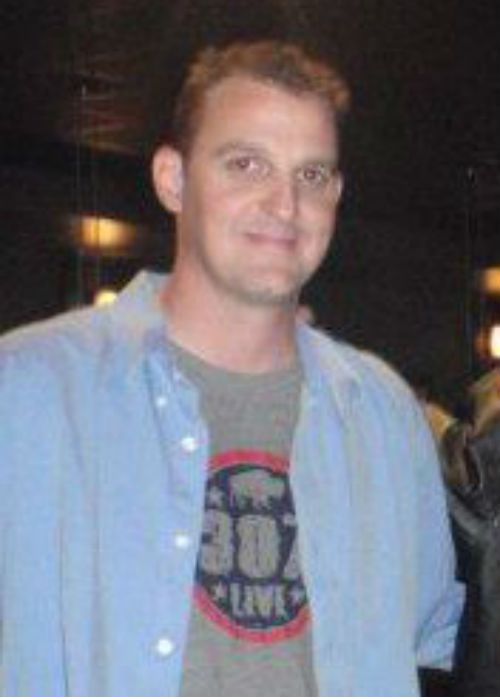 Stephen Carter – Co-founder of 307 Live and crawfish fan