Hundred Days
Old West Brew Fest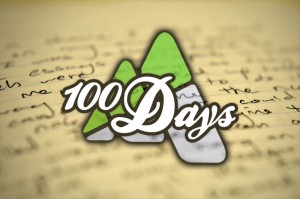 05/29/12 – The Old West Brew Fest
Words and Photography By: Stephen Williams
I love craft beer. To me, there is nothing more delicious than the diverse flavors derived from the combination of barley, hops and yeast. Over the last couple decades, American craft brewers have introduced us to and pushed the limits of every style of this refreshing, carbonated beverage and there is no better place to sample the goods than at a good old fashioned beer fest. Every spring, in conjunction with Old West Days, the Jackson Hole Chamber of Commerce holds the Old West Brew Fest on the Town Square, and if you're a beer lover in Jackson, there is no excuse not to be there. Even a hangover from the Rotary Club's Wine Fest, which always happens the night before, can't keep a crowd from filling the tent on Deloney Street at 11:00am. Regional breweries line the walls of the tent with their finest on tap ready to speak to you about their craft and serve you up some samples.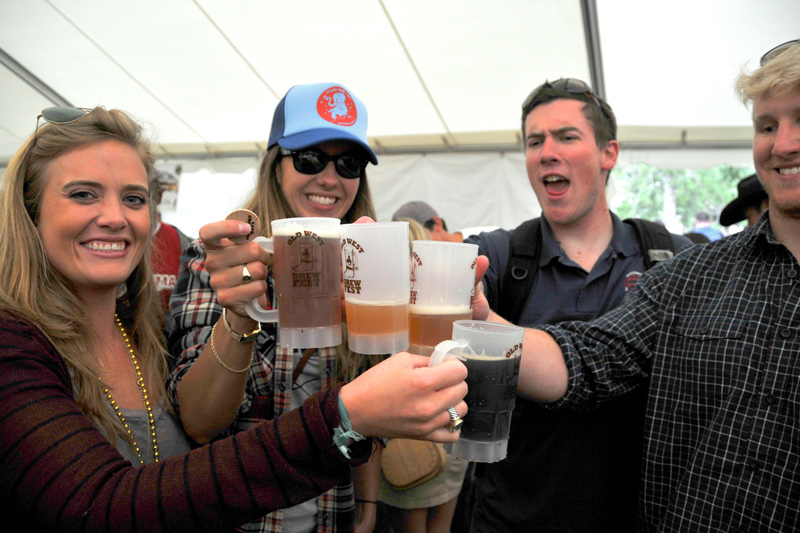 To survive a beer fest, you need a strategy that will allow you to last through 5 or 6 hours of tasting without losing control, and it can't involve spitting out the samples. My plan always starts with a good solid breakfast and a couple Redneck Mimosas (beer and a splash of orange juice) before I hit the fest. If you charge into a beer fest thirsty, you are in for long day. I always try and stick to a particular style so I can draw some comparisons from brewer to brewer. This year, I wanted to try as many wheat beers and hefeweizens as I could. These beers are high in flavor, and typically lower in alcohol, so they made for a perfect afternoon enjoying samples with friends. Check out my tasting notes from a few of the highlights below. Cheers!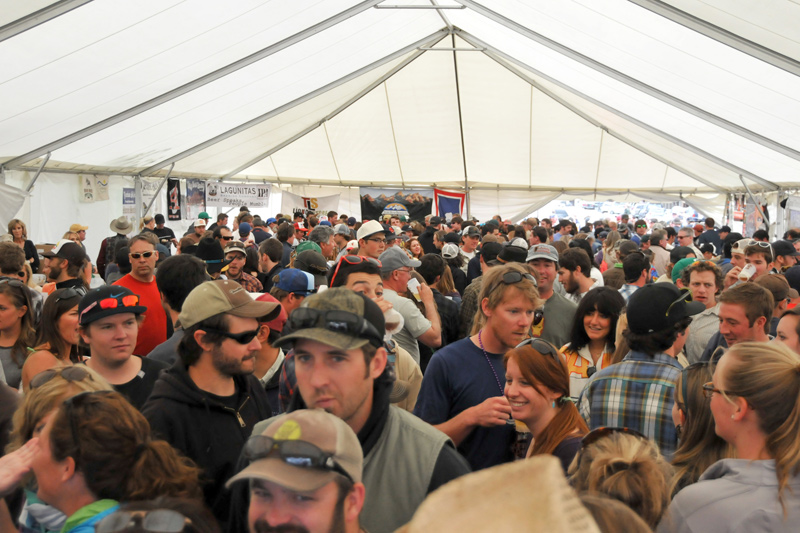 Black Tooth Brewing – Wagon Box Wheat Ale
Before a couple weeks ago, not many people outside of Sheridan, WY had ever heard of Black Tooth Brewing. But after they took home a gold medal at the World Beer Cup in the American Wheat category, news started to spread. After reading the winners list from the World Beer cup, I hoped they would be at the Old West Brew Fest for the first time and save me a trip over to Sheridan to try this beer. American Wheat has typically been known as a filtered, watered down version of the traditional German hefeweizen styles, but not the Wagon Box Wheat. Banana esters from the yeast fill the nose, the taste is balanced with both citrus and tropical fruit flavors and suprisingly has a dry, slightly bitter, hoppy finish. Definitely a unique take on the style, and I went back to sample this beer a couple times throughout the afternoon because it was my favorite beer of the day. These guys are growing fast, faster than they can keep up with as a matter of fact, and we should be seeing this beer on tap or on the shelves in Jackson soon enough. Black Tooth Brewing took home the coveted Golden Boot award as the best brewery at the Old West Brew Fest.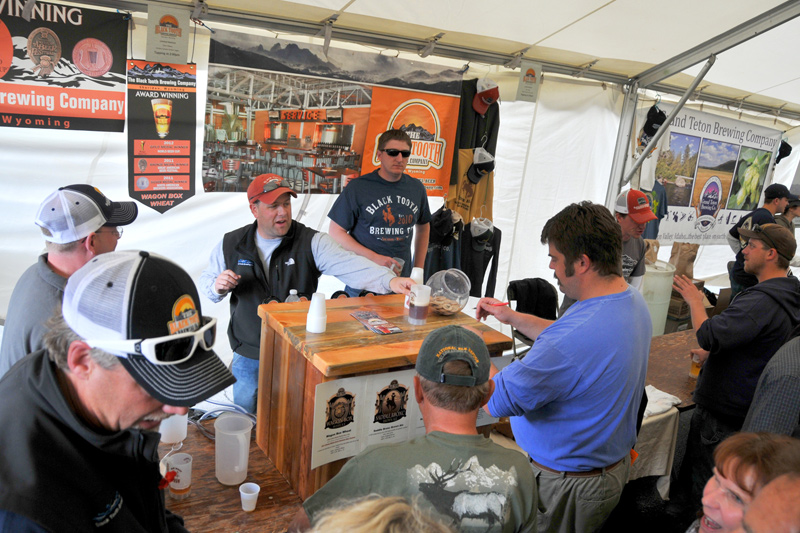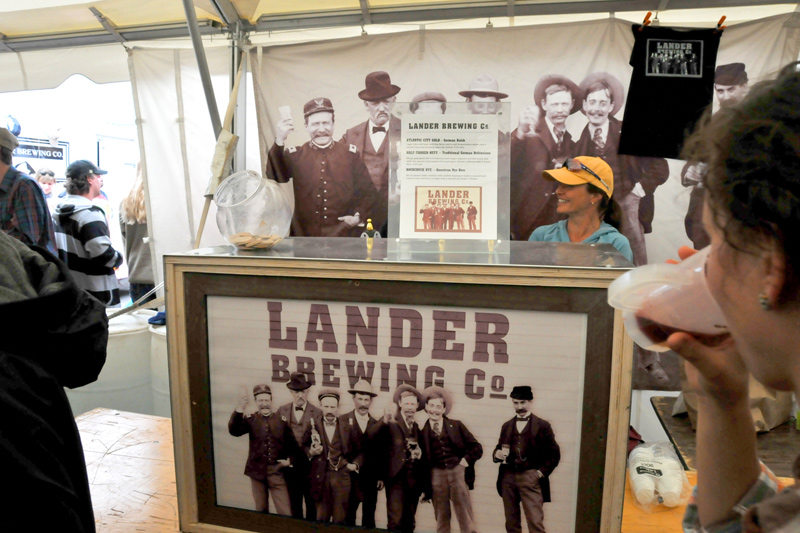 Lander Brewing – Half-Tanked Hefeweizen
Next up, I grabbed a sample of a traditional German style Hefewiezen from Lander Brewing. The yeast from their version definitely had more spicy flavors that the American wheat style from Black Tooth. Lander Brewing's tasting notes said that this is typically served with a lemon slice, but I have always found that serving fruit with beer is only necessary when the beer is flavorless, which is not that case with this brew. Forget the lemon, this beer has enough citrus notes to suffice on its own. The Half-Tanked Hefeweizen is unfiltered, which is key with this style, and gives it a velvety mouth-feel.
Madison River Brewing – Orange Belgian
Heading over to the Madison River table, I was immediateley caught by the title of this next beer. The Orange Belgian is a witbier, which is a wheat style from Belgium that typically has spices like corriander and orange peel added to it. For this brew, the orange peel was stepped up a notch which overpowered other flavors in the beer. Not a bad thing if you were going to be drinking this one sitting in the sun on a hot summer day, as the citrus flavor was really refreshing. The orange didn't come through in the aroma as much as expected, and the gentleman pouring told me they added a little chamomile to smooth over any overpowering citrus smell. This is the first spring I have seen Madison River serve this beer, and I hope after a few more batches they will mellow out the orange flavor slightly to make the beer more well rounded.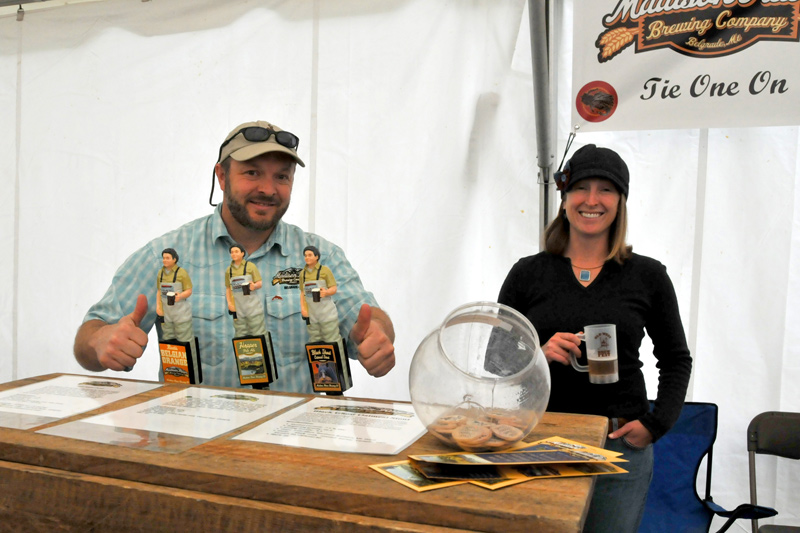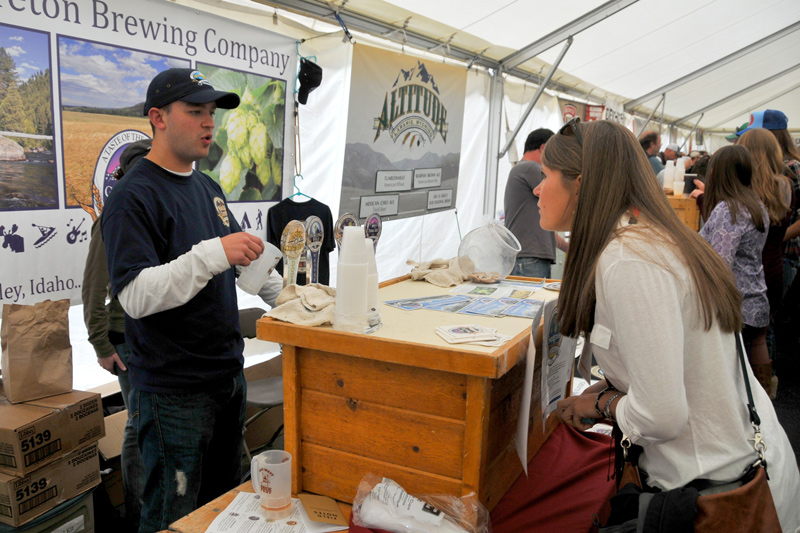 Grand Teton Brewing – Howling Wolf Weisse Beer
Howling Wolf has always been one my favorite year round beers from Grand Teton because of its drinkability. It is more of a session wheat beer, and although it is the lightest beer that GTB brews, it has the full flavor of a traditional Bavarian hefeweizen. Banana and bubble-gum aromas pair with the spices from the yeast and slight apple sweetness from the malt to make a well rounded, refreshing beer. I recently took a beer tasting class with GTB's head brewer Rob Mullin, and have immense respect for the quality control that they use to insure the highest quality beers.
Snake River Brewing – Discombobulator Mai-Bock
So 'Disco' isn't a wheat beer, but given that it is a 'May'-bock, it fits with the season. Disco is one of Snake River Brewing's most beloved seasonal brews and this German lager style definitely packs a punch at 7% abv. Lagering beer tends to diminish the bitterness of hops and enhance the flavors derivied from malt which is the case here. Disco has a lighter body and color than most bocks, has a fresh-grain aroma, and a mildly sweet, bready taste. A bit of an alcohol burn hits the back of the throat on the swallow that makes you want to to take another sip. Get your Disco fix quick, as it is only available on tap at the brewpub for a short time. Snake River recently switched solely to canning beers, which I think is a progressive move for craft beer and one that I hope most breweries will soon follow. Their Pako's Eye-PA, which has been cleaning house at award ceremonies over the last year, took home the Golden Boot for the best beer at this year's Old West Brew Fest.