Hundred Days 062
Night Creature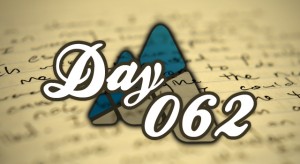 Day 062: 03/28/12 – Night Creature
Written by Robert Cocuzzo
Photography by Jake Johnston and Stephen Williams
"Welcome to history," Mike Vase says, pushing open the door to the Ski Patrol cabin on the top of Rendezvous Mountain. It's 7 PM. The last Tram has long since docked, all the skiers and riders have gone, and Ski Patrol finished their final sweeps some time ago. We are alone at 10,450 feet, RPK 3 and a world away. For me and my four other Mountain Pulse colleagues, being up here at this hour is surreal, a far cry from the normal haste of being birthed from the Tram on a powder day, rushed across the dock's metal walkway to the wind buffed rim of the Bowl. For Tram operator Mike Vase, this is just another Friday night.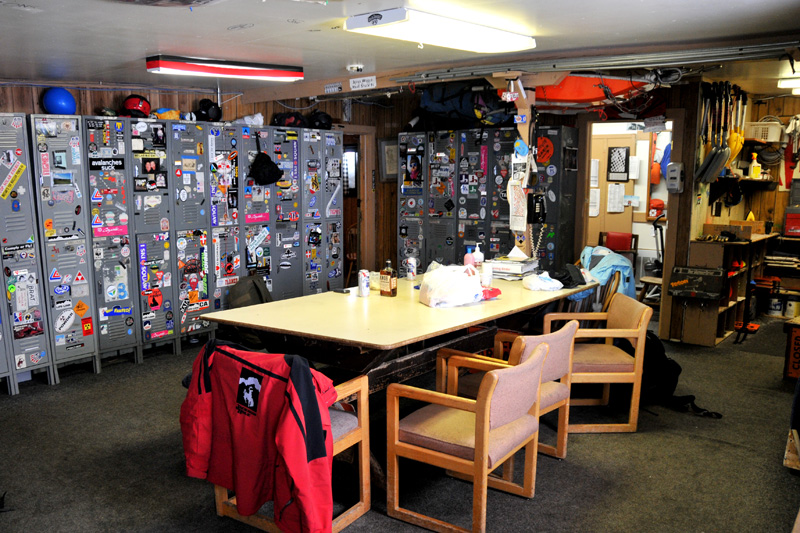 While Jackson Hole's Tram may be one of the most technologically advanced in the world, it still relies on good old fashion manpower. In cases of complete technical blackout, the ultimate fail-safe is a Tram operator who can trouble shoot the problem and resolve it. Beyond these mechanical necessities, Tram operators also serve as a point of contact in rescue situations for stranded skiers and hikers. It is for these reasons that on any given night, winter or summer, a Tram operator can be found reclined on the comfy leather sofa in the Patrol hut adjacent to Corbet's Cabin. If patrollers are the mountain's soldiers, the Tram operators are surely its gatekeepers.
Passing through the entryway where patrol's skis stand and a locked box of dynamite sits ominously on the floor, we enter the main room. Welcome to history. Lockers covered in stickers and pictures line the walls like the spines of books in a library. The far end of the room has a tuning station, also occupied by plywood shelves that hold every possible hazard sign. In the middle of the room is a long rectangular table surrounded by chairs. Beholding the space quickly invokes a scene of patrol strategizing in the early morning hours, a whole mountain to tame and only roomful of people to tame it.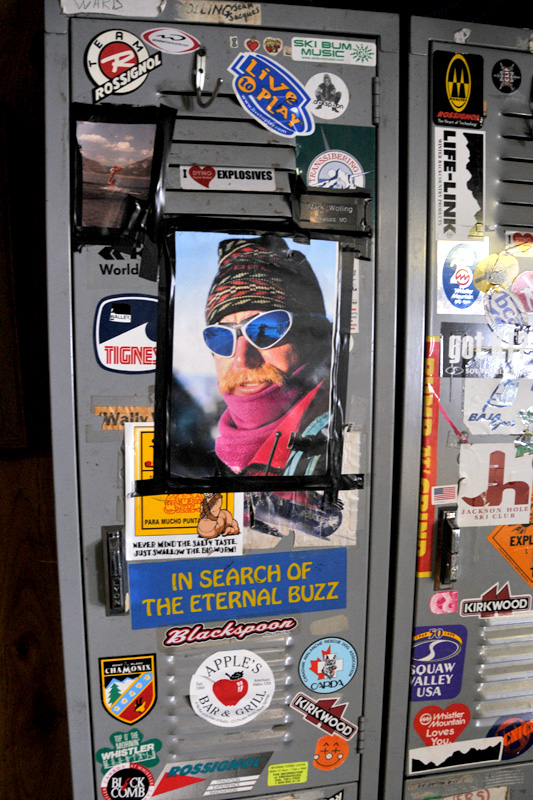 Vase drops a duffel bag on the table and walks over to a locker on the far left side of the room. He taps it reverently and says, "Hi Big Wally." The locker belonged to beloved patrolman Mark "Big Wally" Wolling, who passed away from injuries sustained in an inbounds avalanche in January 2010. According to Vase, the locker has not been opened since the accident. The room is brimming with similar shrines to fallen or retired patrolmen and skiers.
Few places possess such staggering character. Just scanning the lockers and reading the stickers and notes could fill a night's worth of idleness. "SLOW. LOUD. SHALLOW," reads one sticker, a lighthearted knock on the Jackson Hole Air Force. "JESUS WOULD HAVE STUCK IT," reads another on an overhead beam, a shout out to the late Jamie Pierre who dropped a record setting 255foot cliff off the backside of Targhee. A far office wall bears Jackson Hole's original trail map with an introduction capturing how epically rugged this place was from the very beginning. "Jackson Hole, backdropped by the towering Grand Teton Mountain Range, is a great name in western history," the description reads in a voice of Warren Miller playing over my mind. "It is Indian country; trapper country; America's greatest game reserve; and a famed summer resort area. For generations, the tribes of the Crow and Shosone summered and hunted here. In 1807, James Colter, a guide with the Lewis and Clark expedition, entered the valley, the first white man to discover its natural wealth…Now Jackson Hole is, truly, the high point of American skiing." Everywhere you look there is some tip of an iceberg, a motif of a local legend that contributes to the collective soulfulness of this mountainous outpost.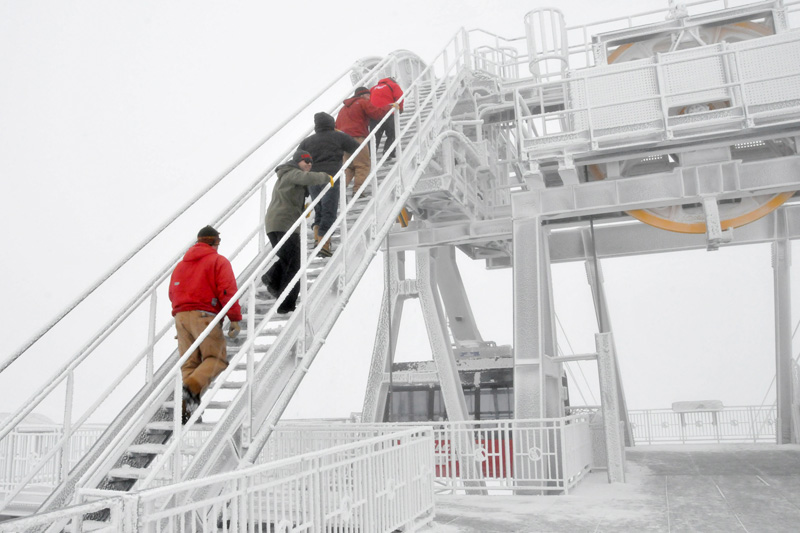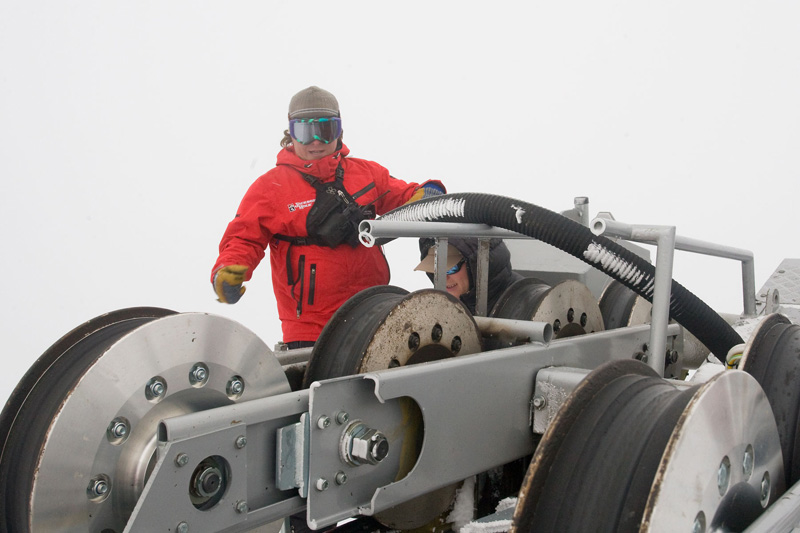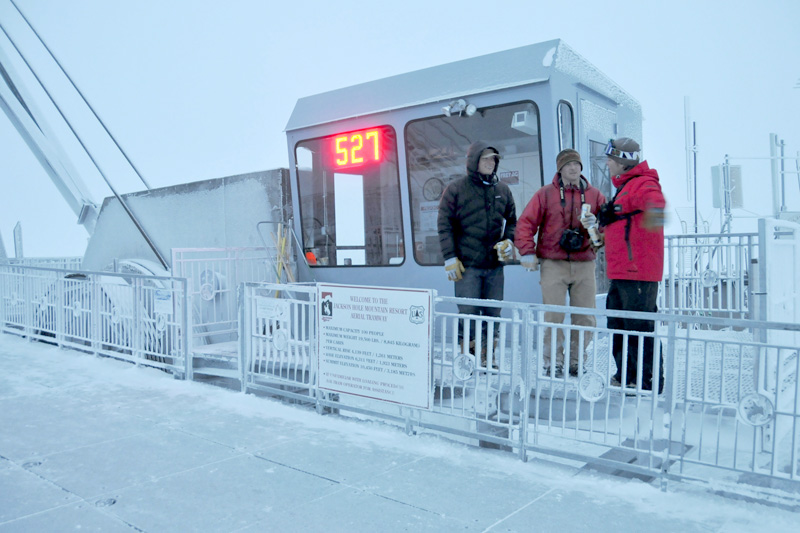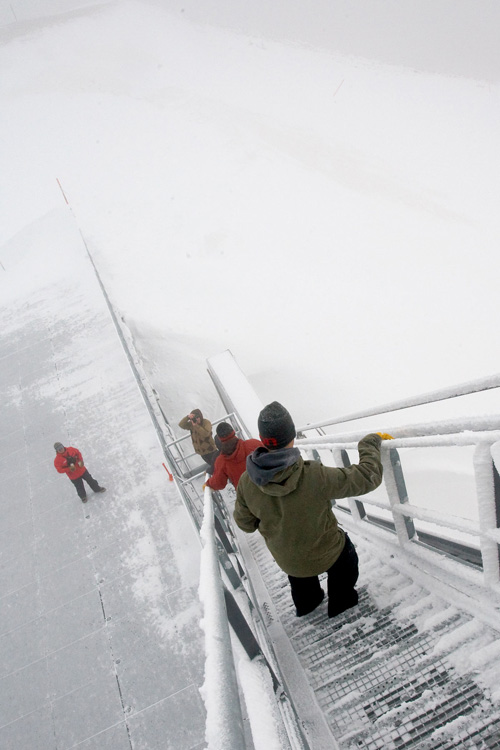 Mike Vase is an exemplary host. Beyond his impressive knowledge of all things Tram, he exudes a genuine excitement and appreciation for his role. "You know what? This is the best job ever," he says without a hint of exaggeration. "Not only am I working on the best lift in North America, but I am working hand in hand with Jackson Hole Ski Patrol, the highest caliber ski patrol in the world." Indeed, Vase has seen Patrol in action, and on one occasion in particular, participated in a rescue.
"It was probably 4:45," Vase begins. "Super sweep was just about ready to go and we got the call: 'There's a guy in Granite. We gutta go find him.'" A snowboarder unknowingly rode down into Jackson Hole's dark side: the cliff-ridden, avalanche-prone, out of bounds terrain known as Granite Canyon. At the time of the call, Patrol was unsure if this was going to be a rescue or a body retrieval. Vase recounts, "The patrollers was Goldie and Sparkie. It was dark. Jake Elkins was up here doing dispatch with Search and Rescue, Patrol, his family. They did an impeccable job." Just before Patrol left for the search, Vase grabbed a bunch of hand-warmers from Corbet's Cabin and gave them to the two men. Some hours later, the stranded snowboarder was found just about to burn his shirt for warmth. Mike's quick thinking helped keep the snowboarder warm as he post-holed out of Granite Canyon and on to safety.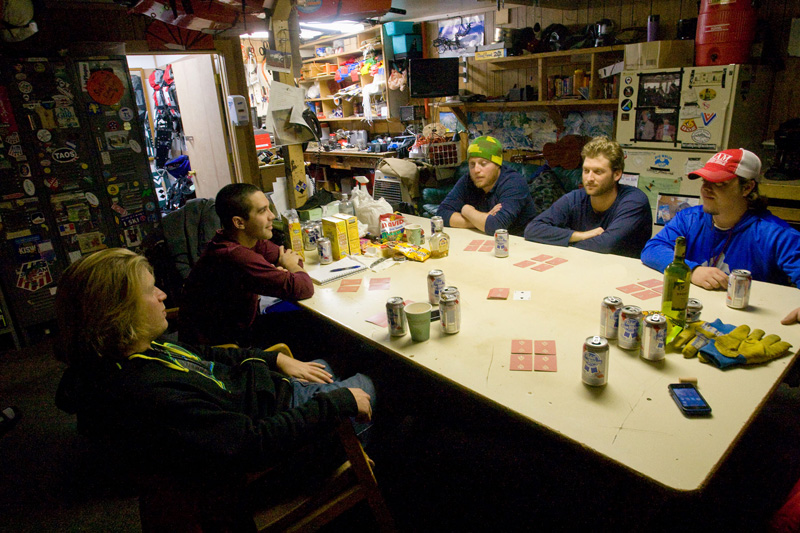 And the stories go on and on. Sat at the long table, playing cards, eating snacks and drinking beers, we hang on to every word of Vase's tales of the Tram. With the great comfort and warmth of the Patrol cabin, we are quick to forget how far removed we are from the world below. Only when going to the bathroom or stretching our legs, do we catch a glimpse of the savage winter raging out the window. The Tram Dock's large digital clock casts everything in hellish red, the snow cascading down like laser beams. The old cabin shutters hollowly in the wind, and there is a sense that something more than just wood and brick are keeping this place fortified. There is a spirit to the cabin. Not in any ghoulish, scary way. But in a comforting way, much like how many still feel the presence of their loved ones after they've passed. Even for those that reject such sentiments, it's hard to deny that there is an essence about this place that sets it apart from everywhere else.
The night comes to a natural conclusion, and we all retire to sleeping bags on the floor. Closing my eyes, I reflect on all the times I've gone to bed wondering what was happening up here, the very spot I now lay my head. Then I reflect on what a privilege this has been, and how few people in the world have experienced this. Finally, moments before I drift into unconsciousness, I wonder what we will be met with come morning. Powder? Blue bird? It's of little importance, I decide. Anything from this point is gravy.