Hundred Days 049
2012 Dick's Ditch Classic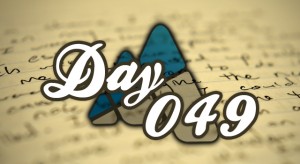 Day 049: 03/05/12
2012 Dick's Ditch Classic
Words and Photography By: Stephen Williams
This last weekend Jackson Hole Mountain Resort hosted skiers and snowboarders of all ages from around the west for the annual Dick's Ditch Classic. With amateur divisions divided up in age classes, as well as pro divisions, some of the best homegrown talent compete year to year in this banked slalom competition. The course runs the length of the upper section of the run Dick's Ditch, along the side of Amphitheater bowl from Lupine Way to South Pass Traverse. Combining hairpin banked turns, step-down kickers, and hips built from the sides of the gully, the course forces the skiers and snowboarders to use speed, strength and control to navigate through sucessfully. The conditions were less than ideal for the qualifying day on Saturday, with heavy snowfall and low visibility challenging the competitors and the Jackson Hole Race crew who worked hard to keep the course in shape. But the finals on Sunday were a different story. Partly cloudy skies, warming temperatures and a fast course made it a great day to come out and watch the action. Congrats to the winners in each division and everyone who took a shot at Dick's Ditch this year.
Results:
Mens Pro Ski

1st) Pat Owen – 1:24.23
2nd) Max Hammer – 1:24.32
3rd) Tristan Droppert – 1:25.35
Womens Pro Ski

1st) Alexa Owen – 1:31.72
2nd) Kristin Waddle – 1:31.80
3rd) Morgan McGlashon – 1:36.65
Mens Pro Snowboard

1st) Rob Kingwill – 1:31.92
2nd) Mikey Marohn – 1:32.38
3rd) Blake Paul – 1:34.35
Womens Pro Snowbaoard

1st) Cecilia Kunstadter – 1:49.61
2nd) Amber Nelson – 1:52.72
3rd) Sarah Baca – 1:54.78
Mens Masters Ski

1st) Matt O'Donnell – 1:26.34
2nd) Pete Jenkins – 1:26.78
3rd) Christian Cisco – 1:27.09
Mens Masters Snowboard

1st) Ash Tucker – 1:37.36
2nd) Jay Zoeckler – 1:42.48
3rd) Jared Paul – 1:44.08
Womens Masters Snowbaoard

1st) Adrienne Kirkwood – 2:06.55
2nd) Natasha Krochina – 2:16.16
Mens Amateur 20-29 Ski

1st) Matt Lancaster – 1:30.81
2nd) Jeff Nelson – 1:32.90
3rd) Nick Evon – 1:33.30
Womens Amateur 20-29 Ski

1st) Casey Jillson – 1:42.43
2nd) Annie Dwyer – 1:43.89
Mens Amatuer 20-29 Snowbaoard

1st) Gregg Ciszewski – 1:39.09
2nd) Daniel Williams – 1:39.28
3rd) Pete Moser – 1:44.07
Mens Amateur 14-19 Ski

1st) Corey Jackson – 1:24.50
2nd) Connor Field – 1:32.16
3rd) James Ablondi – 1:33.30
Mens Amateur 14-19 Snowboard

1st) Raphael Chanut – 1:51.34
2nd) Andrew Taylor – 1:51.53
3rd) Killian Kosovich – 1:53.14
Groms 11-13 Ski Boys

1st) Henry Geraci – 1:31.81
2nd) William Geraci – 1:31.82
3rd) Steve Shea – 1:33.57
Groms 11-13 Ski Girls

1st) Anna Gibson – 1:32.48
2nd) Anna Barker Jr. – 1:35.68
3rd) Ann Shea – 1:36.11
Groms 11-13 Snowboard Boys

1st) Harry Burt – 1:54.12
2nd) Sawyer Clegg – 2:07.87
3rd) Luke Miller – 2:14.08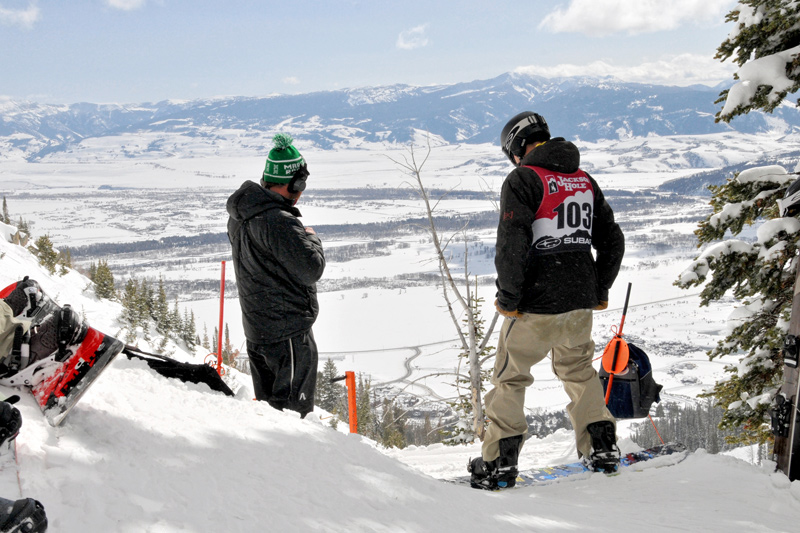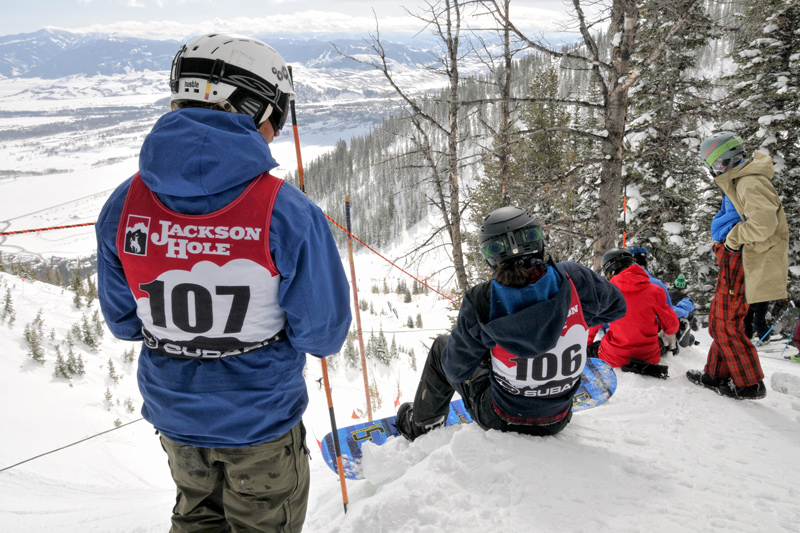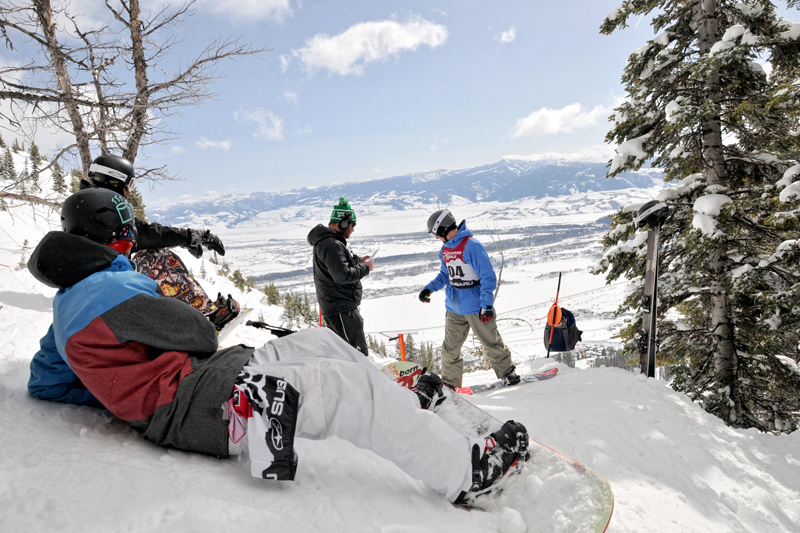 Riders wait at the top of the course for their turn to drop in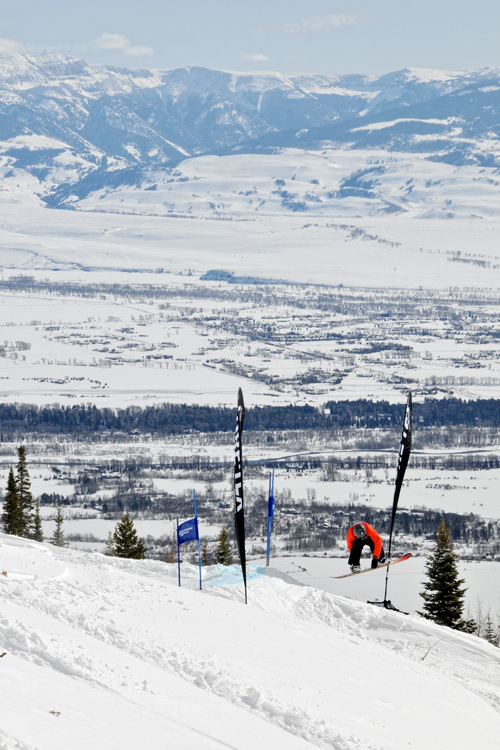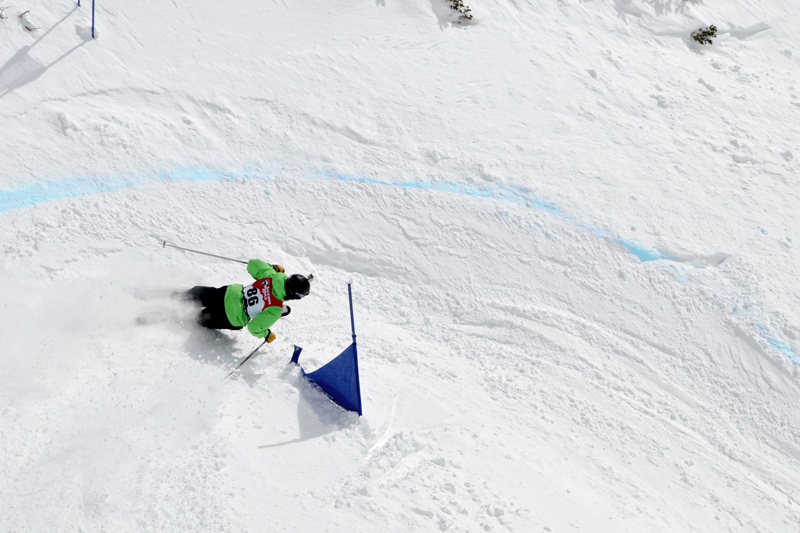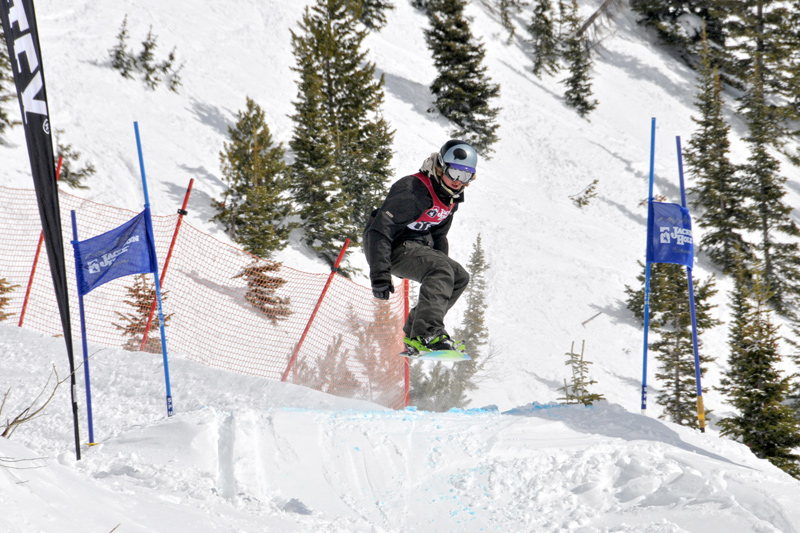 The riders are timed navigating the course which features a variety of challenging terrain from banked turns, booters, roll-overs and hips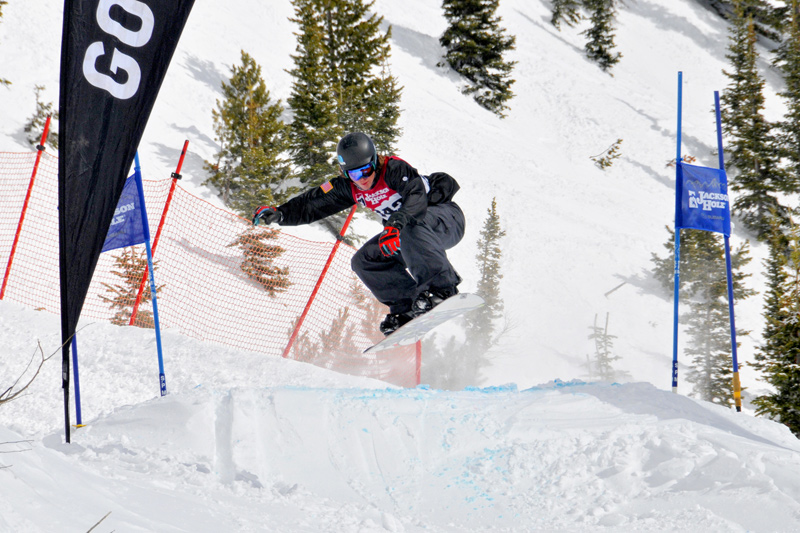 Rob Kingwill manages a kicker on his way to repeating as the Men Pro Snowboard division champ.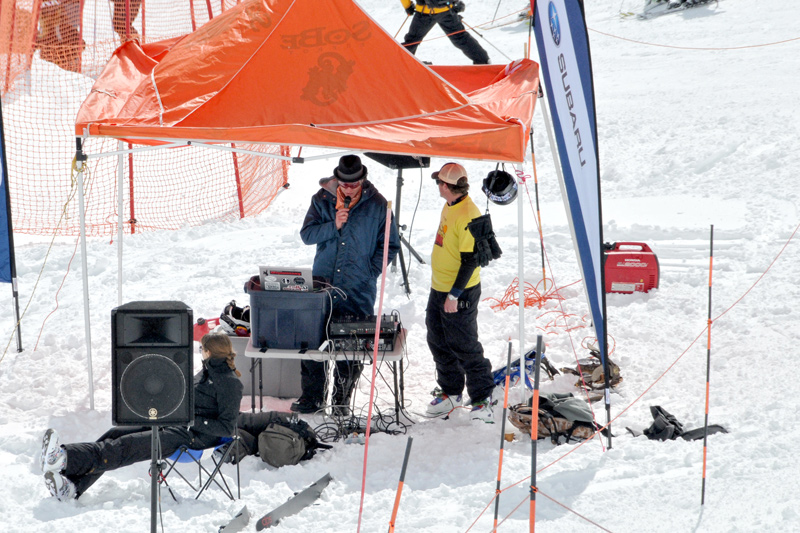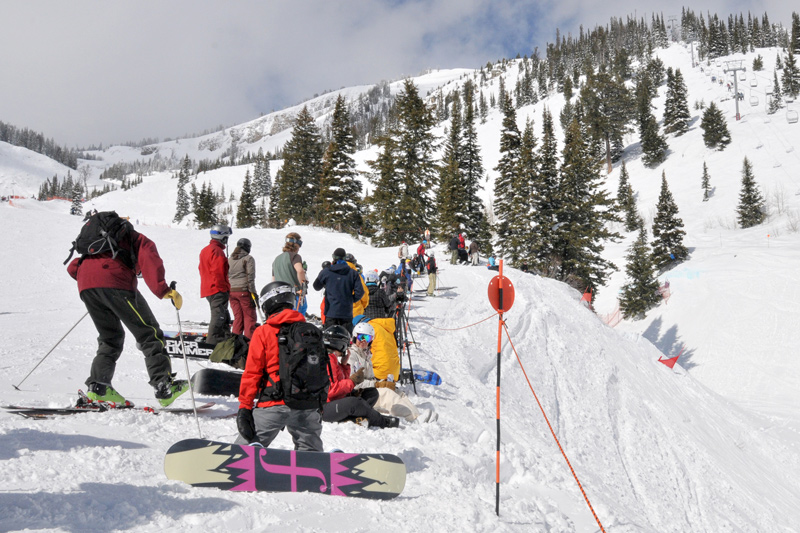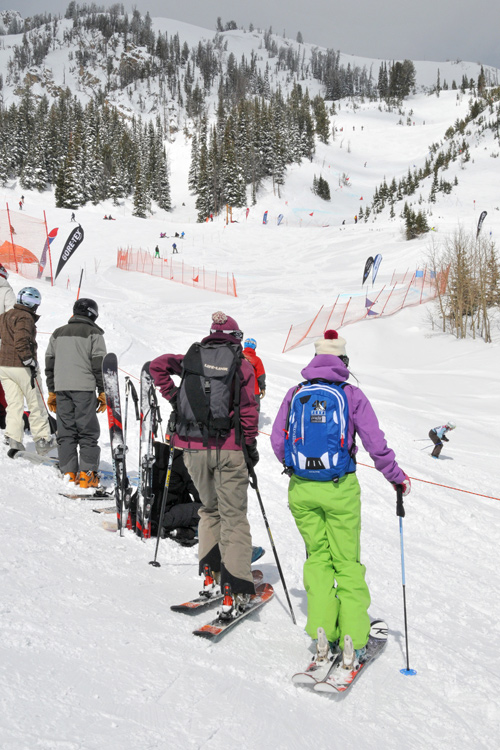 Spectators stop and watch the comp from Amphitheather bowl and listen the commentators over the loud speakers.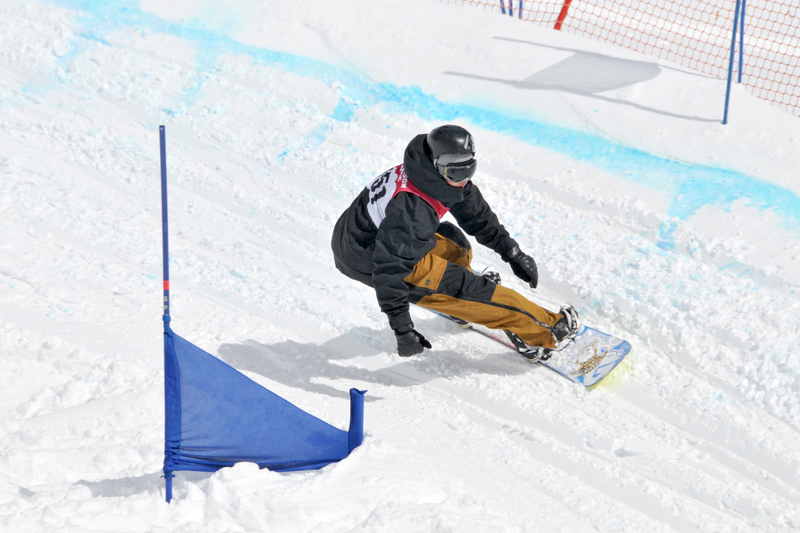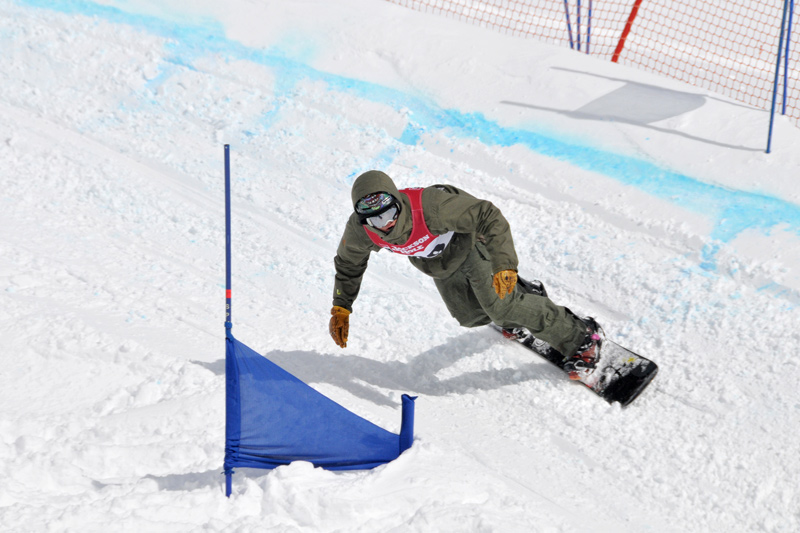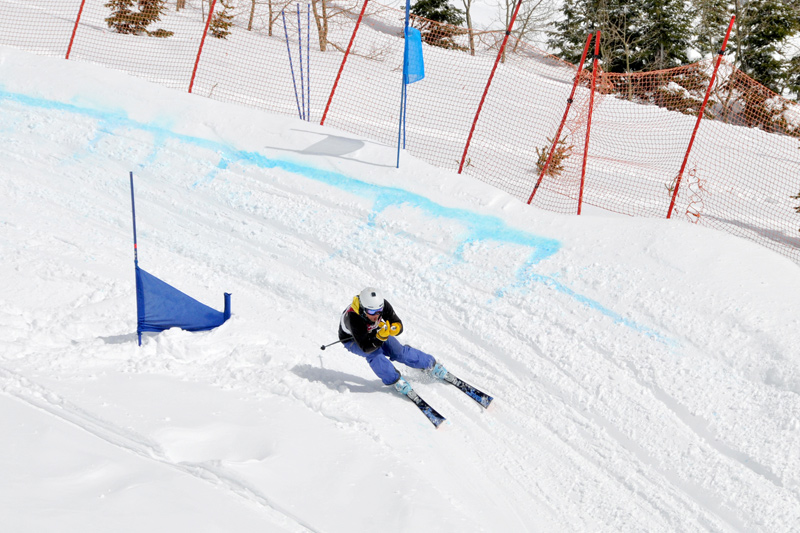 As the day went on and the temperatures warmed up, the course softened up making the banked turns even more challenging.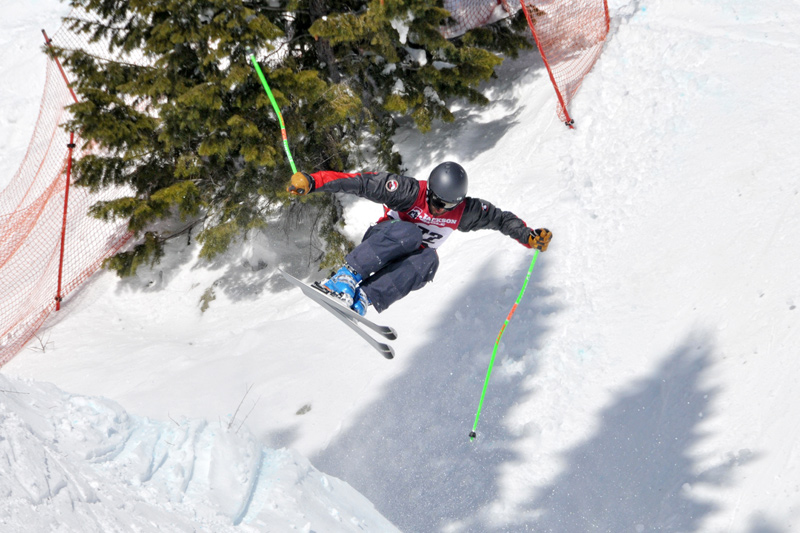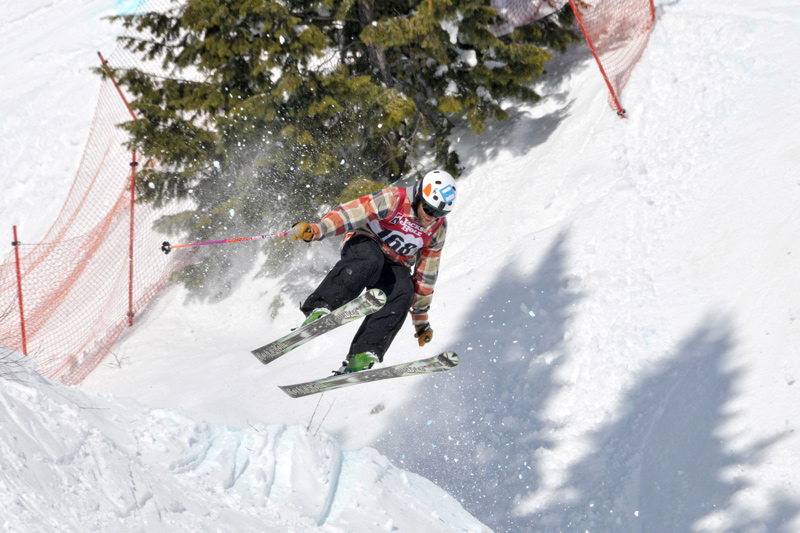 Towards the bottom of the gully, skiers catch air over one of the most popular features on the course, Terje's Hip