Artist Profile
2012's Best Emerging Artist, Kelly Halpin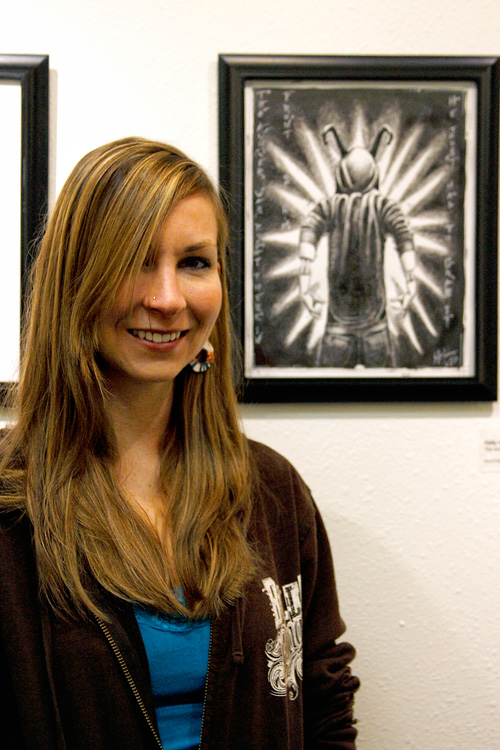 Penned Up Positivity
Written by: Z
Of all the characters I've had the pleasure of making turns with during my time in Jackson, few have matched the stoke of local artist Kelly Halpin. Though I've only ridden with her a handful of times, I've heard Kelly hoot, laugh, and scream "I love snowboarding!" more than anyone on the hill. Girl just downright loves to slide on snow. So when Kelly blew out her knee last month, it was distressing to say the least. Just thinking how I might react if the thing I loved most was ripped away from me so abruptly, I feared how Kelly would take it.
Fortunately, she took a path of positivity from almost the moment her knee popped. Over the ensuing weeks, Kelly has been utterly prolific, funneling her snowboarding energy through the tip of a pen. Her artwork streamed over Facebook, sometimes two or three pieces posted per day. Though she was laid up, Kelly was still laying down some pretty sick lines.
Most recently, Kelly was awarded "Best Emerging Artist" by JH WEEKLY. I caught up with her to see how she was able turn hardpack into faceshots, putting on display the inspiring resiliency of both an athlete and artist .
Z: Did you make a decision early on to take on a positive perspective towards your injury?
KELLY: Everyday when I gear up I accept the fact that snowboarding is a dangerous sport and that I may get injured. Not just knowing, but really accepting the risk beforehand helped me deal with the injury from the moment it occurred. As soon as I felt my knee pop I thought, " Well, there it is. It finally happened." Living in Jackson I've seen many of my friends go through the same ordeal, some with a positive attitude and some with a very negative attitude. Having a negative attitude never helps a situation. You can never change the past, so tearing yourself up over the "what-could-have-beens" is pointless and not worth wasting your time or emotions on. Having a good attitude is everything: good for you, good for healing, and good for your friends and support crew.
Z: How have you channeled the energy you would normally exert on the mountain into your art?
KELLY: During the winter my life generally consists of two things: snowboarding and art. I definitely try to get out on the mountain everyday. In fact, almost everything I do in the winter is directed towards snowboarding, from what I eat, how I exercise, and even what I dream about in my sleep. Having that enormous part of my life put on hold definitely gave me an excess of energy, and since I'm pretty much stuck in bed, my choices are limited to reading and art. Pouring that energy into drawing really helped take my mind off of snowboarding. I also tend to draw better when I'm emotionally strung out in one way or another. Since my injury, I've drawn roughly six new illustrations, plus a comic on fast food that I'm currently finished up. I have a few commission projects to work on as well, but I'm waiting until I can get out of bed and into my studio where I can really sit down properly to work on those.
Z: Are there elements in the work that you think reflect your present state of mind?
KELLY: Well I've definitely drawn a lot of hearts. I think I've incorporated a heart into almost every piece I've drawn this week, including the comic. I'm sure it's because I'm trying to focus on redirected my own towards art and positivity. I've also drawn a lot of magpies. I love those guys! I can see them strutting around my porch every morning. Cocky little bastards!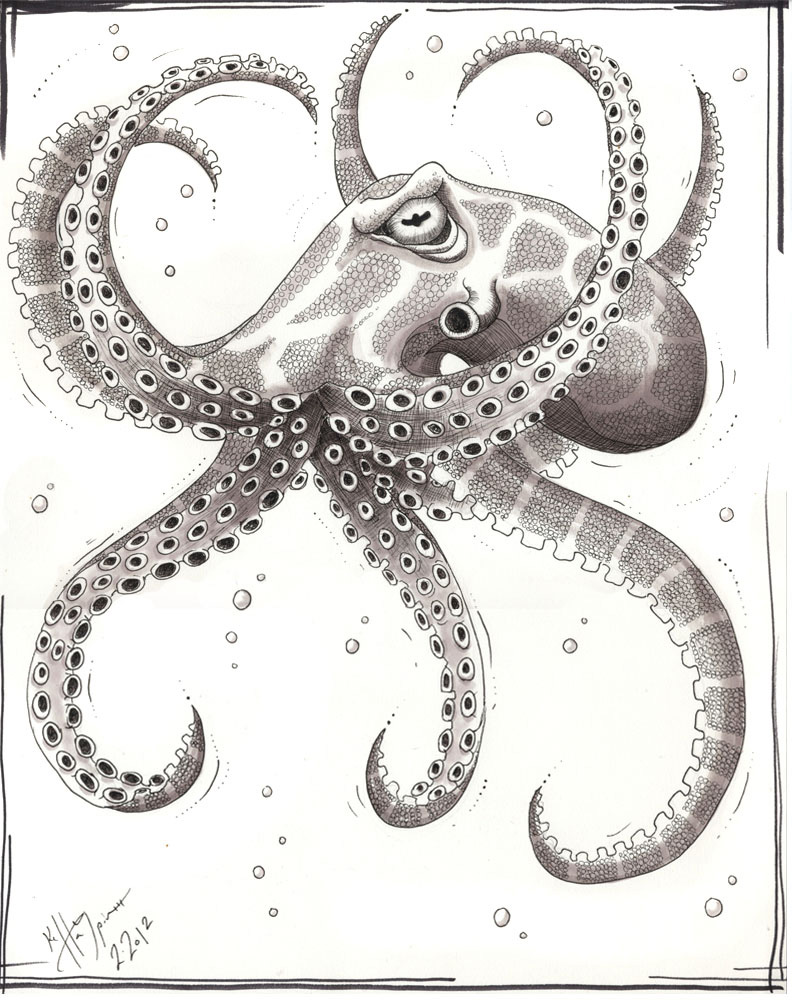 Z: What exactly happened? What was the nature of your surgery? What's your recovery time?
KELLY: February 22 was the first day of this awesome storm cycle and I was out riding with my favorite shredders. We hucked, jibbed, and dropped some fluffy pillows. Awesome morning! On the way to the base, right on the traverse that passes the Kid's Ranch, I hit a very small lip of hardpack that caused me to land awkwardly on my front leg. I immediately felt a pop, went down, and experienced about eight seconds of sharp pain. After that I stood up and snowboarded down to the base. I knew something bad had happened to my knee (which was shifting sideways whenever I put weight on it) so my friends helped me to the bus and I went straight to Teton Orthopedics. I got to join the torn ACL club! I had surgery less than 48 hours later, which was great! They didn't tell me an exact recovery time, but I'm quite determined to rehab as much as possible so I can be 100% by next winter. I feel very lucky in a lot of ways. For one, I tore my left ACL, so I can still drive. I also only damaged my ACL and not anything else in my knee. I got to snowboard the first half of the winter, which was awesome! On top on all that, this injury is nothing compared to a death in an avalanche, so I always try to keep that in mind.
Z: What advice would you give to someone who has also been injured and sidelined from the activity they love?
KELLY: First off, you have to remember these sports are high risk and that there is always a chance of getting injured. Second, if you are injured, try your best to focus on the positives and not feel sorry for yourself. Just think about what the next step is to recovery. I'm not thinking about my season being over, I'm thinking that I'm just taking an extended break, haha! The better your attitude, the faster you are going to recover. Positive, positive, positive!
Check out more of Kelly's work at www.thecoffeeweirds.com