Video of the Day
Red Bull Supernatural Highlights
Red Bull Supernatural 2012 from Lib Tech on Vimeo.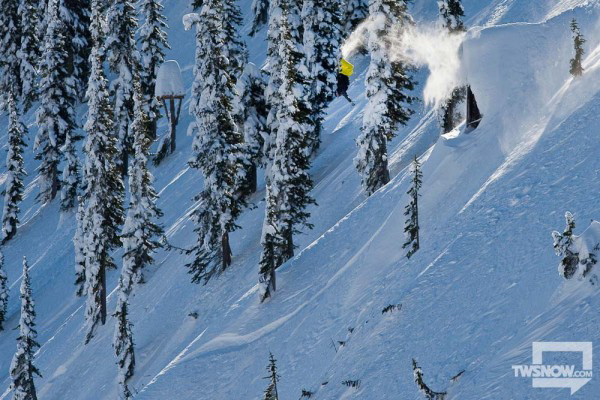 Photo: Transworld Snowboarding
I was surprised the first time I heard the Supernatural was going down at the beginning of February and not being aired on TV until the end of March. Was Red Bull and NBC really going to make us wait 7 weeks to see footage from this groundbreaking snowboard competition? Well a bootlegged highlight reel surfaced on the interwebs yesterday and the demand from users to see the footage was overwhelming. Hundred of sites started sharing the bootlegged four minute video that included Travis Rice's winning run in full, edited with shots from the POV camera he was wearing. That video continues to spread, and gets pulled down from Vimeo and YouTube as fast as it takes a new crop of bootleggers to download it. Red Bull uploaded this official two minute teaser to try to put out the fires which still gives us a taste of the amazing lines these 18 guys were riding at Baldface Lodge in British Columbia.
From Red Bull: Under bright, bluebird skies, 18 of the world's most notable up-and-comers alongside the icons of snowboarding progressed the sport to a new level, as Red Bull Supernatural ran at Baldface Lodge outside of Nelson, B.C., Canada. From the first rider to drop, Scotty Lago, through Travis Rice's final run, the never before ridden Red Bull Supernatural course challenged every aspect of the competitors' talents, bringing the most progressive riding of our time together in a single run.
Catch the full event when Supernatural airs as part of the Red Bull Signature Series on March 31st 1-3pm EST on NBC, redbullsignatureseries.com
Other Posts from The Mountain Pulse