Red Bull's Supernatural Snowboard Competition
February 4th, 2012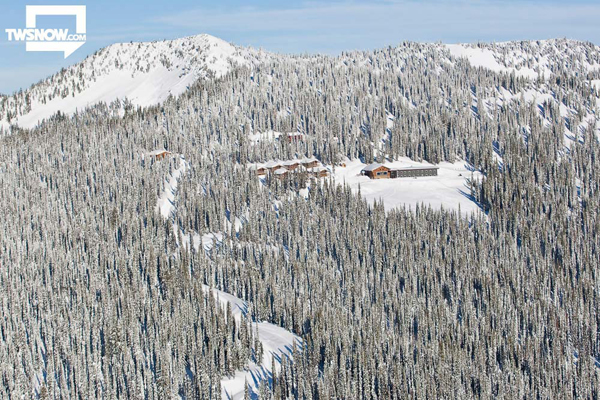 Baldface Lodge, BC. Photo: Transworld Snowboarding
Red Bull's Supernatural Snowboard competition will set out to crown the best overall snowboarder TODAY, February 4th, in British Columbia. The window for a competition date was left open between February 3rd-8th, 2012 to allow for the best possible conditions for 18 of the best snowboarders in the world to throw down on this unprecedented course deep in the Kootenay Mountains. Masterminded by Travis Rice, Red Bull's Supernatural course combines freeriding, slopstyle and freestyle ability down a 40 degree pitch on the 'Scary Cherry' area of the Baldface Lodge backcountry operation. The course consists of over 80 manmade log features on the top part of the course, a massive kicker in the middle, and a terrain park with jumps and rails at the bottom. The contest is being filmed to air on NBC March 31st and does not have a livecast to allow us to watch these guys compete today, so it seems like Twitter will be the best way to keep track of the competition. Follow both the list we have curated below, and the hashtags #Supernatural and #RedBullSupernatural to keep track of conversation and photos posted by athletes and sponsors live throughout the day. We have not seen an official start time or format for the comp, but we will update this page when we know more. The snowboard community has been looking forward to this competiton for months and we know that these athletes are going to be ready to give it all they have in the Red Bull Supernatural Competition today.
UPDATES
David Carrier-Porcheron injures knee during his first run and withdrew from the comp
Standings after the first heat: 1st – Travis Rice (surprise, surprise), 2nd – Gigi Ruf, 3rd – Nicolas Müller
Top 9 Advance to Finals (in order of score): Rice, Ruf, John Jackson, Muller, Debari, Kokubo, Blauvelt, DCP, Niemala
Devun Walsh replaces DCP in finals due to knee injury
Run order is reversed for finals – 9 to 1
With no one able to top Travis Rice's first run score of 91, it looks like he will win the comp. He is dropping in for a victory lap on his final run
Final Standings: 1st – Travis Rice, 2nd – Gigi Ruf, 3rd – Nicolas Muller
Stay tuned to www.snowboarding.transworld.net for a recap and more photos. Apparently there will be no video footage until the events airs on NBC on March 31st. CHECK IT OUT!
Red Bull Supernatural from 247TV
Instagram Updates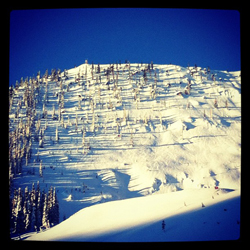 @ryanrunke: @redbull #supernatural @baldisbeautiful it's go time suns out guns out instagr.am/p/n4jBM/
@TWSnow: Travis Rice mid backflip on his first run at #redbullsupernatural http://twitpic.com/8fp1xp Travis is now in first.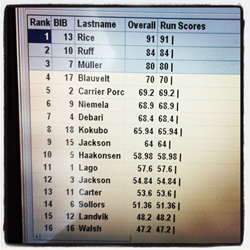 @ryanrunke: Round 1 scores done @redbull #supernatural @travisrice on fire instagr.am/p/n8lWO/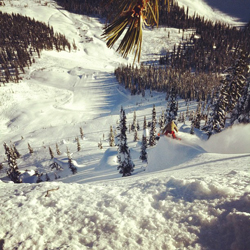 @baldisbeatuiful: Lago drops first and nailed it!!instagr.am/p/n6S8V/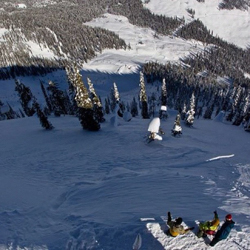 @reddbullg: It's on: #RedBull #Supernatural w/ @TravisRice + friends @BaldisBeautiful instagr.am/p/n-5fa/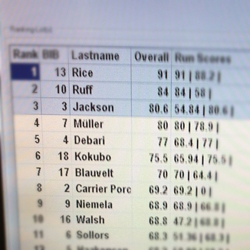 @RyanRunke: Top 9 Dcp out with blown knee so Walsh takes last spot in finals @redbull #supernaturainstagr.am/p/n–xc/
The Start List
1. Scotty Lago – USA
2. David Carrier-Porcheron – CAN
3. John Jackson – USA
4. Lucas Debari – USA
5. Terje Håkonsen – NOR
6. Mark Sollors – CAN
7. Nicolas Müller – SUI
8. Mark McMorris – CAN
9. Eero Niemela – FIN
10. Gigi Ruff – AUT
11. Mark Carter – USA
12. Mark Landvik – USA
13. Travis Rice – USA
14. Sage Kotsenburg – USA
15. Erik Jackson – USA
16. Kazu Kokubo – JPN
17. Jake Blauvelt – USA
18. Sage Kotsenburg – USA
Course Preview
Photos of the Course
Photos: Red Bull
Photos: Transworld Snowboarding