Jackson Hole To Replace Casper Lift
Jackson Hole To Replace Casper Lift
Jackson Hole Mountain Resort to Replace Casper Lift from The Mountain Pulse on Vimeo.
Press Release Summary
Jackson Hole Mountain Resort announced they will be investing over $5 million dollars to replace the classic Casper Triple Chair with a high speed quad that nearly doubles capacity while cutting the lift time by over 6 minutes. The new high speed quad will be constructed during the summer of 2012, enabling improved access to core of the resort. In addition to the installation of the new chairlift, the Casper trail network will be enhanced for intermediate skiing and riding with summer grooming and widening of several trails in the area.
Changing of the Guard
The Casper Chairlift was built in 1974 and is a hallmark of nostalgia as the resort. The lift has weathered countless storms and offers access intermediate runs at the core of the mountain. Often enjoyed for its relaxing pace, the classic triple chair elevates riders over '1000 vertical feet in nearly 10 minutes. It's maximum capacity is 1185 people per hour, and travels 375 ft per minute.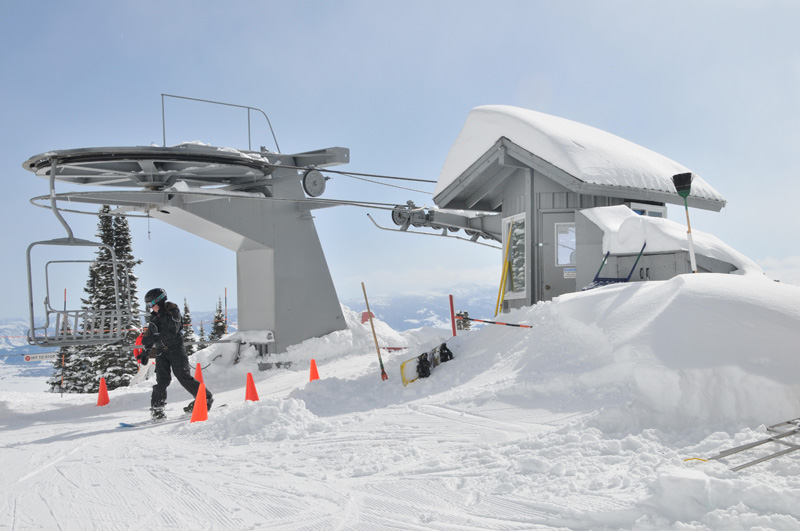 Comparitatively, the new high speed quad with see the ride time reduced to 3.5 minutes and carry over 2000 passengers per hour to its summit. The new lift will climb at a rate of '1000 per minute, dramatically speeding up the access to intermediate terrain surrounding the lift.
"The Casper area is the heart of our intermediate skiing. Not only are we installing a state of the art lift but we will be doing summer grooming and expanding existing trails to make them much more attractive to intermediate skiers," stated Jerry Blann, President of Jackson Hole Mountain Resort.