Hundred Days 045
TEDx Jackson Hole at Center for the Arts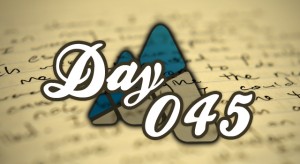 Day 045: 02/28/12
Written By: Kevin Wittig
TEDx Jackson Hole at Center for the Arts
This week, Long Beach California is home to the annual TED Event. TED is a non profit organization devoted to ideas worth spreading. TEDx Jackson Hole is a program of local, self-organized events that bring people together to share a TED-like experience. On Wednesday, the Jackson Hole Wildlife Film Festival and Center for the Arts host a live stream of the event. Ideas worth spreading… sounds cool.
Tedx Jackson Hole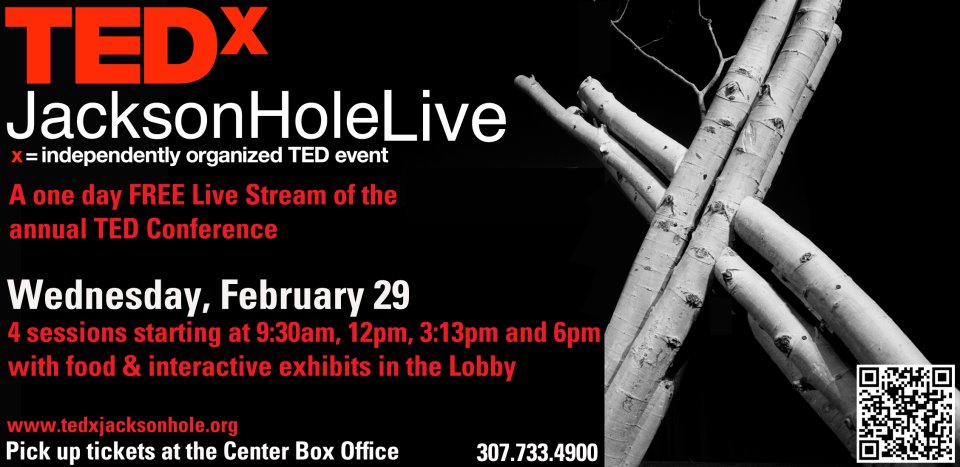 When: Wednesday February 29, All Day
Where: Center for the Arts, Jackson WY
Admission: Free
You don't have to go to Long Beach to experience the amazing TED conference. Join the Center for the Arts and Wildlife Film Festival for a day of inspiration and innovation! They will live-stream the Wednesday sessions at the Center for the Arts Theater for everyone to enjoy for FREE.
TED Conference Schedule and TEDx Jackson Hole Live Stream
Session: The Lab
Hosted by Chris Anderson, 9:30am – 11:15am
Henrik Schärfe – Roboticist
Regina Duncan – Director of Darpa
Jack Choi – Technologist
Marco Tempest – Techno-Illusionist
Donal Sadoway – Materials Engineer
Vijay Kumar – Roboticist
Session: The Earth
Hosted by Chris Anderson, 12:00pm – 1:45pm
Karen Bass – Natural history filmmaker
Sharon Beals – Photographer
Wade Davis – Anthropologist, ethnobotanist
James Hansen – Climatologist
T. Boone Pickens – Entrepreneur and Energy Theorist
Civilians Investigative Theater – Theater company
Session: The Crowd
Hosted by June Cohen, 3:15pm – 5:00pm
Cameron Carpenter – Organist
Reid Hoffman – Social entrepreneur
Lior Zoref – Crowdsourcing advocate
Jen Pahlka – Code activist
Frank Warren – Secret keeper
Reggie Watts – Vocalist, beatboxer, comedian
Session: The City
Hosted by Chris Anderson, 6:00pm – 8:45pm
JR – Street artist
Edward Glaeser – Economist
Eduardo Paes – Mayor of Rio de Janeiro
Suja Lowenthal – Vice mayor of Long Beach
Mama Foundation for the Arts: Gospel for Teens Choir – Teen choir
Innovators in Jackson Hole to Share Their Story
In addition to the amazing TED speakers who will be broadcast live from Long Beach to Jackson Hole, the Center for the Arts has invitedsome of Jackson's intriguing innovators in for tech demos and to discuss some of the most interesting innovations happening right here! John Morgan (President of Dialogue Business Strategy) will facilitate after-session conversations with:
High School Robotics Team with teachers Kathy Milburn and Gary Duquette
Bob Viola, the founder of the technology research and development house Square One Systems Designs./li>
Dr. Paul Cox, the director of the Institute of Ethnomedicine
Derek Craighead, founder of Craighead Beringia South with wildlife biologist Marilyn Cuthill
Devra Davis, founder of the Environmental Heatlh Trust with Rhonda Salerno & Marena Salerno Collins
Matt Leone, of Alces Technology
Mayor Mark Barron
Music, Discovery & Ideas Worth Speading
The Center for the Arts lobby will host tech demos and live music featuring Elk Attack (11:15am-12pm), High school duo Marena Salerno Collins and Jack Keckler (1:45pm-3:15pm) and The Jazz Foundation of Jackson Hole and (5pm-8pm).
Lunch will be available for purchase thanks to Jackson Whole Grocer. During the 5:00pm to 8:00pm Reception, lobby guest include Vom Fass with a complimentary liqueur tasting, and Persephone Bakery as well as Fine Dining will have tastings available for purchase.
Continuing upon momentum built at the Charture Institute's "22in21" event, Tedx Jackson Hole provides a forum to interact openly and talk about ideas and innovation driving our community forward. Sounds like a great reason to get involved.
More Information About TEDx Jackson Hole
The inaugural TEDx Jackson Hole was held in October of 2011 at Jackson Lake Lodge following the Jackson Hole Wildlife Film Festival. The two day event attracted international attention and hosted exceptional speakers including Robert Grady, David Gonzales, Juan Martinez and others. You can see each presentation on YouTube where there are over 12,000 TEDx videos. Dive in, it's inspiring!
David Gonzales is a local writer, photographer, filmmaker who is well known for his book on the history of skiing: Jackson Hole — On a Grand Scale. He founded TreeFight, an initiative to inform the public of the plight of the Greater Yellowstone Ecosystem's whitebark pines and to search for solutions to prevent their extinction.
Bob Berky has performed as a solo artist throughout the world. He was a featured artist at The Brooklyn Academy of Music Next Wave Festival in The Alchemedians and The Power Project. The Alchemedians, with Mr. Berky and Michael Moschen, was produced off-Broadway and toured worldwide.
David Milarch is co-founder of the Archangel Ancient Tree Archive and a pioneer in the cloning of trees. He works to preserve the genetic heritage of the world's last old growth forest giants. A fourth generation nurseryman from Michigan, he and his sons have propagated more than 90 species, including the tallest redwoods.
Robert E. Grady chairs New Jersey's $75 billion pension system and runs the private equity firm Cheyenne Capital. He has been head of venture capital at The Carlyle Group, partner at technology investment bank Robertson Stephens, and #3 at the Office of Management and Budget and Deputy Assistant to President George H.W. Bush.
Mike Chamberlain is the Manager of Innovation for the Guest Experience at the Monterey Bay Aquarium. In this capacity, he helps oversee the design and development of new initiatives in the guest experience group.
Dr. Laly Lichtenfeld is an African lion expert working in northern Tanzania to save one of its most threatened lion populations. She is co-founder and executive director of the African People & Wildlife Fund and a Yale research affiliate. Lichtenfeld is a member of the National Geographic Big Cats Initiative and a recipient of the Fulbright Award.