Hundred Days 035
A Filthy Day on the Fork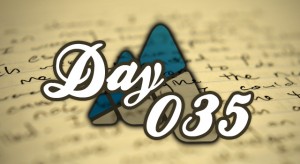 Day 035: 02/11/12 – An Aggressive Banana and A Filthy Fork
Written By: Captain Peter Sheppard
It was a Wednesday, my day off from family duties. Time to pack as much fun in before I'd be back fathering a one- and three-year-old. The first part of my day would be spent making turns at my local mountain, Grand Targhee. The latter part had me stringing up the fly rod for the first time of the season. If we are getting sunny warm February days, then the fish should be active, I thought.
Before I would try to fool a fish, however, I anxiously wanted to feel how my new snowboard handled the worn resort terrain. For the past few seasons, I have been patrolling powder only and thus my quiver of boards consisted mostly of giant sticks with floaty figures. A week ago at the Village I strapped on my smallest snowboard that interested me: my Burton 166 Malolo, and was greeted by long fast, body-jarring, cut trails funneling me from lift to lift to navigate the beast of a hill that lives in Jackson. My board and body were lacking cohesion. Was it me or my ride? I have had a blast on my Malolo so far this year, slashing Targhee stashes; it is definitely happiest meandering the mountain surf style. I still managed to have another great adventure at the Village with my cousin Rob conducting. But I came to the realization that I needed to add that resort snowboard back to my quiver. The same size and type of snowboard I grew up riding for the first two decades of being sideways to the fall line.
I arrived to the Tetons in mid January this year and had heard that I had not missed a lot of deep days. I brought with me a change in the jet stream and for the first few weeks it has been full throttle fun. Once the weather track changed and days blue-birded out and the snow hardened, I sought out some advise from my local snow sports specialty shop, Habitat, in downtown Driggs. I described my symptoms and was diagnosed needing a Lib Tech 161 Attack Banana.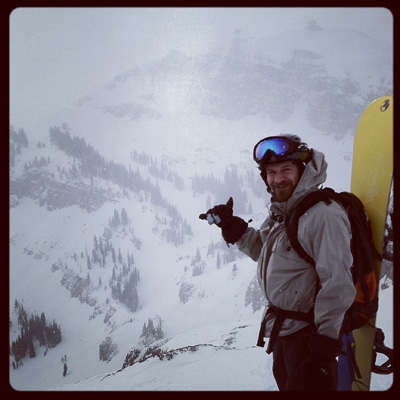 I got up to The Ghee as early as possible and reunited with groomers. The new turns felt fantastic, the new technology very apparent. The effective edge on this snowboard has a slightly serrated shape, more like a wobbled "S"-ing track. This crazy concept is called magnatraction, and it really works. It actually took some getting used to as the edges cut like a bread knife deep through the crud. I could stand on my blades rather than balancing on flat of the deck. I found some sweet snow on a north facing pitch and even got fresh turns through some misty trees and the surf was sweet. When noon arrived, I decided to cut my workout short and go get my fishing license at the corner drugstore and hit up the river.
Here in Teton Valley, Idaho we have two great winter fisheries nearby to choose from: the South Fork of the Snake and the Henry's Fork. Winter fishing is not for everyone. Most likely I wasn't going to be using a dry fly, and was less likely to catch alot, if any. Nevertheless, the white rolling banks coupled with the solitude are what attract me to the stream. Very few people have the bright idea to go frigid fishing for sluggish ice trout, but with most of the water to myself, I could allow my imagination to run free and am always up for a challenge.
Fishing in the winter is usually best in the afternoon so any radiance from the sun can work up the trout's appetite some. The fish should be less aggressive in these Icelandic conditions. They may be holding in more mellow holes than they would normally, inhabiting slower water that they can relax in. I imagine them sitting on the sofa with TV dinner rather than actively shopping the aisles of the supermarket. The other advantage, if any, of winter fishing is that the rivers are down, and when waters are skinny the bigger fish are more accessible. During the warmer months when the river swells, some of these big momma fish will never come out of their deep hidings to gaze at my tiny hooks. My biggest rainbow trout ever was caught in Taylor Canyon Colorado; it was ten below zero.
So there I was proudly pushing snowboard boots, helmet, and bib shell pants aside, and pulling out waders, a fly vest, rod tube, bulging reel case, and my wading boots from the pile of tackle in the gaping Subaru hatchback. The first fly-fishing excursion is always a little disorderly and cold stiff fingers slowed progress. I was light on tackle—very light, in fact. I had emptied my vest in the fall to clean up from the past season's lip ripping, and I forgot to reload the pockets. Fortunately, I did find a few items that offered hope in the very bottom of the back compartment. There was some gink and floatant dust, which I would be glad to have them in case of a midge hatch. My three saving findings were a strike indicator and a spool of 3x and 5x. I stayed positive, tied up a ten-foot leader, smiling again that I had some 5x tippet. 5x is my most readily used diameter to taper my leader down to. Its four-pound test and invisible enough for most trout encounters. It gives me that confidence that makes me stare more contently at my fake bug or tiny bobber. I love F'n 5x!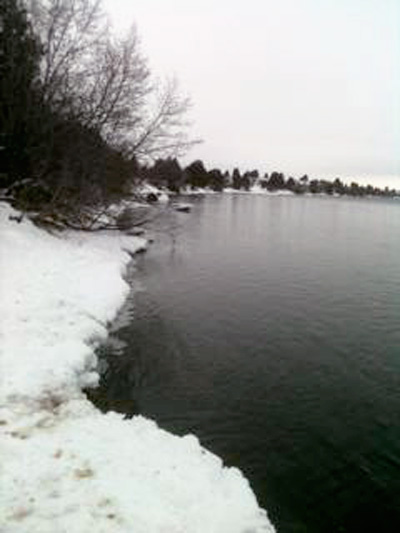 I opened my fly box of micro sized morsels. I get very excited when occasions call for the mini stuff, enjoying the added challenge of staying attached to a flailing fish with a hook the same size as the letters you are now reading. I picked out two flies to imitate the most abundant and active aquatic insects. In the colder months, trout key in on a tiny mayfly nymph called a Blue-winged Olive, and on the even more miniscule midge larva. I felt like a surgeon tying on such tiny temptations. I also wanted to be sure that my flies would have the proper weight so they would drift just close enough to the bottom without getting hung up. I wanted them right in the fish's face. I imagine that my bugs have lost hold of their rocky abodes, get swept up in the current, and offered graciously to a lazy royal rainbow or a behemoth brown trout. I first tied on a bead-headed pheasant tail with a little flash and some rubber legs, and trailed behind that a size 22 red Sawyer made almost completely of tiny copper wrap. Both flies sank well.
I had on waders, a hat, double goose down hooded parka, fingerless gloves, and snowshoes to make the short trek to the rivers edge and on to serenity. Entering the water a little more down stream of my chosen hole, I sought the calmer water that sat just below the swift food congregating current. My jaw strained and my cheeks cramped a bit as a smile stretched across my face. Gazing down at my wading boots, each had duct tape wrapped around the toe three times, holding the dangling sole of boot's felt bottom along with some last minute shoe-goo applied a few hours earlier. A young, but regal swan accompanied me in the riffle and complimented my winter surroundings nicely. I studied the bubbles swaying, looking for a current-lane to concentrate on. I pulled out forty feet of line from my reel and organized it on top of the calmed water just down-river. Then I put the rod to work: A roll cast, a back cast, shooting line out, then a forward cast ending with a reach of the rod tip slightly towards shore and giving it a few wiggles too as the flies fall the water. As fly fishing trout anglers, we do these rod tricks so our floating fly-line lands amongst the current in a planned way, so that when it all drifts down toward the fish the fake bugs float naturally. And just like on skis navigating a gnarly line on an exposed face, dropping a cliffy or doing a trick with hopefully some style, you feel rewarded by a well executed cast. In skiing you feel the thrill and make it out injury free; in fly-fishing you get to release a living treasure…my words can't do justice to such beauty.
On about my eighth drift on the pool my indicator hesitated for an instant on the water and I began to set the hook in both reaction and brimming anticipation. My yellow cork went down and I reached my rod tip to the sky, my line slowly slicing in an arc through the cold air. I smiled just at the sound of line pealing from the water. I'm not sure if it was the crisp high mountain air or just the absolute silence of the area, but that tearing sound seemed super sonic while also in slow motion.
After a few moments of struggle, a sixteen inch rainbow trout came to rest at my side. It ate the larger fly. After carefully retracting the hook, I admired the girth of the fish. Its freckled flanks were well fed by the swarms of underwater insects. I noticed that it was flurrying now. I felt so lucky to have caught such a respectable trout and in mid February no less. Wading out of the water to allow my feet a break from the cold, I cleared the ice from the eleven eyes of the rod and checked on my rig and gave thanks.
Just as I could begin to feel my toes again, I waded back out to my spot. I knew that these winter windows of feeding could be short lived. I made another six casts, de-iced again, and then made another six presentations. On the first third of one of the drifts again my strike indicator flickered and I responded with the delight of contact. The trout writhed in the water considerably. This guy was pissed off. I kept high pressure and let the springy upper section of fly rod endure the struggle. Then I began to confuse the fish with various angles of pressure. I pulled her head to the side. Snowflakes again joined in. I then changed to an up-wards force. The trout ran for the middle of the river fast. I stabbed towards the fish like a fencer, trying to follow her race and give forgiveness to the thin tippet. We struggled, and four more times she answered my antics with long drag-screaming charges down stream. I had not seen the fish yet, just a shoulder and a tip of the tail a few times as I attempted to subdue it. I was not being as effective as I had hoped, especially considering that in these conditions fish are usually lethargic. Now I began to piece things together and thought the long runs and erratic tussles were the results of it being hooked by the tail. I was little bit of disappointment when this thought of a foul-hook came over me. I tried to bring the fish to the surface with some added force to see if I could determine which hook was in and where. My lifting had no effect. It had been over ten minutes since hook-up and I was getting a little anxious. I began to back pedal towards the snow-bank. I got half way and the fish came up close to the surface. I could now tell that she was not tail hooked and had eaten the first fly as well. The rainbow sprinted for the fast current again. I was proud of myself for not snagging the fish, and my respect for my opponent grew.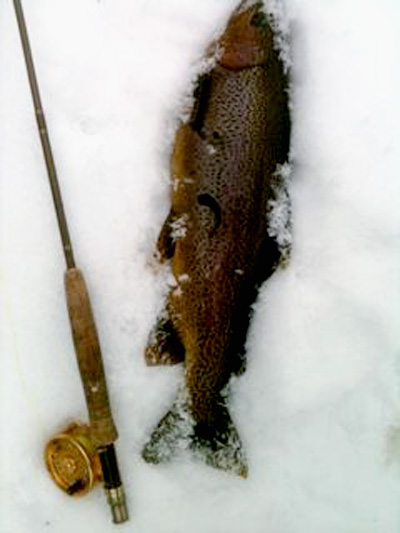 My concentration intensified. I walked with slow sure footing, remembering my slippery right foot from a duck tape boot tip. My hand gripped the cork softly but with absoluteness. After another ten minutes I brought the fish calmly to the shallows. At that moment I realized what I had done. "Oh Henry!" This was a toad! She was so thick my grip could barely get around her. I had to put my rod down in the snow so I could use two hands to raise her from the river. She was heavy and stout, yet sexy and smooth. Her fin flared out orange in a showy fashion. Her back was dark brown and olive. Her flanks were cranberry and peppered to taste, with a golden abdomen. I had a hard time judging her length for she was just so uniformly plump. I took a few quick photos and gently let her slip into the water and watched her prisms slowly slither and disappear into the frozen glare. I let out an loud Wahoo! I quickly felt my fingers cracking in pain from being submerged in the water, and fisted my gloves and sat on the bank bobbing for warmth, gleaming from within.
I was so thankful for living in a place where I could in one-day relish two of my passions. My great day was topped off with a delicious night out at Alpine Wines with my wife, the girls at home with a babysitter. 'Twas the day of days: ripping groomers on my new attack Bannana by morning, ripping lip on the Fork by afternoon…catching the second biggest rainbow trout of my life. I can't wait for next Wednesday!
Check out Peter's wildlife and sporting artwork at: www.captainpetesheppard.com