Gear Review
K2 Pon2oon Skis - A Rockered Romance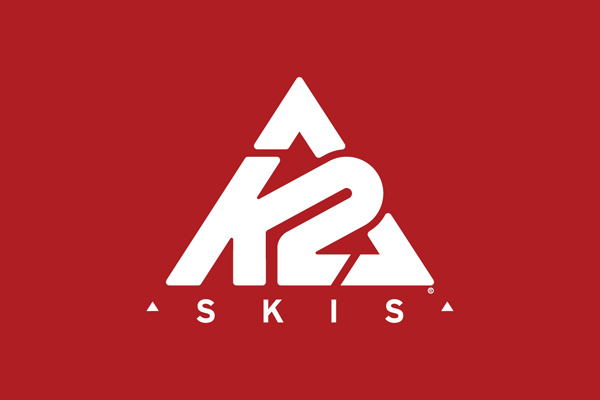 Written by Z
Photography by Stephen Williams & Jake Johnston
Let me just say right off the bat: I am into fat skis. Maybe it's the American in me that is hardwired to believe bigger is better, maybe it's some subconscious Freudian sense of inadequacy; whatever the reason may be, the fact remains shamelessly the same: I like 'em big and I like 'em fat. I just find powder skis to be, well, sexy. Now let me be clear, you wouldn't catch me on one of those TLC specials, "Strange Addictions" or some other nonsense like that. When I say I find fat skis sexy, I mean "sexy" in the most non-sexual way possible…like "Boy, that car is sexy" or "How sexy was that dubstep track?" or "Dang, gurl you lookin' sexy as hell." But I digress.
My day–to-day ski is 115 under waist. My powder giant is 134. The latter buxom beauty I speak of, the Christina Hendricks of my quiver if you will, has long been the K2 Pontoon. The 'toon really started my love affair with big rockered powder skis. We came to be together in the winter of '09. It was a shallow one for sure, but provided just enough precipitation to forge a lasting bond between us. I got the skis off a dude in town. Apparently they were on the rocks, and he couldn't keep 'em around anymore, so I was happy to take them off his hands. From then on the 'toons and I were inseparable or as another romantic might say, "We were like peas and carrots."
But as so often happens in a young relationship, in time I got the itch to experiment with other skis. I caught myself stealing glances of other skis hanging from chair lifts or standing in the Tram or leaning on racks outside the Moose. Before long it became too much to handle, and the Pontoons and I had to go on a break. Get it out of your system, I thought. Over the ensuing months I did it all: traditional, elf shoe, twin-tipped, shaped, short, tall, long, super fat and even skinny. If they had bindings, I probably skied 'em. When the snow finally settled and I came out the other end, I came out with a stronger bond with my Pontoons. They welcomed me back without question, and we were like peas and carrots once again. In fact, my love for them was so certain now that I went for an upgrade and acquired the 2012 Pon2oons. And this is where the love story ends and the review begins.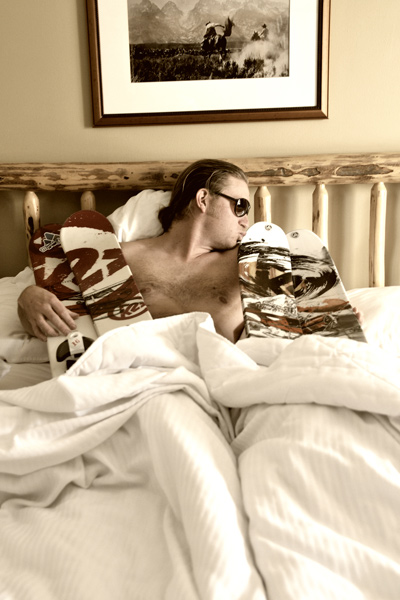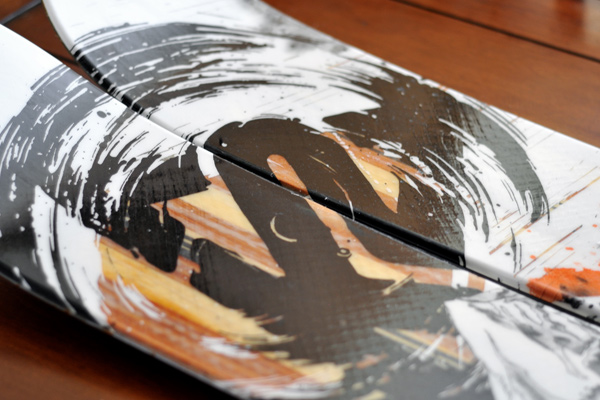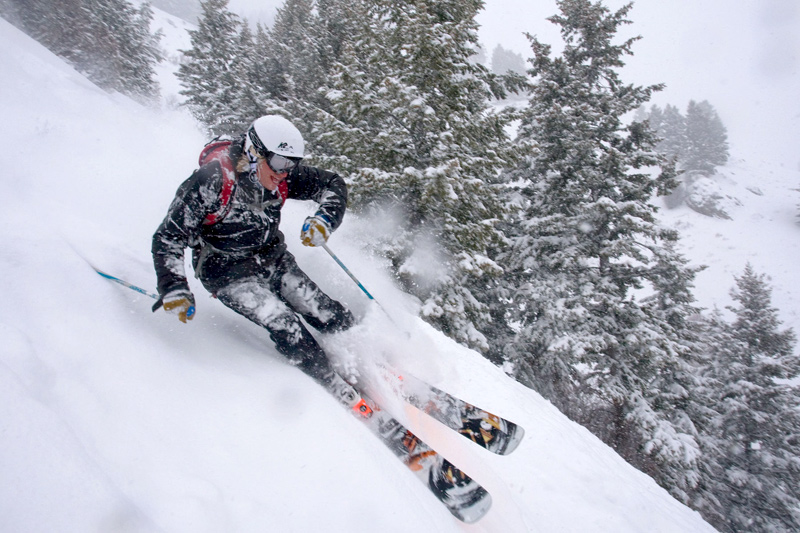 Sizes: 169, 179, 189
Construction: Traixial Braided, Cap, Fir/Aspen
Weight: 2150g
Features: Powder Tip, Powder Progressive Sidecut, Tip and Tale Holes
Plus Side: Devour powder like no other. Stomp landings. Turn heads in the Tram line.
Down Side: Heavy on hikes. Uncomfortable on hard-pack. Turn heads in the Tram line.
Whether arching huge turns down Riverton Bowl, shooting off natural booters in the Hobacks, or slicing turns through Wally's World, the 2012 Pon2oons perform as masterfully as their predecessor. Slight alterations to the tails—reduced pintail, less rocker, and sans twin tip—improve upon the Pontoon's already noteworthy stomp-ability. From there, the 189 version of the ski went from a D to a DD, the waist widening by four millimeters. On a deep powder day there is simply no better tear-spilling, hoot-till-your-guts-hurt ski than the Pon2oon…in my very biased opinion anyway.
Now, I would be remiss to say that these skis are not without certain limitations. Pon2oons are designed for rowdy, heli-esque deep days; they're not exactly the skis you introduce to your parents or marry for that matter. In years past, I've been one of those guys guilty of riding them in the wrong conditions. You know those guys, the ones you can hear from the bottom of the mountain rattling away on the hard-pack like two flags waving obnoxiously off the back of a pickup. Don't be that guy. If you are one of the lucky ones to pick up these skis, make a solemn oath to only ski them in the right conditions. They deserve at least that.
I would be even more remiss, however, not to mention the man responsible for bringing these skis into existence, the late Shane McConkey. Though he was unable to see the culmination of his design in the Pon2oons, Shane is active in these skis. The good folks over at K2 have designed them to specs that Shane left behind, almost like a final will and testament. And though I never had the privilege to meet the man, I imagine he would want us to ride his skis hard, go big, and above all, have fun.