Dine Responsibly to Support Vertical Harvest
Dine Responsibly, an initiative to support Vertical Harvest
Vertical Harvest is an vision to create a three story vertical greenhouse located in the heart of Jackson, Wyoming. The project seeks to reutilize the south facing wall of a parking facility and grow premium vegetables and fruit year round in Jackson. An ambitious endeavor, Vertical Harvest has the potential to promote Jackson as a leader in sustainable practices, and be a model for other communities around the world.
Project Mission:
BUILD a 30' vertical greenhouse in the heart of Jackson
GROW premium grade vegetables and fruit, in Jackson, 365 days a year, reducing dependence on outside food sources.
PROVIDE inclusive employment opportunities for children and adults with developmental disabilities.
CREATE hands on learning opportunities for schoolchildren, visitors to Jackson and members of the local community.
DEVELOP a flagship project that will promote the Town of Jackson as a leader in sustainable practices and education and be a model for other communities.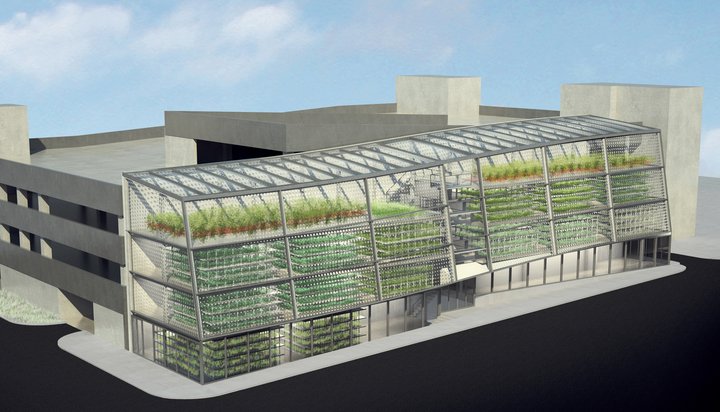 How You Can Help
Some of the top local restaurants are on board with the idea and have teamed up to help launch a fundraising campaign called "Dine Responsibly" to support Vertical Harvest. Through March 14 2012, patrons dining at participating restaurants will have the option to provide a voluntary donation at the end of your meal. Funds collected via Dine Responsibly will be 100% allocated to the construction fund account.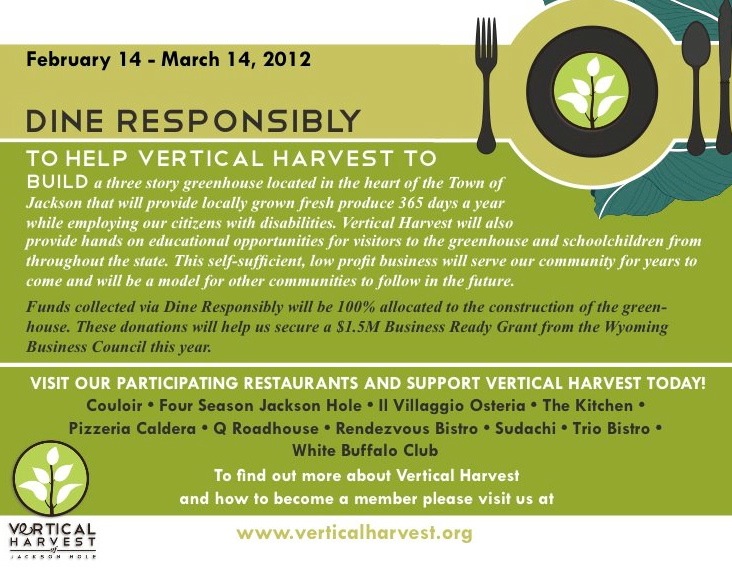 Participating Restaurants
Four Seasons Jackson Hole



More Information About Vertical Harvest
Vertical Harvest Links:
Details about Dine Responsibly were provided by Terra Pr in Jackson Wyoming. For more information, visit Terra PR, or any websites of the participating restaurant to learn more.