Artist Profile
Elk Attack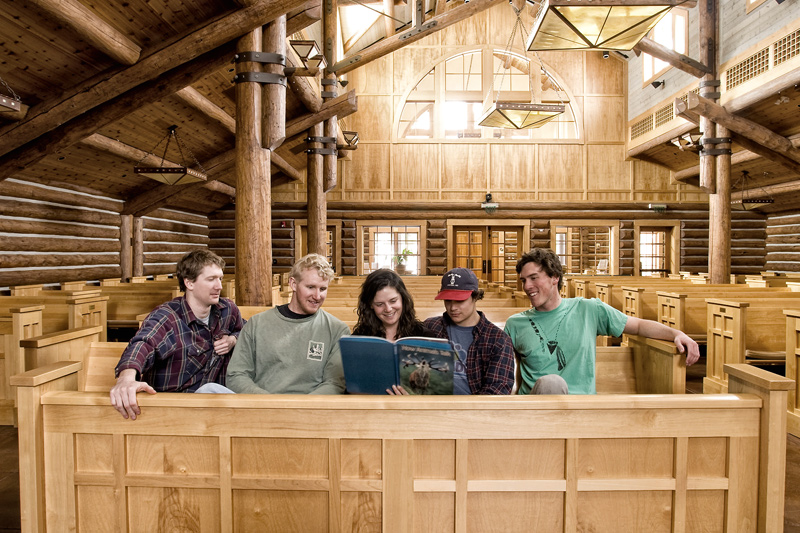 Elk and The Buk
Written By: Blair Waller
Photography By: Jake Johnston
I sit down with Bo Elledge, frontman of burgeoning Elk Attack, and discuss where the band is at present, what's on the horizon and Charles Bukowski
I met Bo Elledge in April 2011. He had just landed in Jackson amidst a transitional period after graduating a year prior. Working a variety of seasonal jobs, he wasn't too sure where his life was headed. Being a songwriter, he wrote about it. The vessel that brought the sentiment to fruition was a song called 'Flashlight.'
"I think we all think and worry about this from time to time. It just happened to me when I was biking home from work late at night with my flashlight…It's funny how you have no idea where you're going to end up."
It is that simplicity and self-efficacy that has defined the songwriter in these early days – the genesis of Elk Attack. Elledge explains that their lyrics are easy to connect to and put you in a place and time; they tell a story. As one can readily tell, this is not a band that speaks at its audience. Elk Attack invites you to experience the ebbs and flows with them. A band of the people, if you will.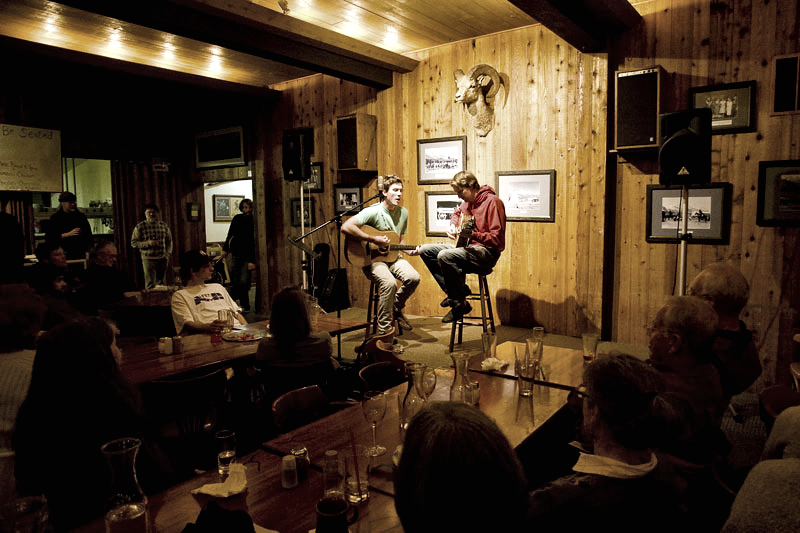 So where does a wandering troubadour head without a band? Enter Dusty Nichols-Schmolze, Gabi Jackson-Kouchacji, Adam Woolley and John Wayne Harris. With lead guitarist Dusty, think Jack White, complete with songwriting ability and a voice. Gabi stands as the Mama to the band's Papas, completing the soul shaking three-part harmonies that separate this band from the pack. Then there's the backbone to the Elk's flesh, bassist and drummer Woolley and Harris, respectively. The two provide the platform on which the music stands. And rides and shreds and tears and claws. Jacksonites, meet Elk Attack.
Where is the herd headed? The focus of the band at present, and in the near future, revolves around the completion of a full-length album. Once their sound is harnessed and developed to relative satisfaction, the mission is to tackle the region, starting with playing at Grand Targhee Music Festival. Hopefully, with an album and regional live experience under the belt, the not-so-distant goal becomes Austin's 2013 SXSW Festival. With SXSW being the mecca for up-and-coming acts, where some are made and others broken, the experience will provide the band with a relatively accurate litmus test as to where they stand. The next step is a mystery.
Elledge smiles with a slight chuckle at the uncertainty. We recall one of our early encounters back in April 2011, discussing the book Post Office by Charles Bukowski. The book began a string of countless conversations over the merits of art, music, literature and life in general. On that topic of the uncertain journey, before letting loose a bellowing laugh, Elledge quotes the great Buk:
"What matters most is how well you walk through the fire."
The lesson – join the fire and catch Elk Attack when and where you can. The herd is on the move.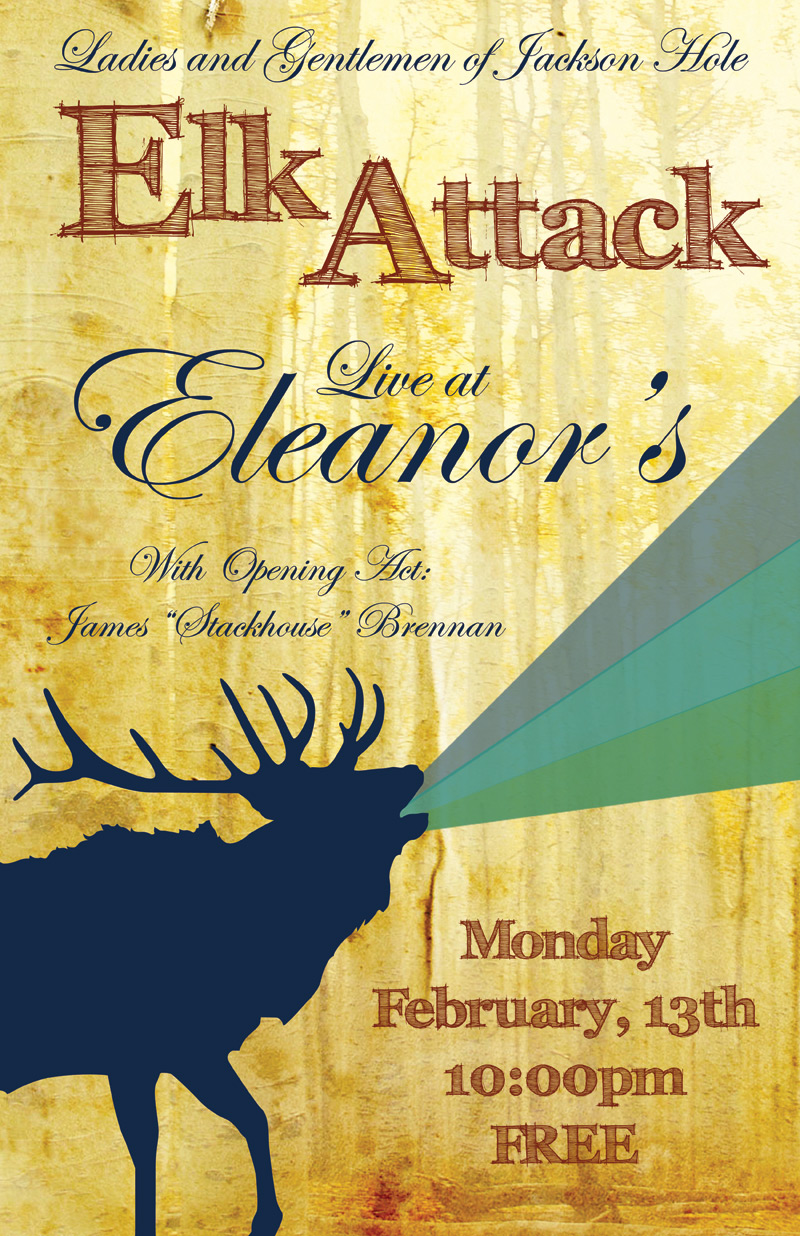 Elk Attack premieres in Jackson at Eleanor's Bar and Grill on Monday, February 13th. Come check out the band's first live show for free and stay tuned for their upcoming debut album coming soon.
When: Monday February 13th, 2012
Where: Eleanor's Bar and Grill
Tickets: FREE!
Download Elk Attack Tracks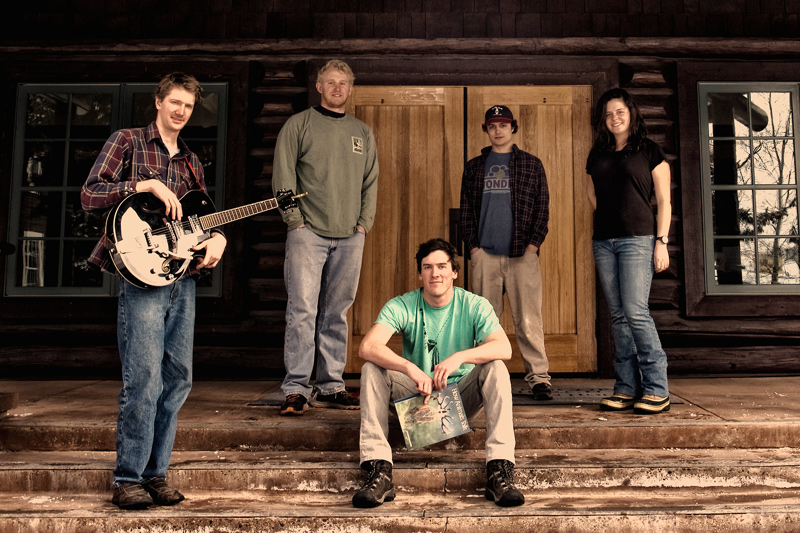 Elk Attack members from left to right: Dusty Nichols-Schmolze, John Wayne Harris, Bo Elledge, Adam Woolley and Gabi Jackson-Kouchacji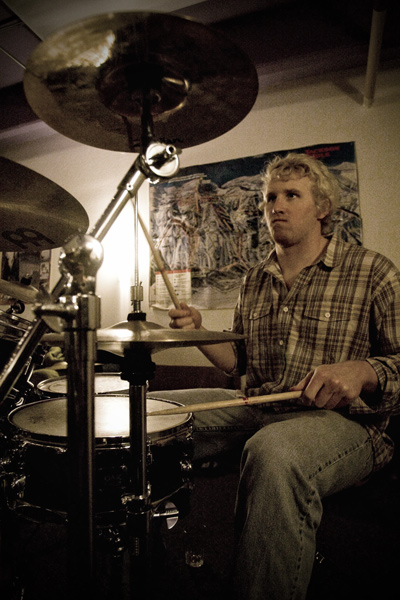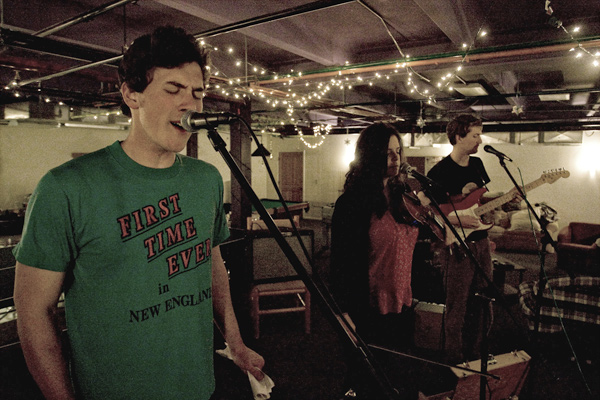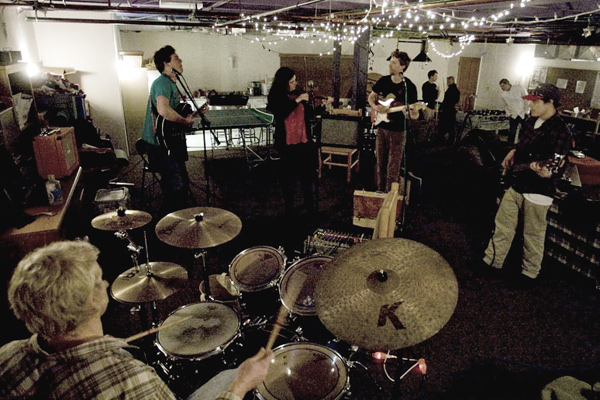 Elk Attack found their creative space in the community room of the Episcopal Church of Jackson Hole