Gatorade Free Flow Tour
Stop #3: Jackson Hole

This weekend, the 2012 Gatorade Free Flow Tour makes its third stop at Jackson Hole Mountain Resort. The Free Flow contest, now in its third year, is the official amateur series of the Winter Dew Tour. The tour aims to give top amateurs the once-in-a-lifetime chance to go from "Flow to Pro".
The 2011/12 Tour consists of 8 regional events across 8 mountain resorts in the U.S., featuring snowboarding (slopestyle and superpipe) and freeski (slopestyle and superpipe). The winner of each regional event earns a trip to compete in the Winter Gatorade Free Flow Tour Finals held in conjunction with the Winter Dew Tour's Toyota Championships.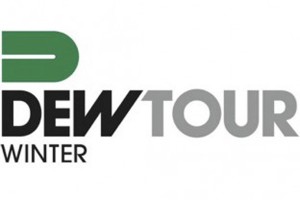 Event Details
Registration: 1/20/12 at the Gabe Room in Bridger Center
Competition Schedule: Checkin at 8:45am
Junior Jam Snowboard, Rail
Junior Jam Freeski, Rail
Men's Snowboard, Slopestyle
Women's Snowboard, Slopestyle
Freeski Open, Slopestyle
Entry Fee: $20 (one discipline) $30 (two disciplines)
Event Details including judging format, eligibility and more
Highlights from the 2011 Gatorade Free Flow Tour stop in Jackson Hole.
Major Storm System Moving Through The Tetons
Competitors are in for extremely soft landings, assuming can make it here through the storm system currently hammering Jackson Hole. With the airport shut down and mountain passes closed due to fear of avalanche, making it to the comp could be a issue. Riders and judges brave enough to battle the elements will certainly be rewarded with deep snow and powder riding.

Highlights From Stops #1 & #2 of the 2012 Gatorade Free Flow Tour
The Free Flow Tour kicked off the 2012 season last weekend at Vail Resort in Colorado and Mountain High in California where participants shredded terrain parks with well designed jumps and progressive rail yards. The mens freeski open event at Mountain High drew over 20 competitors while Vail Resort featured a packed lineup that sold out in pre registration. The winning run at the Vail stop in the Men's Freeski Open was ridiculous and included corked switch aerials in both left and right directions.
Vail highlights featured by Australian freeride crew Skiers Junction
New to the Free Flow Tour: A Virtual Stop
Too much powder this weekend to make it to the competition? No worries, new this year on the Gatorade Free Flow Tour is a virtual stop that allows riders to submit videos of themselves for a chance to win an expense paid trip to the finals at Snowbasin in February. Over 25 videos have already been submitted, and its really easy to add yours to the mix. Simply check out their submission page and follow the directions from there.
Details: Up to three male and/or female slopestyle and/or superpipe Grand Prize winners, who will be determined by a panel of judges made up of Newschoolers, Alli Sports and Gatorade staff members, will receive round trip airfare to Salt Lake City, Utah, two nights accommodation, four meals, transportation to/from airport, hotel and venue, and entrance into the Gatorade Free Flow Tour Finals at Snowbasin, Utah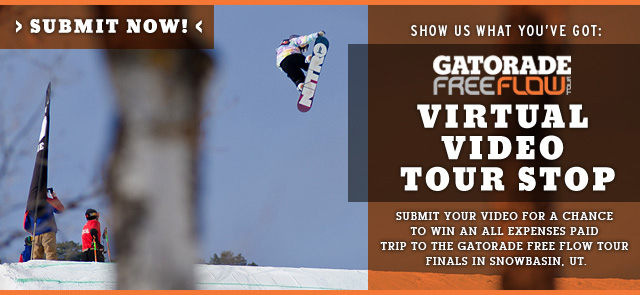 Event Sponsors