Cold Smoke Awards People's Choice Tour
Victor, ID 1/13 - Wilson, WY 1/14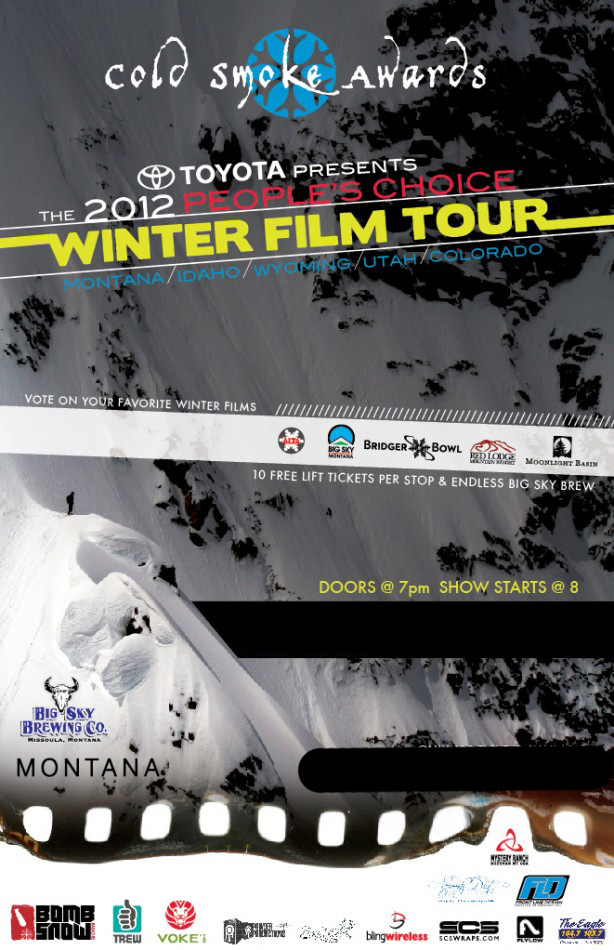 Date: Friday January 13th, 2012
Time: Films start at 8:00pm
Where: The Knotty Pine – Victor, ID
Admission: $5
Date: Saturday January 14th, 2012
Time: Films start at 8:00pm
Where: The Stagecoach – Wilson, WY
Admission: $5
Over the last six months, a record number of ski films have been produced, premiered and shared online. Vimeo, You Tube and Facebook have been all but overrun with footage ranging from amateur GoPro pow-shots, to full scale documentary productions. Theaters in Jackson have had their hands full accommodating film tours making a stop in town, or setting up world premieres for films that were produced right here in Wyoming. Numerous debates have been overheard at the brewpub comparing one film to another, or one riders epic Alaskan spine-line to anothers huge couloir descent in Patagonia.
Luckily, we have the Cold Smoke Awards to keep track of it all. This annual awards show held in Bozeman, Montana in February brings the filmmakers, athletes and sponsors together for one night to recognize the best of the best in the ski film industry. One of the awards that is handed out is the People's Choice Award that is determined by the fans. You can vote directly for the film you want to win either online here or at the People's Choice Awards Tour stop at a town near you. To make it easier to make your decision on where to cast your vote, Cold Smoke brings the films directly to you, and for fans in the Tetons, we have to opportunities to catch the tour.
From the Cold Smoke Awards Website: THE PEOPLES CHOICE TOUR is the kick off event for The Cold Smoke Awards. Its purpose is to give the audience an opportunity to view films in their entirety, and cast a direct vote on their favorite film. A casual setting creates an opportunity for direct feedback from the audience, and promotes networking between filmmakers, athletes, and other talent. Lots of gear, lift passes, accommodations, and other prizes are given away as means to get people fired up on the coming winter. The Peoples Choice Award is determined by the total votes of this tour and is awarded to the winning filmmakers at the Cold Smoke Awards in February.
Cold Smoke Awards 2012 Teaser from Cold Smoke on Vimeo.
Here are trailers for a few of the films selected for the People's Choice Award. A bunch of these films were shot and produced right here in the Tetons by some of the best up and coming talent in the industry. Click here for a full list and trailers for all the People's Choice nominations and vote for your favorite.
Poor Man's Riches (trailer) from Ryan Halverson on Vimeo.
On Snow and Ice and Rock | Trailer from On Snow and Ice and Rock on Vimeo.
Miller's Thriller Trailer – 2010 from Storm Show on Vimeo.
The Denali Experiment [Teaser] from Camp 4 Collective on Vimeo.