Hundred Days 014
It's in the Air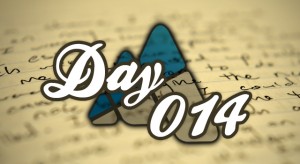 Day 014: 12/29/11 – It's in the Air
Written by Madelaine German
It's in the air, the snow is coming
and town is abuzz with a rhythm that beats
with every step, one and two,
clouds moving closer
bring in warmth, follow cold,
blowing in on the streets.
It's here, in this place,
where time is caught ticking.
and at work, weather check goes on daily repeat.
Here, we collide. From ski bum, to gaper,
to millionaire, young and old —
all energies meet.
Snow, just around the corner. You can almost taste the excitement; Jackson is swollen with hopes that this thing will come in well. Rookies to the Hole await their first encounter with more of Jackson's dream-come-true terrain, as old-timers grumble about how, no matter what, this season's snowpack is still bad compared to last year's record levels.
I find myself at total rookie status: for me, in this place, everything is magic. A safe and fun snowpack is certainly preferable, but to simply be in Jackson right now still carries a dreamlike buzz. Say a thank-you to the powers that be, and always take a moment to stop and remember the view that is now a part of my everyday life.
Blessed.
So. I don't focus too much on the wait, or what's ahead, or what it could be. It's kind of like a roller coaster ride; you can't have fun until you let go. This is a new season; the snow, people, and money roll in on new tide. Every turn has its place, and I can't wait to make mine! See you on the hill.