Hundred Days: 005
12/07/11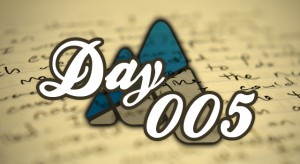 Day 005: 12/07/11 – Dogsledding on Togwotee Pass
Words and Photography By: Blair Waller
We arrived at Togwotee Mountain Lodge not quite knowing what to expect. Everything I knew about dogsledding was limited to Jack London novels I read in elementary school. I pictured big, strong pure bred huskies resembling the UConn logo. Other than that, I was clueless.
Billy Snodgrass, founder and owner of Continental Divide Dogsled Tours, met us in the lobby of the lodge. Billy has been running dogsledding tours for 27 years. His dedication and passion are readily apparent from the handshake forward. He quickly dismissed my preconception of the dogs, explaining that they were mutts. Billy also stressed that these Alaskan Racing Huskies are "the greatest athletes in the world, " and after seeing the hounds in action, I wouldn't dispute that notion.
We ventured out back to meet our couriers for the afternoon. Once the dogs realized we were headed out, absolute bedlam ensued. Each fed off the energy of the next as they howled, growled, barked and somersaulted. The human equivalent would be serving vodka Redbulls on tap to a group of college-aged boys and unleashing them on ladies night at the Tavern. Santanico Pandemonium. Coincidentally, I was reading Cormac McCarthy the previous night and couldn't help but draw a parallel to "…and the dogs howled in a tableau of some hellish hunt…" Just thought that was cool.
After bundling up on the sleds, we hit the trails of Togwotee Pass. Winding on and off trails, both beaten and not, I was amazed at the guides' control over the team of 12. Most commands were nonsensical onomatopoeia, yet they collectively darted in the correct direction on nearly every turn. Although I wasn't too concerned of an accident, there were a few stomach-dipping moments where I thought the sled could have tipped. Then again, what would a dogsledding excursion be without a little sense of danger? OK, minor danger, but still.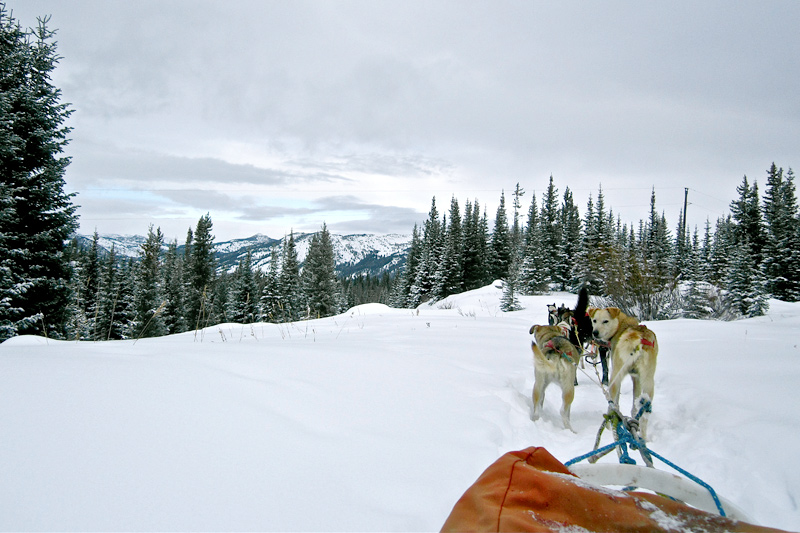 After a brief halftime of sipping hot chocolate, we made the trip back to the lodge. Only this time, we traded places with our guides, assuming the position of head musher. This was a different experience altogether – braking when necessary, leaning into turns and directing overall. I finally understood what Billy had said earlier – "Any idea of control is an illusion." Right on.
Upon arrival back at the lodge, a trip to the roaring lobby fire was bliss. I highly recommend taking the afternoon trip – the hour-long drive through the park back to Jackson at sunset is inspiring. The conversation will no doubt lead to a reflection on a truly Jackson Hole experience.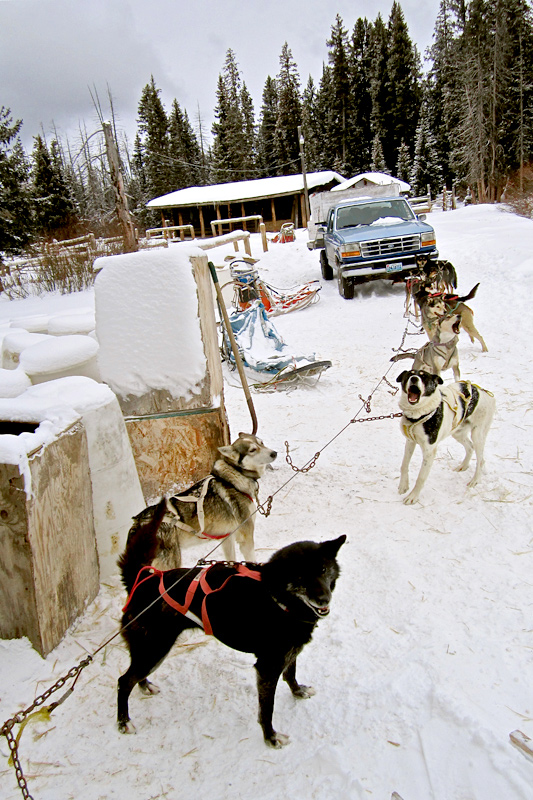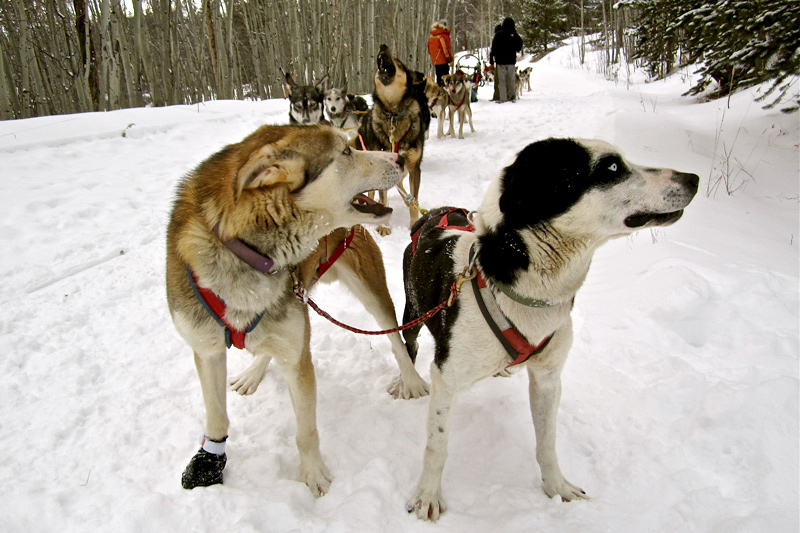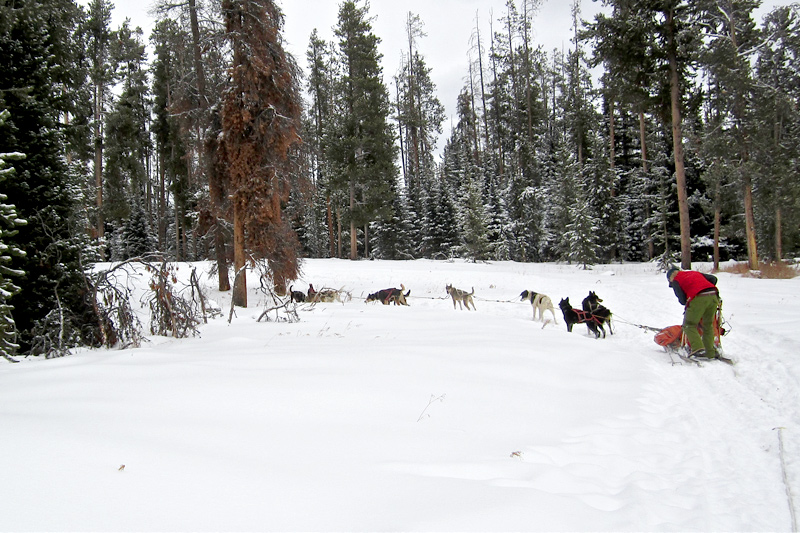 Anticipating the mush, the dogs barked like mad until they had the opportunity to run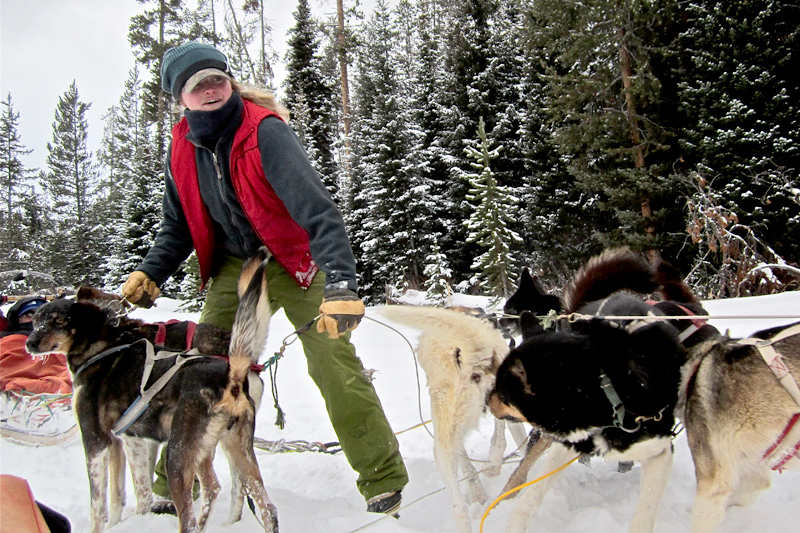 Autumn redirects the hounds amidst a minor miscommunication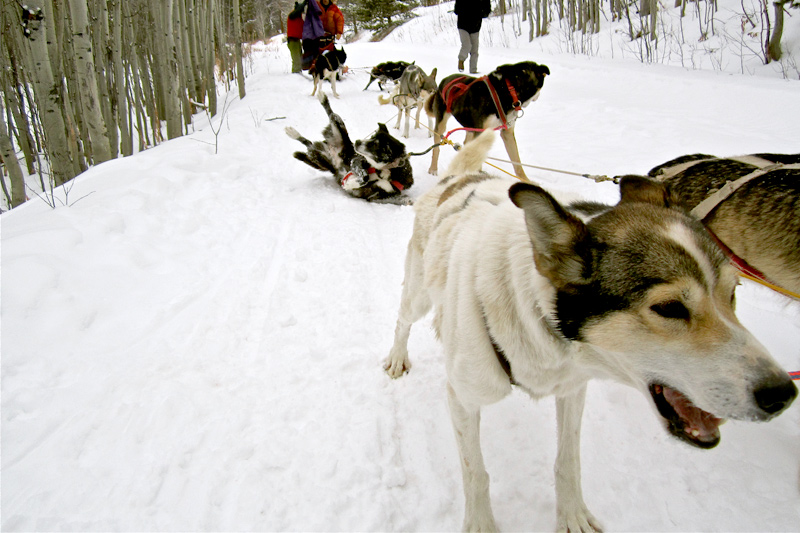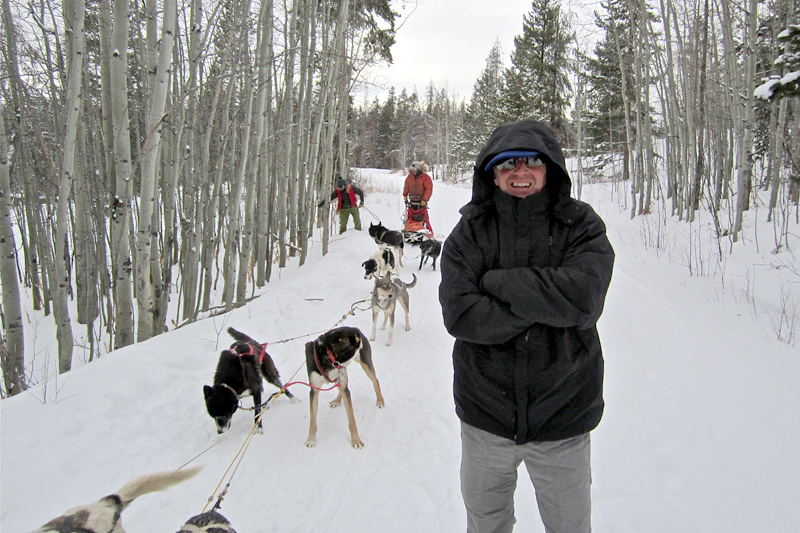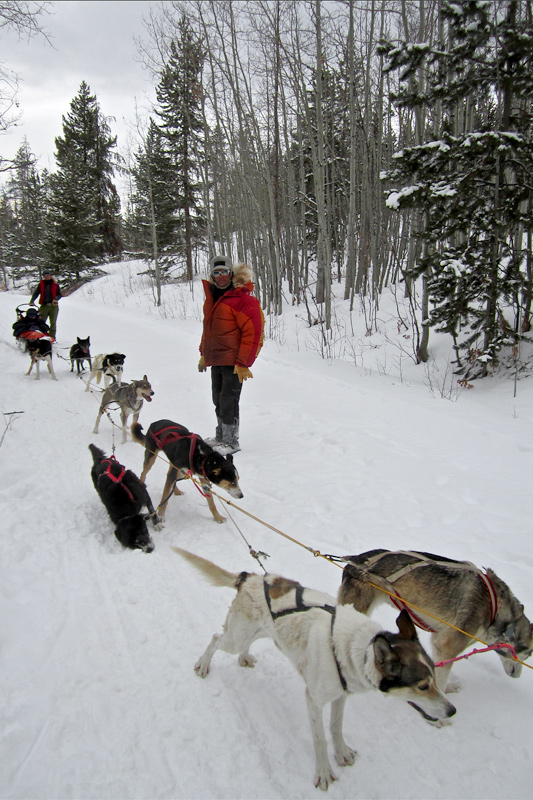 Papa Rex, Billy and the hounds at intermission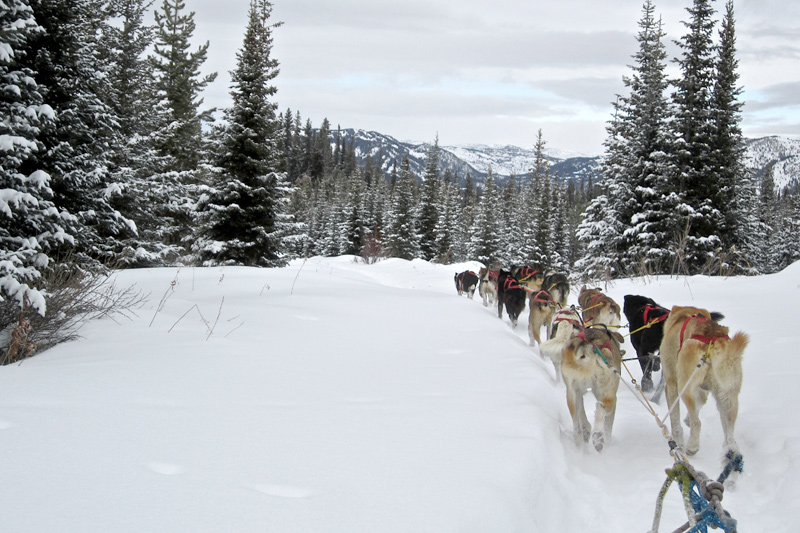 The dogs carried us into the wilderness as we sat back, took in the view and enjoyed the ride